Image: Carlos Cruz-Diez, "Chromosaturation," detail, as installed in Museum of Contemporary Art Australia, Sydney, 2015. Photo by Maja Baska
Carlos Cruz-Diez dedicated his life to solving a problem never before thought of in art history: how to free color from form. Simply coming up with this question meant understanding art and color in a different way.
Cruz-Diez (1923) began his career drawing cartoons for local media outlets and painting critical artworks. He showed the reality of Venezuela's society hoping to have a positive impact. After years of work he realized he was doomed to fail.
The need for a drastic change of purpose led him into deep research and introspection. He read books on physics, photography, philosophy, tech-innovation, painting, poetry… At some point in the process art turned into invention, experimentation, creation, and knowledge.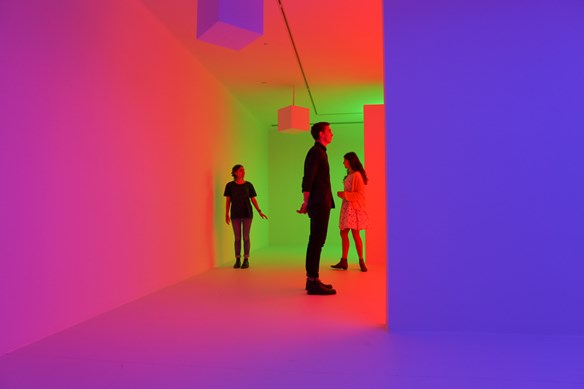 Carlos Cruz-Diez, "Chromosaturation," detail, as installed in Museum of Contemporary Art Australia, Sydney, 2015. Photo by Maja Baska.
Because of this new perspective he started to approach art like a scientist might do: he carefully analyzed its history and looked for a field where innovation was still possible. Coming up with new combinations to do what had already been done wasn't for him. He wanted to expand artists' knowledge, discover unseen phenomena, and print his name on art history.
He chose to study color. In the mid 1950's he realized colors are not attributes belonging to objects, as Aristotle's philosophy states and painting and sculpture have been conveying for centuries. To Cruz-Diez they are mutable events dependent on multiple variables: light, the human eye, each other…
Artists had always subjected color to something else. It was never thought of as autonomous. In Medieval Christian paintings, for example, they used it as a symbol to express the religion's main beliefs and ideas. White stood for purity, purple represented hard times, and green spoke of hope.
When the invention of perspective turned the canvas into a window to the world, painters began to apply color mimicking nature for that was precisely what they were meant to portray.
In 1959 Cruz-Diez was finally able to liberate color and make art out of his theory: his Physichronomies-as do all artworks he's created ever since- present colors as an event taking place in space and time.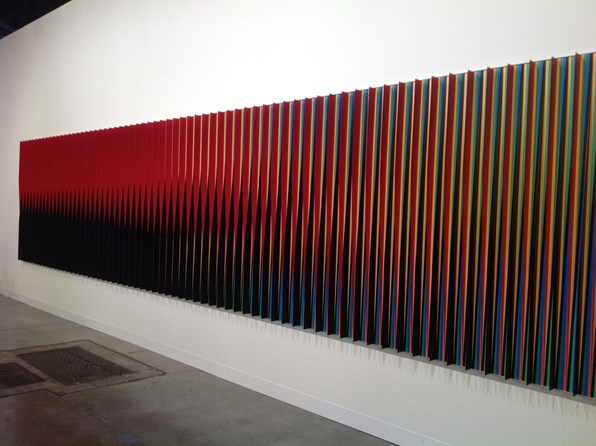 Carlos Cruz-Diez (b.1923, Venezuela) Physichromie Panam 94 2011 Chromography, aluminum 5′ x 26 1/4′ – 150 x 800 cm Image Courtesy of Sicardi Gallery
Here's the technics basics: the Venezuelan paints two thin lines -one green one red- on top of a black background. The lines slightly overlap. He repeats them over and over again turning them into a pattern that covers the entire work. At a distance where the spectator can no longer distinguish one line from the other, a shade of yellow pops out.    
Contemplating a Physichronomieis an experience of color. As the viewer walks in front of it, its colors vary: blues and reds give way to purples, and yellows and reds to oranges. Taking just two steps sideways unveils a completely different art piece as colors are added and subtracted.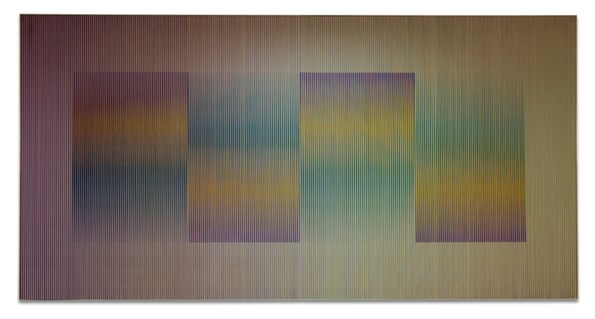 © Photo : Atelier Cruz-Diez, Carlos Cruz-Díez. 
In 1963 the artist took the idea of launching color into space even further. Chromosaturationsare labyrinths where spectators walk drenched in a colored atmosphere. He uses light's primary shades -red, blue and green- to create what he calls "chromosaturated" environments. In them the spectator cannot really decipher what he or she is seeing. "An attentive, patient person will notice their eyes trying to adapt, trying to think about what they're seeing, and wherever they look they will see a gradual… amazing transformation of color," says renown Venezuelan art curator Ariel Jiménez in Carlos Cruz-Diez: The Autonomy of Color.
The constant mutability of Cruz-Diez' kinetic artworks speaks of a perpetual present. Past and future exist only in our minds. Real is just the world of colors unfolding before us, so we should concentrate our efforts on seeing it whole.
This is the third in a series of articles -produced with the support of Bogotá's Modern Art Museum- that will explore the work and philosophy of modern Latin American artists.