Four museums join forces to give underrepresented heroines of resistance a place in Dutch art institutions. The monumental installation 'Guess Who's Coming to Dinner Too?' (2017-2019/20/21) by Patricia Kaersenhout (1966, NL) was purchased with generous support from the Rembrandt Association and Mondriaan Fund by the Frans Hals Museum Haarlem, Centraal Museum Utrecht, Stedelijk Museum Amsterdam and Van Abbemuseum Eindhoven. Consisting of four large tables, each in the shape of a triangle, the installation seats a total of sixty women from Queen Nefertiti to activist Shirley Colleen Smith. With this artwork, the artist sheds light on underexposed stories from world history to create a fuller, more honest, historical perspective. Kaersenhout is considered one of today's most prominent artists. Her artistic practice unites visual power and cultural activism.
With Guess Who's Coming to Dinner Too? artist Patricia Kaersenhout adds a new layering and dimensionality to Judy Chicago's iconic installation The Dinner Party (1974-1979). This work is widely regarded as an epic feminist artwork and offers a seat at the table to 39 prominent historical women. Building on this concept, Kaersenhout selects sixty black women and women of colour, who have often been ignored, overlooked and excluded from historical narratives. Each museum owns a section of the four-part installation. The four partial versions can be displayed separately or combined to form a larger installation.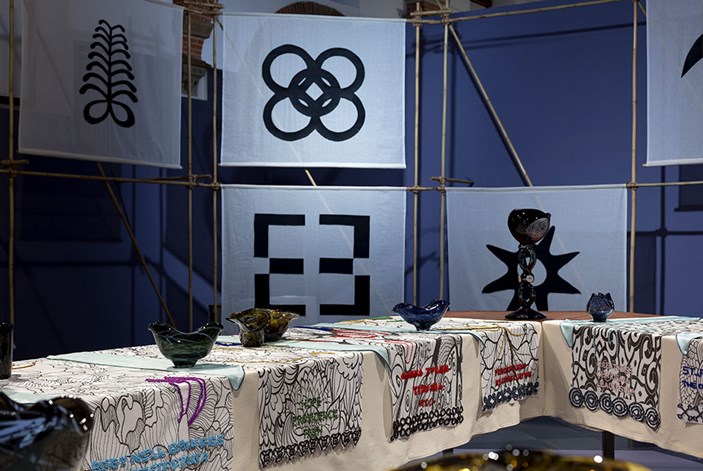 Patricia Kaersenhout, Guess Who's Coming to Dinner Too?, 2017-2019/20/21, collection Frans Hals Museum. Photo: Charlott Markus.
The women who are featured come from different historical eras, from 1370 BC to the present, and from all over the world, from Mexico to Angola. What they all have in common is the fact that their stories are not embedded in 'official' histories, but often passed down in the form of legends and myths, and through oral storytelling traditions. Their stories are tales of strength, courage, resistance, leadership, love, beauty and compassion. The stories zoom in on women who operate parallel to power structures, often forced into the margins. They are symbolically represented in table settings of glassware and embroidered table linens. Their names are embroidered on the table-runners by members of the four museums' local communities. In this way, the participants work together to create an iteration of the installation. For Kaersenhout, community spirit, empowerment and the conversation about 'invisible' women is central to this co-creation process. The dozens of hand-blown glass bowls, platters and goblets, produced by Vrij Glas Zaandam, represent exchange and solidarity.
Some examples of courageous and heroic women include Queen Nanny of Jamaica who, as a Maroon leader in the 18th century, founded Nanny Town for slaves who escaped the plantations. Or the African-American transgender revolutionary and gay rights activist Marsha P. Johnson who fought during the Stonewall Riots in New York (1969), an uprising against the harassment and arrest of members of the gay community. Lilian Ngoyi, a South African anti-apartheid activist and member of the Women's League of the African National Congress and the Federation of South African Women, will also be given a seat at Kaersenhout's table.
Patricia Kaersenhout: "The work I make is never for my own self-aggrandisement. I see my artistic work as serving a purpose – in other words, I think it's important to share histories that have been erased with a broader audience, through art. By doing this, I hope to contribute to a fuller, more honest perspective of histories other than the Western one. Thanks to the purchase Guess Who's Coming to Dinner Too?, the stories of the women at the table have become a part of the Dutch curriculum."