Photo credit: Fay Fox
The National Coalition Against Censorship is excited to announce that Facebook's policy team has committed to convening a group of stakeholders including artists, art educators, museum curators, activists, as well as Facebook employees, to examine how to better serve artists, including considering a new approach to nudity guidelines.
In order to ensure that Facebook policy is well-informed by external experts and perspectives, the National Coalition Against Censorship (NCAC) will collaborate with Facebook convene the group. Participants will discuss the issue of nude photographic art and the harm done to artists, provide insights into the challenges Facebook has faced in developing its nudity policies, and explore ideas for a path forward.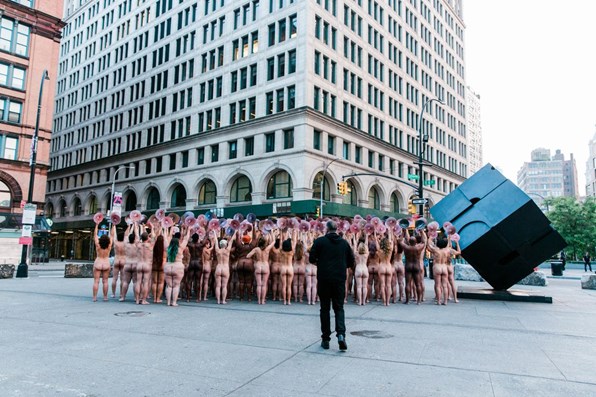 Photo credit: Fay Fox
NCAC launched the the #WeTheNipple campaign in April to call for change in the policies of Facebook and Instagram, which Facebook owns, to allow photographic artistic nudity. At sunrise on Sunday, June 2, 125 people posed nude in front of Facebook and Instagram's New York City headquarters where artist Spencer Tunick created a photographic artwork as part of the campaign. The work reflected Tunick's practice of over twenty years of photographing hundreds or thousands of nude participants in settings around the world and incorporated "male nipple stickers" inspired by the work of artist Micol Hebron.
Images of the human body have been a central subject of art for centuries. Nevertheless, Instagram, the most popular platform for artists who share their work online, and Facebook both ban photographic representations of the body. The ban disproportionately affects artists whose work focuses on already-marginalized bodies, including queer and gender-non-conforming artists. The policy also prevents museums and galleries from promoting exhibitions featuring nudes.
NCAC wrote to Facebook, asking them to commit to supporting artists, rather than silencing them and to convene a group of stakeholders in the arts to develop new guidelines for artistic content.
NCAC looks forward to working with Facebook to tackle the challenges of serving diverse communities and develop policies that recognize the value of one of their core communities: creative artists.