Etienne Verbist: Who are you and why do you do what you do?
Foteini Valeonti: I am Foteini Valeonti and I am the Founder of USEUM. USEUM.org is a realisation of Malraux's "museum without walls" - as he first envisioned it in his book Le musée imaginaire (1965) - exhibiting 85,000 artworks from nearly 2,000 contemporary artists and hundreds of museums around the world all under one virtual roof. People can interact with all artworks in numerous ways (rate or heart & collect them, send them as e-cards to their friends) and even download them. With our Download Artworks feature, visitors can download the images of 21,000 artworks in total in high resolution and use them even commercially free of charge.
EVB: What is your goal?
FV: USEUM is the practical component of my Ph.D. project, which I recently completed at the UCL in London, with the title "USEUM: Making art accessible with crowdsourcing". So our goal has always been to disseminate and increase access to art. 
EVB: What is the impact of what you do?
FV: The impact of USEUM today is that it welcomes more than 1,000 visitors every day on its platform; visitors who discover thousands of the world's greatest paintings in one well-structured and properly documented resource and more importantly enjoy these paintings. Tens of artworks are downloaded every day from people from all around the world, who use them as their wallpapers on their laptops, or cover photos on their Facebook profiles. Last but not least, with more than 150,000 artwork ratings to date, USEUM exhibits the first ever democratically-curated art exhibition.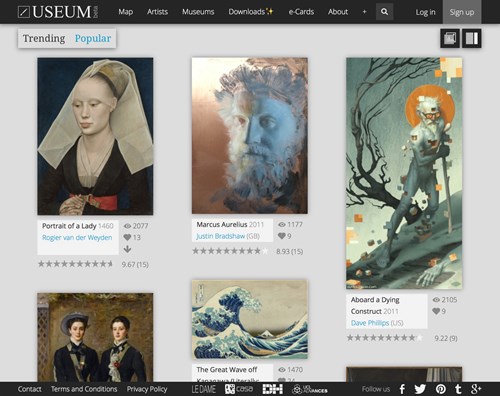 EVB: What memorable responses have you had running USEUM?
FV: About a month ago, we saw a spike in traffic from Germany and we soon found out that the leading independent German consumers' association Stiftung Warentest, consisting of all kinds of experts and scientists, responsible for assessing and rating products and services for the benefit of the general public since 1964, had discovered USEUM. Stiftung Warentest published a stellar review of USEUM, promoting the site and in particular our "Download Artworks" feature, as a highly valuable resource. It was the first time this feature gathered so much attention and the engagement and the responses from the people were incredible, who started promoting it via word of mouth to their friends through their social media profiles. So this made us extremely happy that such an organization discovered our platform and after a thorough examination, it appreciated all the hard work we have done to date (e.g. the endless legal, copyright-vetting process) and praised the great value our "Download Artworks" feature offers to all art lovers.
EVB: What do you dislike about the art world?
FV: When I was conducting some research on the various definitions of art, I discovered firstly that there are the "functional" definitions that highlight the importance of the aesthetic value of works. Another popular definition in academic literature however, is the "institutional definition" that does not take aesthetics as a factor, but instead it defines as art, everything that the art world, i.e. not only the museums, but also the galleries and the art dealers, decide that it must be considered art.
Then I came across a presentation of Professor Robert Florczak, who made a strong case that it is the first time in the history of art that the aesthetic standards have been diminished and now all that matters is, more often than not, the shock value.
I believe that is what bothers me the most: the fact that, what we consider good art has been moving from the "functional" (i.e. the beautiful) to the "institutional" what gallerists and dealers decide is good art.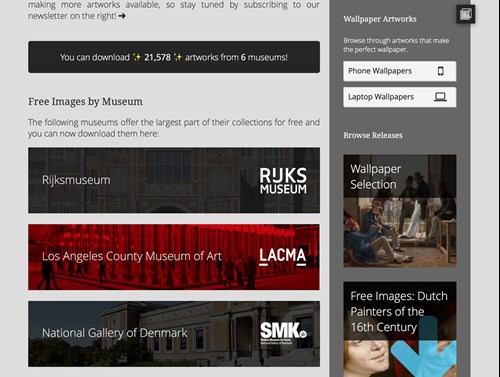 EVB: What research do you do?
FV: Currently we are conducting R&D on how museums could take advantage of their digitized archives to generate a source of revenue and become independent, whilst also gaining valuable insights on their visitors' engagement with the exhibits.
EVB: What is the best piece of advice you have been given?
FV: As USEUM is a rather unconventional project, over the years I have faced countless seemingly insurmountable brick-walls. So the best piece of advice I was once given is that "when there is will, there is a way"; which, I believe, was first stated by Carthaginian general Hannibal, who in 200 BC used war elephants and said "I shall either find a way or make one" (in Latin "Aut inveniam viam aut faciam").
EVB: What would you have done differently?
FV: I would try to be less afraid of reaching out to people and of "putting myself out there" as they say. My introversion did more harm than good I believe. I used to dread (and I still do to a certain extent) pitching events and literally sweat over important emails. But then I realized it is normal and everyone else is doing the same thing, so, really, it's fine. So now I am telling myself, as long as you are discrete and polite, don't be afraid to dare and ask the questions you need an answer for; and if in order to get those answers, you must expose yourself to rejection, well then so be it – it's part of the process. As they say, 99% of the time is better to do something that went wrong, rather than to not do anything at all.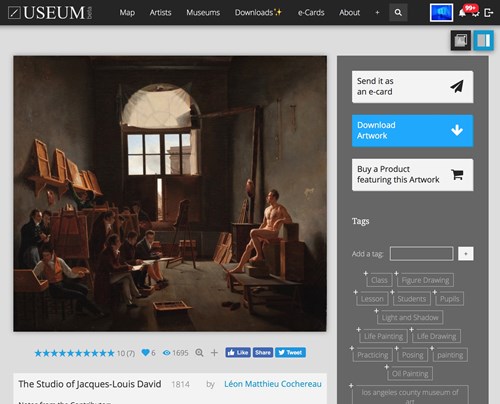 EVB: What is the role of the people, the crowd in your project?
FV: USEUM has been built on crowdsourcing; more than half of USEUM's artworks have been contributed either by artists or by art lovers. More importantly, on USEUM, the crowd is the curator, as all rankings are based on the ratings of the platform's members (explicit crowdsourcing) and their activity such as views, or hearts (implicit crowdsourcing). 
EVB: What can people do on USEUM? And how do contributors participate?
FV: Anyone on USEUM can download 21,000 high resolution copyright-free artworks and use them any way they like; send any of the 85,000 artworks as an e-card; discover all of USEUM's thousands of artworks, artists and museums through our recommendation mechanisms that tailor suggestions to your liking and gather all your favorite paintings in your personal collection, which is easy to search and share.
For those wanting to participate as contributors, they can contribute to the curation of the platform by rating works, to the documentation of the platform, by meta-tagging works and then they can even add artworks and extend the collection.
EVB: What is next? 
FV: In July, I will be presenting a paper at the EVA London conference on the new service that we developed that helps museums generate revenue from their digitized archives and gain insights on visitor engagement. So now we are seeking for more museums to partner and collaborate with us on this project to help us make it even more impactful and useful for museums with digitized collections.