Image courtesy to Blindarte
A group of leading professionals from the art world are joining together to host an online auction to benefit health professionals working in Lombardy and Campania. The auction is called Art To Stop COVID-19 and the organisers are calling for galleries, collectors and artists to donate an artwork for the auction.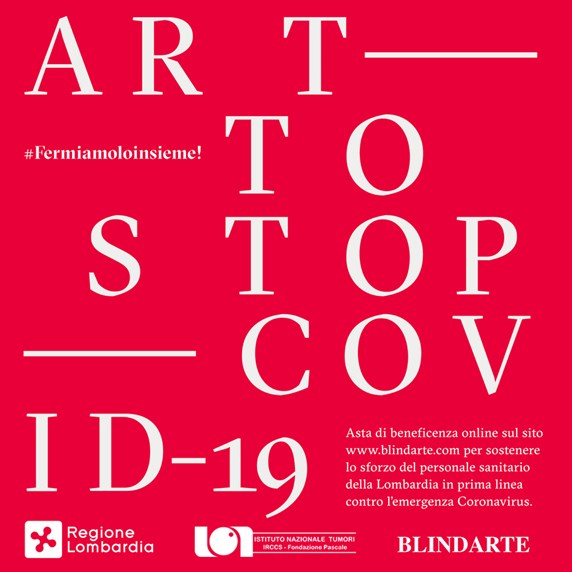 Image courtesy to Blindarte
The original idea for the auction came from Edoardo Osculati and Memmo Grilliand is being run via BLINDARTE. They have been supported by Mariuccia Casadio and Silvia Macchetto as well as graphic designers Stefano Vais and Alexandra Gredler.
Artworks with deferred deadlines will be on sale via the online auction section of the BLINDEARTE website. The auction will be open for the entire duration of the pandemic and there is no time limit set on donations.
Proceeds from all sales will be transferred directly to the beneficiaries. The purchaster can choose to donate to the Lombardy Region Coronavirus Emergency Support effort or to the Istituto Pascale in Naples. If purchasers would prefer to donate towards a different relief effort then this is also possible.
Art to Stop COVID-19 is a charity auction. No commission will be paid to the auction house and there will be no additional fees of charges beyond that which is donated.  
Artworks included in the sale will stay on the website for 10-15 days. Unsold pieces will be resubmitted for sale.
Art to Stop COVID-19 has already confirmed donations of art from: Davide Cantoni, Mimmo Jodice, Andrea Zegna, Ernesto Esposito, Gregory Papadimitriou, Eliana Guglielmi, Antonio Colombo, Sebastiano Mauri, Associazione Arte Continua San Gimignano, Roberto Coda Zabetta, Jacopo Benassi, Galleria Francesca Minini, Francesco Angarano.
PR for the campaign is being run by Havas PR and legal contributions are being made by Lawyer Francesco Bellini in Rome.