Women Making History is a new exhibition of more than 100 hand-crafted banners commissioned for PROCESSIONS, a mass-participation artwork that took place in June 2018, commissioned by 14-18 NOW and produced by Artichoke. This free, ticketed exhibition will take place from 2 June – 11 July 2021 at London Scottish House in Westminster.
Expressing women's concerns about gender-based violence, reproductive and economic rights, social exclusion, homophobia and trans allyship, these banners are a powerful reminder of the importance of feminist activism and the ongoing struggle for gender equality.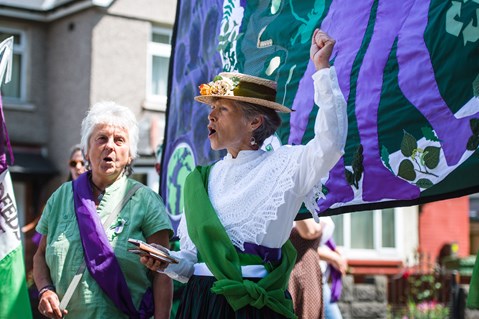 Collectively they present a rallying cry for change epitomised by the banner created by Welsh collective HEXXX. A powerful manifesto to the government written by women who have experienced gender-based violence, it calls on UK members of parliament to "acknowledge the existence of abuse: in public spaces, workplaces, schools, detention centres, within families, behind closed doors and on the streets" and provides a roadmap for meaningful change.
Inspired by the banners of the suffrage movement, these vibrant and elaborate artworks by women's groups across the UK and leading figures in British art and fashion including Vivienne Westwood and Claudette Johnson speak to the present and the future. Displayed together for the first and only time, visitors will be able to view up close the craftsmanship and collaboration which went into each banner.
The banners display deeply personal stories of women and their communities. Tara Arts' banner used recycled saris donated by local women, whilst Macrobert Arts Centre incorporated one of their participants' silk wedding dress in their design. Many reference women's integral contribution to local industries through their use of materials - Rowallane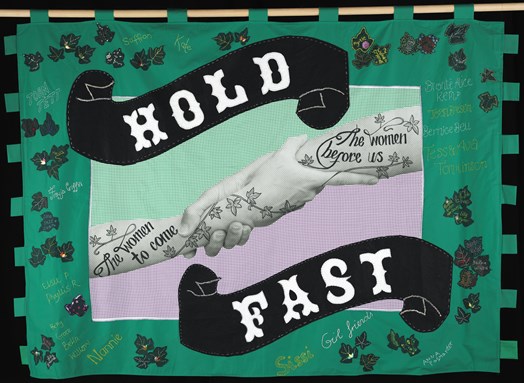 Community Hub's banner is made from a 100-year-old piece of Belfast linen made in factories powered by female workers known as 'Millies', whilst the British Ceramics Biennial created hundreds of bone-china clay buttons in tribute to women's contributions to the Potteries of Stoke on Trent.
Tens of thousands of women took to the streets in Belfast, Cardiff, Edinburgh and London in June 2018 to mark 100 years since the first UK women were allowed to vote. PROCESSIONS provided a unique moment to celebrate the agency of women and reflect on what it means to be a woman today. Three years on, the exhibition continues this legacy, providing an opportunity to reflect on the banners' calls for equality, to examine the pace of progress and to be inspired to keep pushing for change.
Broadcaster and campaigner June Sarpong, who worked on the BBC broadcast of PROCESSIONS, recalls in the volume that accompanies the exhibition: "It was a particularly poignant day for me. I remember the magical sight of tens of thousands of women invading central London wearing purple, white and green scarves, many carrying beautiful handmade banners. As I was celebrating this historic milestone in equality, I couldn't help but consider, in spite of a century passing, the many milestones we have yet to achieve in terms of career opportunities, reproductive choices and safety from exploitation and violence."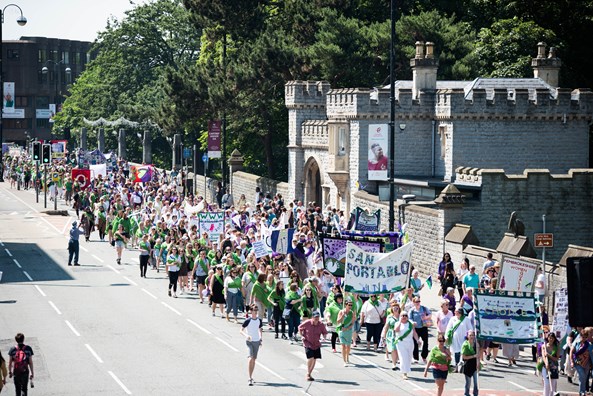 Helen Marriage, Director of Artichoke, says:
"The banners in this exhibition were made and carried by participants in PROCESSIONS. They include calls for an end to male violence against women, an end to domestic abuse, and for reproductive and economic rights. Looking back at that day in 2018, I believe PROCESSIONS still has a unique resonance. For a few hours, women owned the streets. Our creative energy now more than ever needs to be expressed outside the walls of buildings.
Today, as we struggle to process recent events, we understand how far from real change we still are, and how the fear of male violence continues to shape and restrict women's lives. The images of police holding handcuffed women mourners to the ground echoed those of suffragettes arrested for protesting women's rights one hundred years ago. We are alarmed at the assault on civil rights passing through Parliament and efforts to curb our right to protest as citizens in a free society. We may never duplicate the experience of PROCESSIONS, but we will continue to explore all the possibilities of public art. This exhibition aims to capture and encourage that spirit."
The companion volume to the exhibition Women Making History, published by Artichoke and Profile Editions, is available at processions.co.uk. It features full colour images of all the banners in the exhibition with details of the groups that worked on them, as well as essays about PROCESSIONS.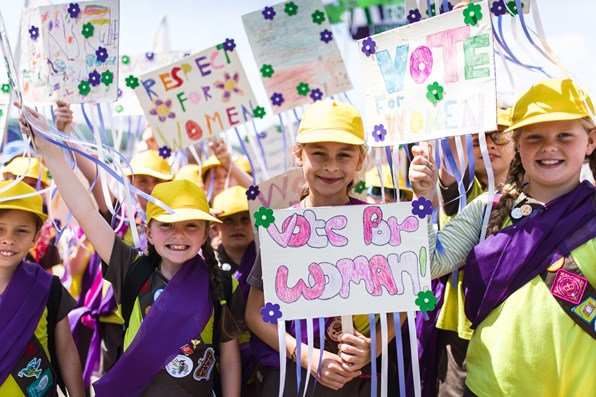 The banners are available to view remotely on Google Arts & Culture, and a special exhibition guide will be available to download from 27 May on Bloomberg Connects, a free digital guide to cultural organisations around the world. To download the Bloomberg Connects app, visit the Apple App Store or Google Play.