Image: Plus One Gallery, Rose-colored glasses
As the art world experiences unprecedented upheaval and lack of income, initiatives that support artists and champion new names in the industry are helping to bring attention to the work of the artists themselves. 
One such initiative is The Wunderwall, a constantly evolving wall of art from new and emerging artists a the Sofie Van de Velde gallery in Antwerp, Belgium. The art works are in various media and styles and during the next few months, a percentage of the sales from all of the works will be donated to local food banks.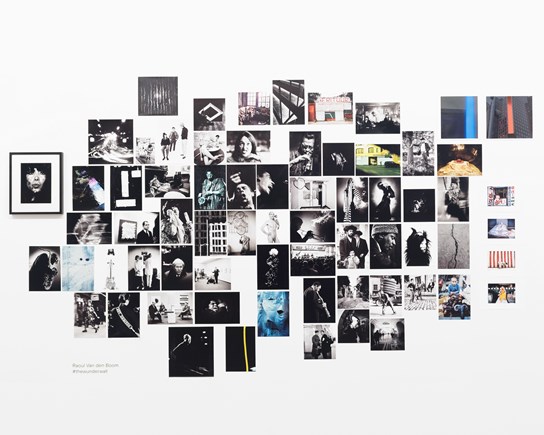 Raoul Fanden Boom, TheWunderwall
"We have noticed a larger growing group of collectors who are specifically looking for young and emerging artists," says Sofie. "As a result, we have moved this format into our galleries, where we have devoted a space to a constantly-changing Wunderwall."
"In our gallery space, shared with PLUS-ONE Gallery, we reserve the central wall mainly for artists who are not (yet) bound to a gallery, and we invite them to show their recent works. This Wunderwall project forms the common ground between emerging artists, who are looking for visibility, and young collectors, who are looking for new discoveries."
The project started last year, when the gallery presented an entire wall of smaller artworks during a group exhibition titled 'Looking at the world through rose colored glasses'.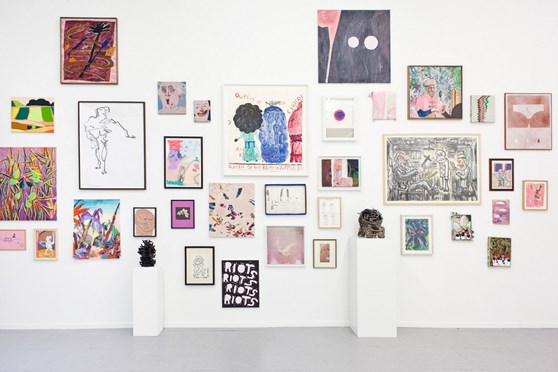 Plus One Gallery, Rose colored glasses
Since then it has grown into an independent project, initiated by Gallery Sofie Van de Velde and PLUS-ONE Gallery. "Every six weeks, we show another artist or artist-collective," says Sofie. "The Wunderwall has become a third layer in our gallery's program. It is an in-depth manifestation of our belief in collaborations. Our aspiration for the Wunderwall is to create an independent and dynamic platform that has its own identity."
The focus of the Wunderwall is on artists who are not yet bound to a gallery. "We have never had to 'convince' an artist to participate," says Sofie. "We have an interest in certain emerging artists or artist-collectives and have asked them if they would like to present their artworks in the gallery. For them it's a way to professionalize their artistic practice, as we are offering professional help with practical manners, such as photographing and determining prices. They also get access to an established gallery's network to sell their works."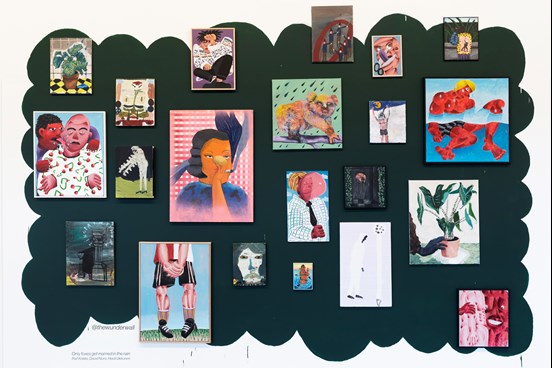 Only foxes get married in the rain, The Wunderwall
For the gallery, it's a great way to encounter new artists and make new discoveries.
"At the moment, we receive many applications by young artists to present on the Wunderwall. We mainly look for emerging artists through recommendations from artists or curators who we know, or we will approach people we have seen ourselves in exhibitions and fairs or online."
And Sofie believes the Wunderwall addresses a real need. "There are several people that have never set foot in a gallery because they fear sky-rocket prices. But now that we are all confined to our homes, people feel the need to make their space feel cozy. Our goal is to lower the threshold. Art doesn't have to cost a lot of money. We've just launched a new project called 'Art Feeds' that deals with those needs. I think there are a lot of opportunities to show art to people who were initially not open to it, maybe now more than ever."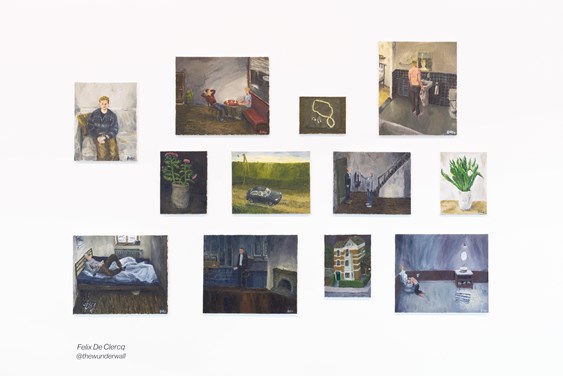 Felix De Clerck, TheWunderwall
There is no doubt that COVID-19 is causing an evolution in the art world, and Sofie agrees that following this crisis, the industry will be completely different. "I fear nothing will be the same, but t's impossible to predict the future, we are looking at the situation from day to day."
"Reality shows that every setback holds opportunities for something new. So we continue to discover opportunities in everything. I predict that people will be more careful, that there will be less traveling in the first instance, so people will spend more time in their own environment. There will be less art fairs. Galleries may orient themselves differently."
"My hypothesis is that the focus will shift to the local market. More than ever, people will try to put their own environment in the world via on-line marketing, but also through personal contacts. We are calling each other, more than ever, to share tips and to hear clients. But that's necessary; everything needs to get more personal now. I feel that the essence is important again."