Expectations run high whenever US artist Jeff Koons presents a new work. Not for the first time, this is a BMW. However, what makes this "rolling sculpture" a first is that it will not remain a one-off. Because 99 cars – no more, no less – will find their way onto the roads. Wait. Roads? Exactly. Because this is the goal, as BMW CEO Oliver Zipse explains. THE 8 X JEFF KOONS edition from BMW is intended "not only be displayed as a coveted collector's item in museums but will also be allowed to flourish on the road as a genuine BMW."
Koons has really gone for it in designing the special BMW 8 Series. And he spared no effort in the process. The design combines an amazing eleven colors from blue to silver and yellow to black. The blue reminds him of the vastness of space, Koons explains. The interior continues in an exclusive vein: high-quality materials and the finest leather are inspiring. The seats are in striking shades of red and blue, the colors of superheroes from the comic book universe – and those of BMW M
The design incorporates elements from Pop Art as well as geometric patterns that blend perfectly with the lines and contours of the BMW 8 Series Gran Coupé. The exploding lines of color at the rear are reminiscent of Koons' BMW Art Car from 2010. Koons designed the 17th BMW Art Car, the BMW M3 GT2, which competed in the 24 Hours of Le Mans. According to Koons, the words "POP!" painted on both sides and the swirls of wind symbolize the power and speed of THE 8 X JEFF KOONS.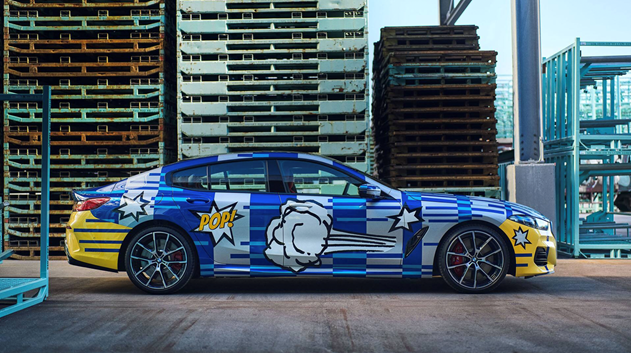 Koons himself says that he always wanted to design a very special BMW. His edition is eye-catching, but at the same time minimalist and conceptual. "I can't wait to drive it and ride in it, and I hope that people will enjoy the Gran Coupé just as much as I do," says the artist, expressing his vision. And Koons takes his ideas further: "What matters is how we relate to each other and our awareness of everything we are surrounded by. For the driver and all passengers, there is a heightened state of pleasure. This is what my car has to offer."
This joy is mutual, as Oliver Zipse reveals. Working with Koons again inspired everyone, said the BMW CEO: at BMW headquarters, at the Munich Research and Innovation Center, as well as at the Dingolfing and Landshut plants. He goes on to add: "Never before in the history of our company has a BMW been created with such an extensive design effort as THE 8 X JEFF KOONS."
THE 8 X JEFF KOONS is being presented for the general public in Manhattan's Rockefeller Plaza before one of the vehicles from the edition, signed by the artist, is auctioned to an international audience at Christie's in New York on April 4th. All proceeds will go to the International Center for Missing & Exploited Children (ICMEC). Koons has had a personal association with the NGO for over two decades.
Afterwards, THE 8 X JEFF KOONS will go on a grand tour: It will be exhibited at art fairs and events around the world, including the 16th Istanbul Contemporary, the Paris Photo, the Goodwood Festival of Speed, Art Dubai, West Bund Art & Design Fair Shanghai and Art Basel, Hong Kong.
Check out exciting works of contemporary African art on the ArtDependence art store on Artsy. Click the Artsy banner to see the array of works on view.