What does the art of painting still mean in today?
That is a question that occupies Vincent Geyskens and that he explores in his diverse oeuvre. When we look at images, we look for connections with our world, with the reality we know. Vincent plays with these expectations of images and painting: what do images mean to us, what role do surfaces and paint play in how we read and analyse an image, what links do we make with images we encounter in our everyday life?
For the artist, painting is a way of making thoughts concrete and matter visible. His work challenges you, the viewer. Vincent Geyskens uses figurative and abstract elements interchangeably and experiments with different types of surfaces. These range from paper to plastic, from canvas to objects he has found, and in this way he explores the limits and possibilities of the chosen surfaces.
Vincent Geyskens' exhibition at M brings together various series and types of works from the past ten years, supplemented by a number of older reference works. You follow, as it were, Geyskens' quest for the status of the image in today's society. M presents both collages, sketches, paintings on canvas and painted series of frames and thus establishes links between different approaches to painting.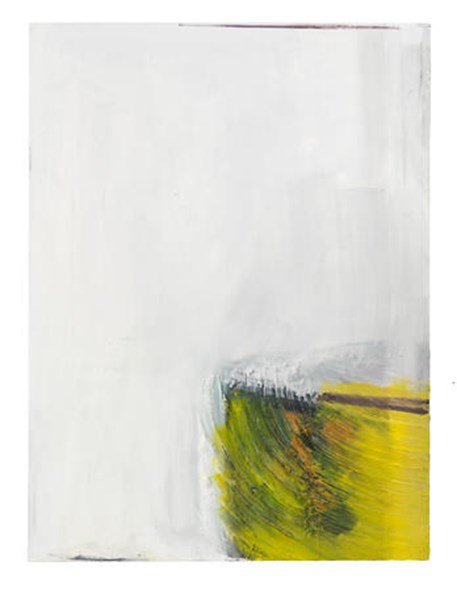 What the artist puts on canvas ranges from portraits and still lifes to abstract colour compositions with bold strokes of paint. Sometimes, he applies the paint very thickly in order to draw attention to the structure of the paint and to the physical act of painting. Vincent Geyskens compares a canvas with a skin: it is something that is alive, that has texture, that can be worked on just as a skin can be worked on with make-up. He uses colour and paint to build up abstract works. He uses light and dark to create a sense of emptiness and openness.
Painted series of frames, using advertising boards as the surface, form the backbone of the exhibition. Through the succession of frames, Geyskens creates a certain rhythm. The artist applies large areas of colour alternated with empty segments that provide a view of the wall behind. For his collages, Geyskens starting point is existing images that have a clear function as advertisements and campaign images. The erotic or political images that he tears out aim to convince, to excite. By brutally cutting up and folding the image, he makes it his own and creates a distance to the original image. They become new compositions that change our first impression of those images and pictures. 
The exhibition also includes a selection from Vincent Geyskens' numerous drawing books full of quick sketches of nature made during his many walks. These landscape drawings show how he tries to visualise his observations with just a few pencil strokes. In M, a connection is made between the works of Geyskens and a number of works by Alfred Delaunois (1877-1941) from the collection of M. Delaunois was a painter who also placed texture and matter at the centre of his rough drawings.
The most recent works in the exhibition are Geyskens' paintings from 2020: subdued still lifes on a white background. What is depicted is recognisable, but flirts with the abstract. As in his other works, here too the painting technique used gives the work something close to tangibility. 
Vincent Geyskens (1971, Lier), has previously held solo exhibitions in S.M.A.K. (Ghent), Galerie Annette De Keyser (Antwerp), Trampoline (Antwerp), Envoy Gallery (New York), CC De Garage (Mechelen). He has participated in several group exhibitions including at KANAL - Centre Pompidou (Brussels), Roger Raveelmuseum (Machelen-Zulte), CIAP (Hasselt), Museum Dr. Guislain (Ghent), Wiels (Brussels). Since 2007, he has been a lecturer at the KASK in Ghent. He has also taught at La Cambre in Brussels and at the HISK in Ghent.
Geyskens' exhibition is on view at Museum Leuven until September 5, 2021.