The contemporary art world celebrates the breadth of creativity in the NFT space with Artsy x Verisart: 22 for 2022, an NFT auction featuring 22 artists for 2022 across the contemporary, digital and street art market. Curated by Verisart, the NFT minting and verification platform, and organized in partnership with Artsy, the world's largest online art marketplace, the auction will offer newly commissioned works and bids will be accepted in Ethereum (ETH).
"A year ago, this new digital format had barely scratched the surface in the art world but after a spectacular, whirlwind year, NFTs no longer require an introduction. If 2021 was the year the art world woke up to NFTs, 2022 is the year that relationship is cemented. The 22 participating artists in this inaugural Verisart x Artsy curated NFT auction reflect the widespread engagement with NFTs throughout the art market and across all disciplines, styles and generations," said Robert Norton, CEO & co-founder of Verisart. 
Penny Slinger, ​​Don't Look at Me i…one of Voice (still), 2021, NFT
Artsy is dedicated to promoting diverse voices and artworks by emerging and world-renowned artists, providing a platform for them to gain global exposure and see tangible results. Through this partnership, Verisart and Artsy are leveraging their collective platforms to spotlight and support these creative visionaries and next generation of artists.
The participating artists reflect a variety of mediums including AI, NFTs, painting, installation, photography, robotics, sculpture, video and more - all developing their own striking visual style. Artists include Shepard Fairey, Jennifer Rubell, Vhils, Mario Klingemann, Daniel Brown, Penny Slinger, Manuel Rossner, Mark Wallinger, Estate of Lee Mullican, Troika, Mat Collishaw, Neil Beloufa, Pindar Van Arman, SMACK, Philip Colbert, Sougwen Chung, Jonathan Yeo, Recycle Group, Vince Fraser, Mike Egan, Leo Isikdogan and Linda Dounia. 
Starting Tuesday 25 January and running for two consecutive weeks, certified NFTs by these artists, minted on and certified by Verisart, will be sold exclusively on Artsy.
"We're delighted to partner with Verisart to mint and curate this NFT auction, and bring these artists and their works to our global audience of 2-plus million collectors and art enthusiasts who are increasingly becoming more interested in acquiring high-quality digital works," said, Marisa Elena Todd, VP of Product, Artsy.
While some artists like Pindar Van Arman have been making NFTs since 2018, for others, including Penny Slinger, this will be their inaugural work. Artworks include Shepard Fairey's first digital Andre the Giant sticker, pioneering computer art from the 1980s by Lee Mullican, Jennifer Rubell's exploration of fake news and Mario Klingemann's hybrid creatures generated by the latent space of BigGAN.
The artists are represented by galleries such as Hauser & Wirth, François Ghebly, Meredith Rosen, Kohn Gallery and Blum & Poe and their works have been exhibited at the National Portrait Gallery, Venice Biennale, Tate, MoMA, LACMA, Centre Pompidou among many others.
Artists are excited by the possibilities offered by NFTs. Jennifer Rubell sees NFTs as a new medium, explaining "it's my job as an artist to understand that medium and to use it in a way that uniquely suits it." For Penny Slinger, "the realm of the NFT presents another facet to the presentation and dissemination of art that incorporates different disciplines and practices."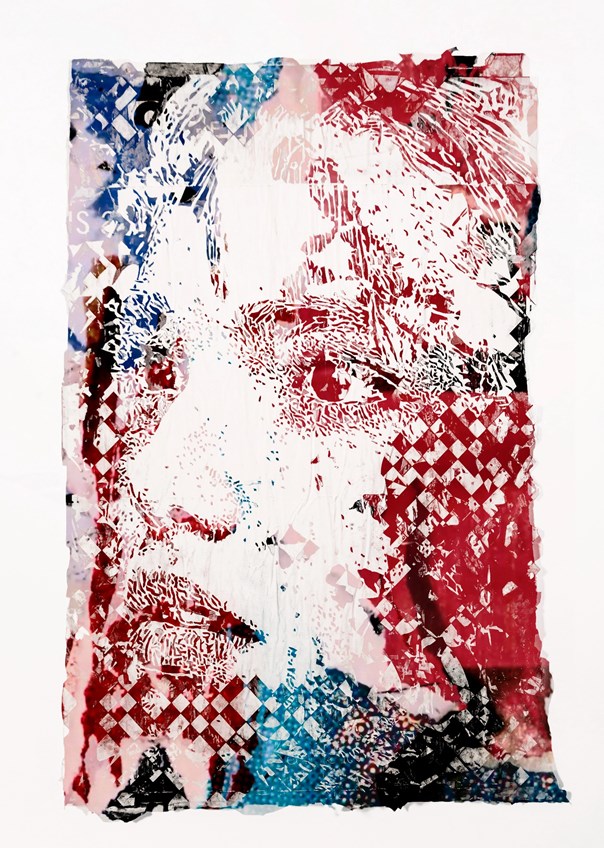 Vhils, Torned (still), 2022, NFT
Vhils lays out the ways in which NFTs and artists' digital Certificates of Authenticity contribute to positive change in the art world. 
"In my perspective, NFTs can be game-changing for any artist. The new royalty system they have introduced can solve many of the art world's problems in this context. Furthermore, they also contribute towards improving transparency, which in the art world is at times somewhat opaque, as well as solving concerns related to certification for collectors through a failsafe system of verifying works." 
The two-week auction will run from 1pm EST on January 25 and end at 6pm EST on February 8. All the works are minted on Verisart or using an artist's custom contract and will be available in ETH. Artworks will be viewable on Artsy at https://nft.artsy.net