Reunited and on display together for the first time: the paintings that Vincent van Gogh made of olive groves will be on view at the Van Gogh Museum, Amsterdam from March 11 – June 12, 2022. What did Van Gogh think was so special about olive trees, and why did he paint so many of them?
This exhibition reunites Van Gogh's paintings of olive groves and exhibits them together for the first time, thanks to unique loans from museums in Europe and the United States.
Comfort in Nature
Vincent was 36 when he plunged into painting olive groves in the South of France. He saw many olive trees around the asylum where he stayed for a year because of psychological complaints. The gnarly shapes of the trees reflected Vincent's artistic and mental journey.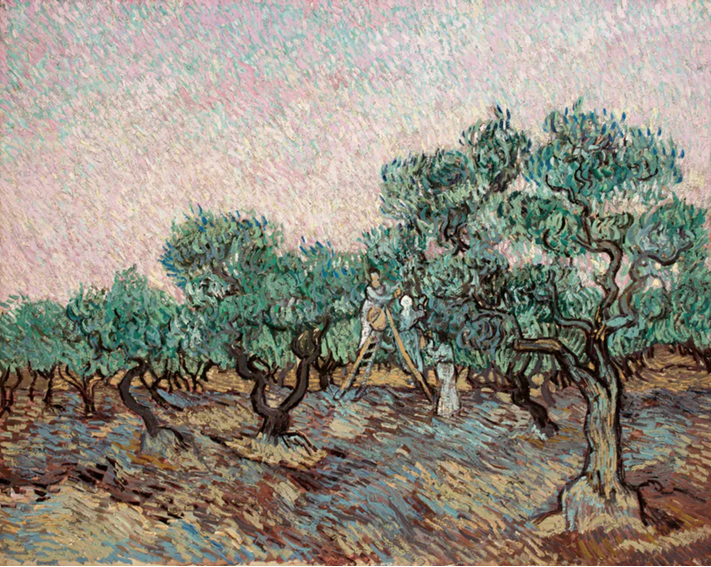 Vincent van Gogh, Women Picking Olives, November 1889, Oil on Canvas, 73,5 × 92,5 cm, Basil & Elise Goulandris Foundation, Athens
Van Gogh went through a mentally difficult time in the institution. Outdoors, surrounded by nature, he found comfort and strength. He wanted to express that feeling in his olive grove paintings.
'The murmur of an olive grove has something very intimate, immensely old about it.' (To Theo from Arles, April 1889)
Experimentation and Variation
Van Gogh made fifteen paintings of olive groves, constantly experimenting with various approaches. Fascinated by the gnarly shapes of the olive trees and their ever-changing colours, he painted them over and over. He painted at different times of the day and used colours inspired by the season. Vincent himself considered his paintings of olive trees to number amongst the best he had made in the South of France.
Catalogue
The catalogue features in depth findings on the Van Gogh's technique, materials, and palette resulting from a three-year cross-disciplinary conservation science research project that rigorously examined all 15 paintings.
Multimedia Guide
Nature had always been an important source of inspiration for Van Gogh. But why were the olive groves so special to him? And why did he paint so many of them? Find out more in the dedicated multimedia guide for the exhibition.
Extensive Research and Publication
The exhibition is the result of years of research into Van Gogh's olive groves, conducted by the Van Gogh Museum in collaboration with colleagues at the The Dallas Museum of Art and the other museums that are now home to these paintings.
The research explored a range of aspects including the order in which Van Gogh made the paintings, the colours he used and his working methods both in his studio, and outdoors. The findings are published in an English-language academic catalogue. The exhibition is also accompanied by an associated Dutch publication.