Bonhams has announced a forthcoming exhibition sale titled "TCM Presents…It's A Knockout!" featuring works of the most important sports icons in American history. Taking place in New York on 5 October, the sale brings to auction for the first time a comprehensive collection of rare, original paintings, drawings, and sketches by "The Greatest," Muhammad Ali.
To many, it may come as a new discovery that Ali had been an artist all his life. First nurtured by his father, Cassius Clay, Sr., a professional artist, Ali continued to paint and draw informally as he grew up, eventually enlisting art lessons from sports artist LeRoy Neiman. Ali commonly drew and painted those subjects closest to his heart: boxing, civil rights, world peace and humanitarianism.
Throughout decades of friendship and collaborations with Ali, Rodney Hilton Brown built one of the largest private collections of original Ali artworks. Here, he shares with us his favorite pieces.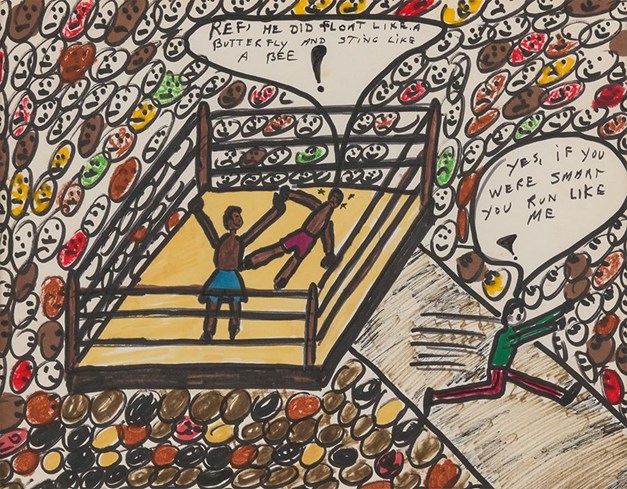 Muhammad Ali, 'Sting Like a Bee', 1978
'Sting Like A Bee' was executed during the summer of 1978 in Natchez, Mississippi, where Muhammad Ali was living and filming the movie "FREEDOM ROAD." It shows a victorious Ali standing over a fallen opponent, but most notable is the inclusion of an original poem within the captions: a knocked-out opponent exclaims, "Ref, he did float like a butterfly and sting like a bee!" while the fleeing referee cries "Yes, if you were smart you run like me!" This bold, colorful work is perhaps the most quintessential Ali painting.
Ali did not claim to be a great artist; however, he created art to convey his political and religious messages. As Ali used to say, "I draw pictures with meanings." Many of his paintings convey his social message of Black pride and Black resistance to White domination. In his own words, Ali described the scene and sentiments "This is the courtroom in my trial, the lawyers holding up their petitions and facing the judge, and jury sitting there and looking a little angry, and then the judge, not looking too happy himself before the decision is rendered, and everything is gloomy. All I can picture is the way things are going. I'm on my way to jail, so here you see me thinking with the jail on my mind."
The significance of 'My Trial' is how it portrays both Ali's physical trial for refusing induction into the U.S. Army during the Vietnam War, as well as his sentiments and deeper thoughts at that exact moment.
Marking another momentous occasion in Ali's life, and mine, this original work was painted, signed and dated on April 12, 1979 when Ali visited my home on East 64th Street in New York City. Let My People Go illustrates Ali's support of the United Nations' efforts to free Blacks in South Africa, especially Namibia, from apartheid. As part of Ali's goodwill ambassadorship to the UN, I had helped coordinate his unveiling of this artwork and his recital of a poem, both of which ended on the words, "Let my people go."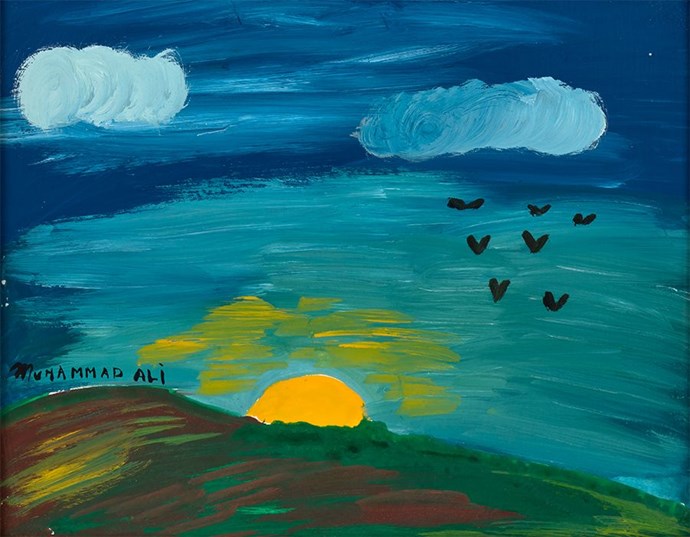 'Eastern Sunrise' was painted at my dining room table on 19 February 1979, during one of Ali's visits to New York City. To me, it may be "the greatest" painting Ali ever created due to its dramatic use of deep blue contrasting with the bright yellow rising sun - it certainly represents his best use of color. We worked on several sunrise and sunset-themes works together in 1977, such as Sunset with Tree of Life, but this work represents a noticeable improvement in Ali's skill with a tighter composition and excellent color balance.
I had the privilege of personally casting this bronze of Ali's right "knockout" fist in Ali's hotel room at the Plaza Hotel in 1979. We created it after Ali had won three World Heavyweight Championships and prior to his Larry Holmes fight in 1980. It's an exceptionally rare piece; until this point in time, Ali had been understandably so averse to putting his prized fist into a mold that not even the Boxing Hall of Fame had been able to create one.
Taking his concerns into account, along with the fact that Ali rarely sat down for more than a few minutes at a time, I invented a novel molding technique utilizing gel that was typically used for dental implants. While the gel would set in just a few minutes, it was a weaker structure and would collapse on itself in a few minutes. To prevent this, I created a second mixture of plaster-of-Paris, which I poured into the gel mold immediately after Ali's fist was removed. The plaster successfully filled the gel cavity, holding the original form and hardening into the final mold within a few days. The end result was so well-done, even Ali's fingerprints are clearly visible in the bronze.