Considered one of the most important bequests of the past decades, the photographer and philanthropist Ulrike Crespo of Frankfurt left more than 90 outstanding paintings and works on paper to the Städel Museum. Spanning modern and international post-war art, the bequest includes outstanding works by Wassily Kandinsky, Franz Marc, Otto Dix, Max Ernst, Fernand Léger, Jean Dubuffet, Cy Twombly, and many others. One great example is Oskar Schlemmer's watercolour for his world-famous painting Bauhaus Stairway (New York, Museum of Modern Art).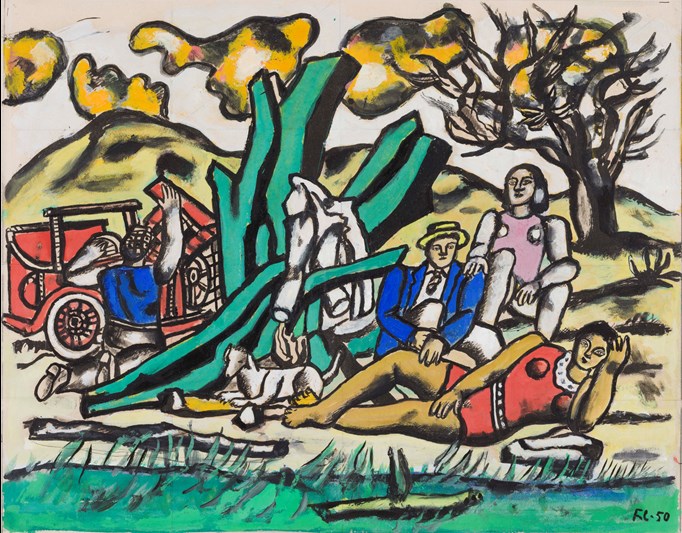 Fernand Léger, La partie de campagne, 1950
The Städel Museum is now honouring Ulrike Crespo's impressive gesture with an exhibition titled "Tokens of Friendship: Ulrike Crespo's Gifts to the Städel Museum".  The works in this show will feature selected works from the bequest will enter into dialogue with works from the Städel's collection. A total of 72 works will be on view, including 44 from the Ulrike Crespo bequest. The donated individual works and work groups form an excellent complement to the collection of the museum. They enhance existing holdings and close gaps – including those left behind by the Nazi confiscation of artworks within the framework of the 'degenerate art' campaign. In the exhibition, selected 'new arrivals' and works from the Städel's collection thus correspond and correlate with one another to the mutual enrichment of both.
'With her bequest, Ulrike Crespo picked up on the best of Frankfurt's civic traditions – after all, the Städel Museum owes its very existence to just such an act of patronage. And the masterworks from her legacy could hardly be a more fitting complement to the museum's holdings. With our special exhibition, we would like to commemorate the donor and celebrate her wonderful gift to Frankfurt. The Städel is deeply indebted to Ulrike Crespo', commented Städel director Philipp Demandt.
'One thing was very important to Ulli Crespo: she wanted art to be accessible to the whole society. She wanted to enable even more people to develop their personalities by way of the sensorial-aesthetic experience of art and culture. And to that end, she founded the Crespo Foundation. Her bequest to the Städel Museum is keeping up with that logic. We are extremely delighted about this exhibition in honour of Ulli Crespo's works and values', remarked Christiane Riedel, the chairwoman of the Crespo Foundation's board of trustees.
"Tokens of Friendship: Ulrike Crespo's Gifts to the Städel Museum" will be on view at the exhibition hall of the Department of Prints and Drawings at Städel Museum, Frankfurt from November 24, 2021 to March 6, 2022.