The installations, sculptures, drawings, films, photographs and performances by Amalia Pica demonstrate a minimalist language of forms and, on closer inspection, show themselves to be multilayered and complex. Verbal and nonverbal communication, i.e. the exchange and transfer of information in the form of language, symbols or gestures, is a theme that Pica often incorporates into her artwork. How is communication mediated and what role do political and sociocultural backgrounds play in this regard?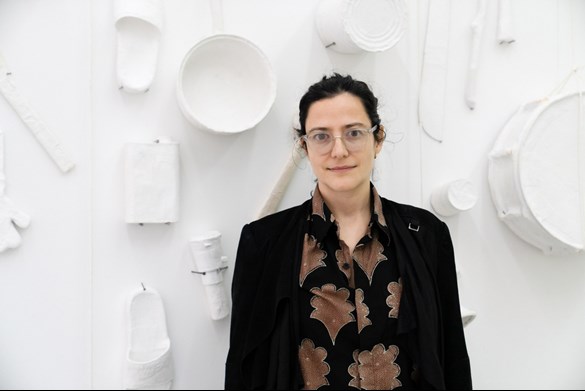 Image: Amelia Pica, Winner of Zurich Art Prize 2020. (Work in the background: (un)heard, 2016. Collection Cc Foundation, Shanghai)
The works exhibited at Museum Haus Konstruktiv bear witness to this interest. One of the works on display is the installational piece Joy in Paperwork, a series of A4 paper sheets marked with stamps that are normally used by authorities for bureaucratic processes. Pica began to 'draw' with such stamps in order to counter the tedious bureaucracy of her naturalization process in Great Britain with something playful and fun. In hundreds of drawings, words such as PAID, RECEIVED, CANCELLED or PRIVATE & CONFIDENTIAL are juxtaposed, superimposed and arranged in sequences, thus forming partly figurative and partly decorative motifs.
Amalia Pica enthused the Zurich Art Prize jury by means of her precise engagement with political and sociological themes, based on scientific research and findings. The fact that Pica, with her formal language, shares the same thematic focus as Museum Haus Konstruktiv, was already established in the 2019 group exhibition Concrete Contemporary.