Image:  Karole P.B. Vail, courtesy to The Solomon R. Guggenheim Foundation
Sitting majestically on the banks of the Grand Canal, the Peggy Guggenheim Collection in Venice is a source of tranquillity and calm amongst the cities busy cultural scene. Set in the former home of Peggy Guggenheim, the museum is home to a vibrant collection of European and American art as well as a sculpture garden and several temporary exhibitions.
Like most galleries and museums around the world, the Collection was closed as Covid-19 spread across the country. It reopens today, on June 2nd 2020.
We reached out to the museum's Director, Karole P. B. Vail to find out more about the measures that are being put in place to keep visitors safe and to ask what she thinks the art world will look like going forward.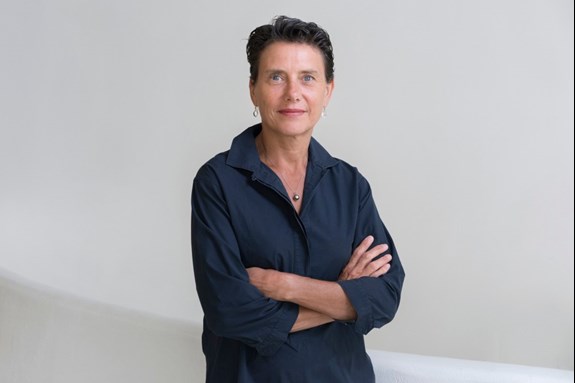 Image:  Karole P.B. Vail, courtesy to The Solomon R. Guggenheim Foundation
Art Dependence (AD): What was your experience of lockdown?
Karole P. B. Vail: In these last months since the Covid-19 crisis and mandatory lockdown, I strove to keep to the same routine. In the morning I would wake up a little later than usual as my daily commute had become much shorter. By 9 am, I would sit ready to work at a black dining table designed by Carlo Scarpa, named the Doge, which seems appropriate here in Venice. Just like most of the staff of the Peggy Guggenheim Collection, I spent the day at home, forging ahead with projects and brainstorming about what the museum will be when we finally reopen and go back to a different kind of normality. Our quarantine was a time to reflect, gather strength and understand what we want to become. I went to the museum a few times a week to check on the premises and salute, from a respectful distance, the security guards, who spent their days and nights dutifully taking care of the collection.
AD: What measures are you taking to keep people safe when the Guggenheim reopens?
Karole P. B. Vail: Access will be limited and the public and staff will follow new safety rules that conform to the highest international museum standards and allow us to welcome visitors to the museum again. Entrance will be on a timed quota basis. Purchasing tickets online is recommended and reservations can be made from June 1st via the museum website. Visitors may purchase tickets at the entrance desk of the museum, although payment is restricted to credit or debit cards. Members and visitors who are granted free entrance may reserve via email at prenotazioni@guggenheim-venice.it or by calling +39.041.2405440 (Mondays to Fridays from 10 am to 3 pm).
The request should include the day and preferred time of arrival and the museum will follow-up with a confirmation. The use of a face mask is mandatory for both visitors and museum staff, an interpersonal distance of at least 1 meter is also mandatory; visitors will follow a one-way itinerary; the museum spaces will undergo constant sanitizing; hand-sanitizing disinfectant gel dispensers will be available in several locations in the museum; there will be plenty of signage and museum personnel will enforce the rules. The Museum Shop, which is located a few paces before the museum entrance, will be open and will follow the rules described above, while the Museum Café will remain closed during this first phase. At the moment it is not possible to accept group bookings and guided tours, nor will it be possible to use audio guides. 
AD: What do you think the lasting impact of Covid-19 will be?
Karole P. B. Vail: It's difficult to know exactly how Covid-19 will change the art world, or the whole world for that matter. Changes have already happened, and many more will occur - some hopefully better than others. It's possible that there will be fewer art fairs, biennales and art events all over the world, which might not be such a bad thing, as we must pay attention more than ever to our environment and methods of sustainability in a concerted effort to respect the future and well-being of our planet.
As enticing as it might be to experience art and artists in every corner of the world, art is not about hopping from one country to the next, or going from one opening to another several times a week. Rather, I think that fewer such events might give time and opportunity for more reflection and consideration as we take real, slow time to look at and think about art.