The exhibition The Body Electric: Erwin Osen and Egon Schiele at the Leopold Museum is based on a number of recently discovered drawings by Erwin Osen (1891–1970). These were commissioned by Stefan Jellinek (1871–1968), a doctor active in Vienna until 1939, who placed his scientific emphasis on documenting and researching the dangers and possible medical uses of electricity. During World War I, he headed the neurology department of the 2nd Garrison Hospital on Rennweg, where he applied electrotherapeutic measures, among others, for the treatment of post-traumatic stress disorders in soldiers. Osen, who in the spring of 1915 was himself a patient at this medical institution, created some of the drawings during his in-patient treatment there. The hitherto unknown works on paper created by the artist, who was a companion and model to Egon Schiele (1890–1918) and a co-signatory of the Neukunstgruppe's manifesto, serve to broaden and enrich our understanding of Viennese Modernism and its art practice – an art practice that was closely linked to the culture of clinical medicine.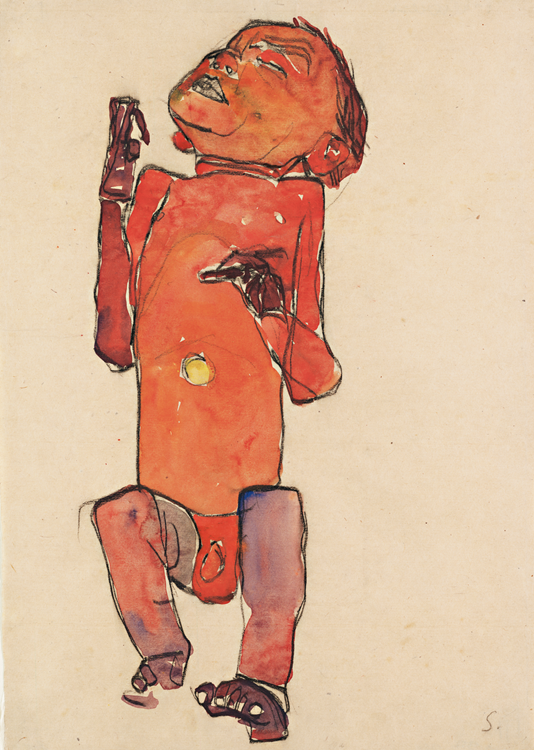 Egon Schiele's Lying Newborn (1910) © Leopold Museum, Vienna/Manfred Thumberger
 In the exhibition, Osen's drawings from the Garrison Hospital are juxtaposed with his portraits, executed two years previously, of patients from the psychiatric hospital Am Steinhof as well as with the depictions of pregnant women and newborns Egon Schiele was able to create in 1910 at the 2nd Gynecological Hospital. The medical context is inscribed into all these images, though the questions raised by them about the background of their creation, about gaze and objectification are not limited to them. With this perspectivation, The Body Electric illustrates that, within the context of a "clinical modernism", seemingly well-known works may be viewed in an entirely new light.
The exhibition is on view until September 26, 2021.