Image: Ballet de Lyon, Grandes Fugues
Tanz im August festival celebrated his 30th year. Strongly participated with an eclectic and beautiful program, the festival just came to an end.
Reviewing some of the shows, the idea is to present a compendium of the quality, diversity and research within the vibrant and exciting festival that has created a brilliant platform of stimulating and engaging performances.
Starting from the Ballet de l' Opera de Lyon with Trois Grandes Fugues, Lucinda Child, Anne Teresa De Keersmaeker and Maguy Marin, invited to develop one piece each on the Die Große Fuge by Ludwig van Beethoven, showed their distinctive work. The result is impressive. Three works really different from each other are masterly interpreted from the beautiful dancers. Lucinda Child, the one who has the least classical training, took surprisingly a classical approach that worked perfectly with an outstanding result. Maguy Marin worked really physical and theatrical and Anne Teresa De Keersmaeker developed a choreography based on the strong impact of vast and energetic movements. The event, opening of the Festival, launch the beginning of an extraordinary month.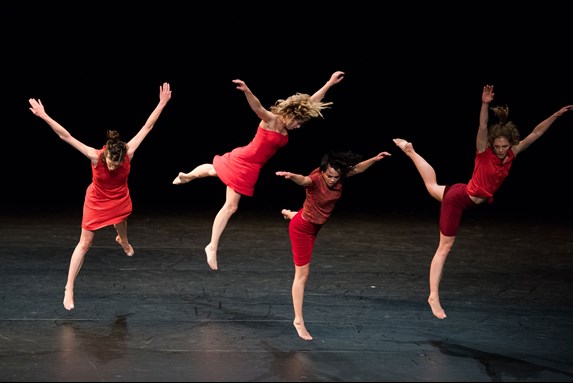 Ballet de Lyon, Grandes Fugues
In the following days Thiago Granato showed Trrr, third piece of his trilogy titled Choreoversations started in 2013. Combining research, creation, production and documentation, he developed the three pieces entering into a dialogue with dead, alive and yet unborn choreographers. Trrr, a title that is quite enigmatic at first, has various connotations. Firstly Tr is the beginning of the title of the three pieces within Choreoversations: Treasure in the Dark, Trança and Trrr. Secondly it refers to a future time, as a time that is about to happen where Trrr is a sound in process to become word. Moreover it is associated to a force that wants to come out of his body while performing, which is related to the idea of 'metamorphoses of the body' that he works with. That means the capacity of the body to translate inner and abstract forces into signs that can be communicated as language; so Trrr is the moment in between the desire of saying something and really formulating it.  The piece is a call for a spatial and temporal dimension of reality in which the past is located in front of the body and the future behind it. Granato describes it as a zone where archaic entities can be manifested, as never seen and heard before and as 'something' that inscribes a dance in the margins of time, performed by a body that moves simultaneously forward and backward into spaces not yet mapped or already forgotten.  In Trrr he enters the stage with a dragged walk passing in front of the forth lines of onlookers that surround the stage while he resonates floating water. Important element of rituals and essential presence in and for every alive being, water is here a connector, a motive of interaction, an intention to share and taking care. He wears an orange and black large jacket with an abstract pattern that recalls something between an animal fur and a safeguard outfit, maybe connected to the spiritual/rescuing figure that he embodies in the whole trilogy. Underneath nude. In the middle a little table on wheels and above it a totem of lights and sounds. As he would have a heavy weight attached to his feet, recalling the weight of stones and embodying a stony skeleton, he walks steadily forward as facing a long lasting fatigue. With a stable gaze he proceeds slowly and rhythmically creating minimal suspensions and producing a mesmerising suspense. The shape and the physicality become even more rocky as the performance goes on while layers of a metamorphic being unveil fine distinctions. Subtle signs are spoken through a moving and speaking body that once naked are clearly visible. Out of sight but present is the interaction with a stone and a jaguar, fictive partners representing the natural world with whom he shares the space. The idea of totem, combination of spiritual beings connected to every human being, is hanging in the centre from an obscure origin and it generates miscellaneous sounds and lights that increase the captivating atmosphere. The table that is used as a platform, becomes a tool to move around pushing himself backwards through flexible and strongly arched but also grounded feet. Reflections about a new world/way of living-perceiving-sensing, where presences of different kind take over the actual anthropocentric convictions, are all over the trilogy that thoughtfully elaborated and developed, is highly suggestive, pleasantly engrossing and a compelling source of reflections and awe.
La Veronal presented Pasionaria by Marcos Morau. Pasionaria is a planet where the beings that inhabit it are planned to imitate us but they act without feelings. In that world, life has become an artificial landscape and its inhabitants have turned into technological gadgets that have lost any kind of passion. With outstanding physicality the performers move as robots in a stage that appears aseptic, sinister and a constant place of transit. A door and a staircase are the main entrance and exit points and a big white sofa and a huge window are the strong protagonists of a well-structured and steady cinematographic set. Weather´s changing are visible through the window and the sofa is a resting spot but just for few moments before the exceptional dancers use it as a tool to perform soft acrobatics. Restless beings looking like puppets, move in and out the stage with paper boxes, a puppet child, some bizarre costumes, sunglasses, masks, baseball hats and sneakers. Some female dancers are dressed with old fashion skirts and jackets that here have been transformed in a futuristic, odd scenario. The actual condition of this human kind is detached, defenceless, superficial. It´s a dark piece that makes to wince and feel quite aghast in front of the dispassion and indifference of the protagonists. Many times seems that that world is coming to an end but it never does. The protagonists act as mechanical, computerised creatures unable to feel empathetic, incapable of being compassionate. The work invites to question the emotional detachment that we are moving forwards. The progress in this case symbolises a dramatic state of reality where the artificial world in which we are pushed forwards and violently thrown into, is a shady yet sinister realm. Individualism and moral cowardice seem the result of it, shaping an helpless present and a frightening hopeless future.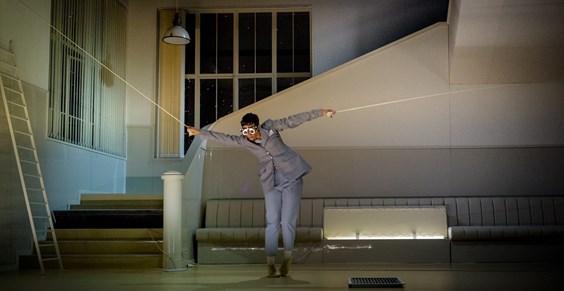 La Veronal Pasionaria

Isabelle Schad showed Inside Out composed by Bundle(DER BAU) , Pieces and Elements, Turning Solo, Three studies on skin, Double Portrait and Floating.
The work is based on a performative exhibition that shows choreographic sculptures in pattern that are repeated for a stretched time. Her oeuvre is defined by dance and visual art suggested by Aikido-Zen, community building and her long-term collaboration with Laurent Goldring, whom she invited to participate in INSIDE OUT. Precise the quality of movements which become contemplative due to the extended time of the sequences. Clothing and lengths of fabric appear as prolongations of bodies that are moved through the space and seem to have control over the movements of the dancers. Being led by an immaterial force they seem to be engines of a structured composition. Schad's intention is to represent spatial figurations to make inner movements visible. The idea runs around the visualisation of somatic practices from Body-Mind Centering, which she draws from Bonnie Bainbridge Cohen's embryology informations saying that the umbilical cord to the mother only constitutes itself after about the third week meaning that before this we develop from and within our own space. This is also interwoven with bodies becoming spaces and stages, instead of moving bodies over stages and in spaces. The physical becoming-form is pivotal in Schad's work. Her choreographic process is related to an energetic modelling that is never complete and that directs the 'material-body' into temporary forms using repetition and variation of movements. As a malleable material, the body becomes motor and material reshaping itself while it constantly moves into and out of the space. Particularly remarkable is Turning Solo with Naïma Ferré where, with constant, rounded, undulatory circles turning on herself, she conducts the onlookers into a meditative state. Wearing two over-sized long shirts that seem to move her, she keeps whirl and smile. The delicacy of the accurate rotations accompanied by a soft immersive sound, creates an intimate, ethereal atmosphere.
Bruno Beltrão with his company, Grupo de Rua, composed by ten dancers, presented INOAH. Well know for his style based on the deconstruction of hip-hop combining it with street dance, break-dance and contemporary dance, he creates a piece which is an explosive and sensational.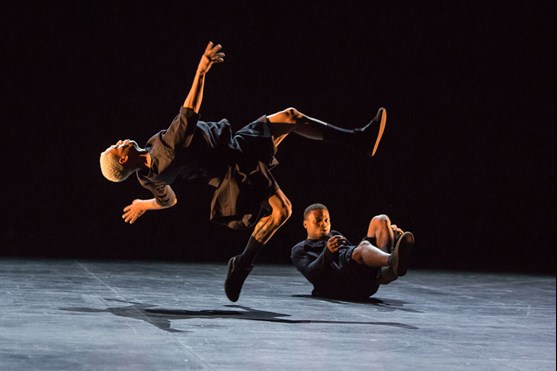 Bruno Beltrão
Sculpted body start with slow motion gestures to then speed up in virtuoso movements as the performance goes on. The show seems to be set in an abandoned fabric where the acrobatic dancers fly in jumps and bounces as they had no bones. The performance is a crescendo of stunning strongly physical dance. They look powerful and determined in their movements, and the forceful energy generated is a reaction - counter attack to troubled times related to the political situation of Brazil. Difficult conditions sometime make the human kind stronger and the solid, athletic, vigorous bodies seem to be the result of a constant fight. They make to think about falls, in their case a fall that is not felt anymore but that becomes an impulse to become harder, unstoppable and indestructible.
Felix Mathias Ott & Bahar Temiz  brought on stage M.A.R.S. 
They still look for a meaning to give to the letters that compose the title of their last work but it´s clear that the idea orbits around the various possibilities and ways to move together in an engine that never stops.
The contact technique they use to create a constant movement over and under each other generates an intimacy that remains intimate between the two performers. Creating a sort of rolling ball, at the beginning followed by precarious suspensions and balances being interwound, they seem to create bridges, loops, geometrical yet abstract forms that with calm and ponderation move across the bright white stage surrounded by black curtains. Their motions are alert and cautious. The slow motion avalanche is compact and well structured. Like a balanced and rhythmic mechanism, the bodies become a channel of meditation and recall the idea of the duality. The piece evolves with some strongly, almost aggressive corporeal interaction that recall performances of Marina Abramović and Ulay. 
They produce peculiar sounds slapping each others cheeks and chests and once stood up, remaining connected, they push and pull each other as they would be torn between attraction and repulsion. How is the reality on MARS within the universe? Their physical research goes on questioning planets dynamics and their forces looking for influences and parallel characteristics.
Tanztheater Wuppertal Pina Bausch/Alan Lucien Øyen presented Neues Stück II for the first time in Berlin. Debuted this year, on the 2nd of June, the piece has been developed by the Norwegian young choreographer with part of the Ensemble creating a multi layered assemblage of memories, languages, forms and identities.
Choreographic choices by Pina Bausch and her Company are here presented in a diverse set, with a different humour and dissimilar key. The new format, strongly theatrical, is composed by words that seem to overlap and sometimes interrupt grand, beautiful, breathy movements. The dramaturgy is aligned with the cinematographic set and stage that shifts continuously having a swipe effect. The theme moves around death, loss and the human reactions to those emotional states. Gloomy, desolate, mournful, the whole piece does not allow to see lights through the dark. Brief shouts are a forlorn attempt to release sorrow and pain. Change of scenery brings always to the 50ies.
Following the traces and being strongly inspired by Pina Bausch, Øyen researches the beauty of human feelings in their simplicity yet complexity. Not an easy task, in particular after the masterpieces of the Tanztheater's Mother. Nevertheless this is the key that he used starting and developing the collaboration with the fully experienced dancers. Interesting the result that is multi-layered, convoluted, abundant of material. Iconological connotation of some details have an impact on the composition such as the clock that is interrupted at the beginning of the performance, the chalk that leaves marks that eventually will disappear, as a body will inevitably die and the lights that went on and off during the whole piece recalling the last breaths of a perishing body. The splendid dancers, with their majestic presences and their strong personalities are, as always, magnificent. Remarkable the outstanding solos by Douglas Letheren and the brilliant questions of Julie Shanahan that lied down facing the floor, ask to an unknown interlocutor.
 Last but not least Noé Soulier, choreographer of The Waves. Starting from an interest on relationships to ourselves and the external world accompanied by movements, present in daily actions, Soulier created a piece on their dynamics and usability. The performance composed by six dancers and two musicians, percussionists from Ensemble Ictus, is an engaging experience. Broken down, interrupted, deviated, transformed movements are beautifully performed by the energetic bodies. Hitting, avoiding, throwing, pushing, taking are the basic actions that are embodied with vitality and strength. 
The artist says: - those actions exemplify different relationships to ourselves and the objects around us: acting on the external world (hitting) reacting to the external world (avoiding) and acting on ourselves (throwing). The target remains very clear for the dancers but invisible to the audience as they act on part of themselves as if it were external to themselves-  Quotations by Virginia Woolf are cited and mimed under a spotlight in a dark stage. Absorbing the rhythm of the piece that is decided on realtime by the dancers. They can cut, reorder the sequences and establish relationships and interactions with the other dancers.The result is admirable. They all work intensely and beautifully, as a group creating an explosive outcome and, in solos, showing their strong stage presence and their potential.