Image courtesy to Art Formosa
Around the world, art fairs in 2020 have been postponed, cancelled, pushed back or forgotten. With bans on international travel, large gatherings and public interaction, international art fairs have been one of the worst affected industries of the pandemic.
But now, as the global situation continues to shift and alter, some small rays of light are beginning to emerge. In Taiwa, Art Formosa is preparing to open its doors for a winter fair at the Eslite Hotel, Taipei from August 27th-30th. We caught up with Art Formosa's Director, H. K. Chang, to find out more about the fair and to get his take on an extraordinary year in global art.
ArtDependence (AD): Can you tell us a little about the art industry in Taiwan?
Richard H. K Chang (RHKC): For the past few years, the total number of Taiwanese galleries has reached around 300. Besides that, there are also 20 art fairs held every year, and countless art auction companies established in Taiwan.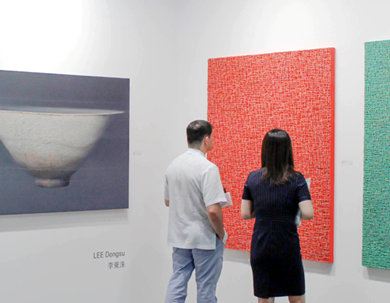 Image courtesy to Art Formosa
During the first half of 2020, just like everywhere else in the world, art fairs and art auctions were canceled or postponed in Taiwan due to the pandemic. It's estimated that one third to one quarter of exhibitions were cancelled and many galleries were closed.
However, many galleries have reopened with exhibitions since May, although the number of visitors has declined sharply. Art auctions have been scheduled to start from July. 
AD: Can you tell us a little about ART FORMOSA
RHKC: Art Formosa was established in 2015. Originally, we proposed to encourage galleries to show solo-artist exhibitions in the exhibition hall. From 2016, we started to present dual venue art fairs by combining it with a show in the hotel.
Now, most of our exhibitors are from Taiwan, Japan, South Korea, China and Hong Kong. Some galleries are from Southeast Asia and Europe. It has become a local art fair that focuses on the development of the Taiwan art market.
AD: What impact has Covid-19 had on the art industry in Taiwan and how has the pandemic impacted ART FORMOSA?
RHKC: Due to Taiwan's SARS experience in 2003, the government of the Republic of China announced the suspension of assembly during the early days of the coronavirus outbreak. Virtually no one visited galleries. A few galleries in Taipei were out of business. The activities of art fairs and auctions from February to June were suspended.
However, the coronavirus spread was controlled quickly in Taiwan. The galleries have reopened and exhibitions are open again, although the number of visitors and turnover are much less than in January. At ART FORMOSA, there are only 6 oversea galleries and 22 domestic galleries joining this year. Last year 20 oversea galleries and 30 domestic galleries took part, so it's a substantial decrease. But as many countries have flattened the coronavirus curve, the number of oversea and domestic exhibitors is increasing.
AD: What has it been like for your team as you try to navigate the change in schedule and circumstances?
RHKC: At the beginning of the COVID-19 outbreak, everyone believed that it would end in June and July as the situation with SARS did in 2003. As this outbreak has intensified, more art activities have been postponed. Even though our team morale is indeed affected, we are still preparing and trying to develop more possibilities, such as planning "art base" with hotels affected by coronavirus.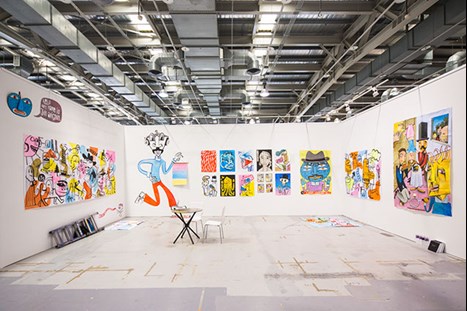 Image courtesy to Art Formosa
AD: What can we look forward to at this year's show?
RHKC: The sixth edition of ART FORMOSA will be held at Eslite Hotel from August 27th to 30th, 2020. There are a total of 30 galleries and 300 artists joining, making this event truly spectacular. The theme of this sixth edition is "URBAN TAIWAN" and will be presented by Taiwanese galleries which promote international urban art and Taiwanese urban artists, including Gin Huang Gallery and CITYMARX.
The first highlight of 'URBAN TAIWAN' is 'GIN HUANG Gallery', which is devoted to presenting an international vision of urban art. The other highlight is 'CITYMARX'. They came from Taoyuan to Taipei to support their passion for street culture and ran a secret base to ensure that graffiti art is distributed in every corner of the city and everyone's lives.
AD: Do you have a message of support or advice for the global art industry at this time?
RHKC: Commercial art is a long-term industry. Selling works when economies prosper and collecting good works during a recession could be the only way to survive.
Art Formosa will be held August 27th-30that the Eslite Hotel, 98 Yanchang Road, Taipei. The fair is open for a VIP preview 6.30-9.30pm on August 27th, and 11am-7pm on August 28th& 29th. On August 30th it will open 11am-6pm. Featured galleries include ARTDOOR Taipei Gallery, BaBiSong, Capital Art Center, ChangLiang gallery, Ching Yuan Art, CHUAN CHENG ART CENTER, CITYMARX, Estyle Art Gallery, Galerie Grand Siècle, Galerie Naissance, Gallery de Sol, GIN HUANG Gallery, KOO Gallery, LEI XIANG Gallery, LiLi Art, MH Art Gallery & Dreamholicyin Art, Mioka Art, Our Arts, Nicebuyart Gallery, PIGGY GALLERY, Sincere Art Gallery, Soleil art gallery, Star Gallery, UYart Gallery, Wingrow Art Gallery, YIRI ARTS.