Sotheby's is about to auction the Oksana Zhnikrup inspired work by Jeff Koons titled 'Ballerinas' at its 'Contemporary Curated' sale taking place in New York on March 11, 2022.
Another similar work in Koons' ballerina series is a statue which was erected near the Rockefeller Center in New York in 2017. These works have been exposed as being a close copy of the porcelain figurine of "Ballerina Lenochka" by the Ukrainian porcelain sculptor Oksana Zhnikrup (1931-1993).
https://www.artdependence.com/articles/it-is-saddening-that-there-is-some-interest-in-her-work-but-only-in-connection-with-the-scandal-maxim-lozovoy.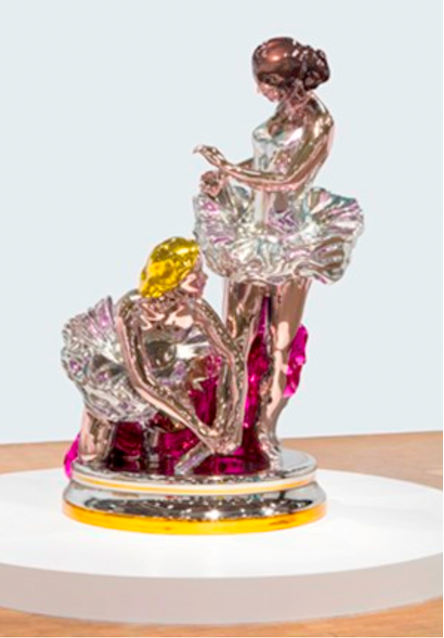 'Ballerina Lenochka' by the Ukrainian Porcelain sculptor Oksana Zhnikrup
In Koons' Gazing Ball series, he recognizes the big masters Théodore Géricault, Peter Paul Rubens and Titian as his inspiration in all publications. Unfortunately, Koons refuses to recognize the Ukranian artist Oksana Zhnikrup as his inspiration for the Ballerinas and Seated Ballerinas. We have asked Koons several times for a comment but thus far he refuses any comment.