Soji Adesina is a multi-disciplinary and multimedia artist based in Lagos Nigeria. His multimedia practice spans painting, film, photography, installation and graphic design, though his most prolific works are created with acrylic paint on canvas. Adesina proposes that the context in which an object is seen is all-important, and that what we see depends on what we look for, our perspective and expectations stemming, as they do, from the influence and instruction of past experiences. In his view, these factors exist in a larger matrix of thought and connect his practice to a larger field of meaning.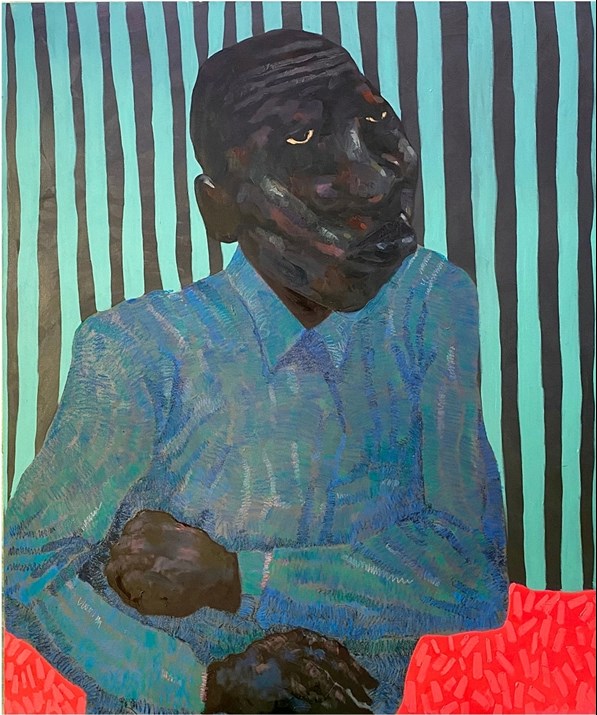 Soji Adesina, 'Tunji II', (2021), Acrylic and oil pastel on canvas. (Enquire about this work)
Adesina's paintings are at a glance captivating. Compelling the attention of the viewer, the works which could either be rendered in vivid, vibrant colours, or with a gloomy hint, depending on the theme being explored, would most times be figurative. These figurative forms also vary between discernible portraiture to exaggerated features to reflect his creative ideas, which are most times a means for him to comment on socio-political issues from a global perspective.
Central to his practice are themes on memory, language, identity, globalization and sovereignty. Among the resulting works are attempts at understanding the effect of globalisation and the international politics of conflict on radicalization, the state and migration, executed with a layered use of irony, puns, metaphor and paradox.
In creating, Adesina's need to achieve a unique aesthetic value is why his visual language stands out. The viewer would readily perceive this in his use of colours, the technique and even in the positioning of his subjects. Some of his most captivating series include 'Coffee and Cigarettes', 'Colour of the Coloured' and 'Gods and Goat Series', which the works on view at the exhibition are a part of.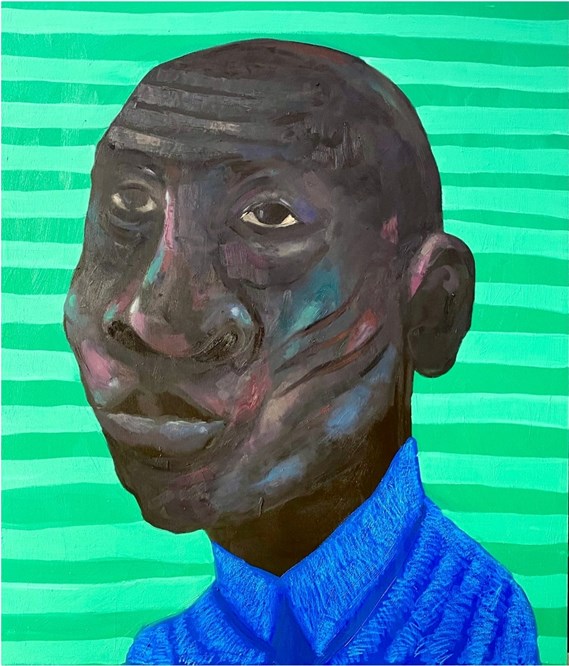 Soji Adesina, 'Jide', 2021, Acrylic and oil painting on canvas (Enquire about this work)
'Gods and Goat' series is a fictional visual narrative that combines the realities of cultural appropriation, post-colonial influences and cultural hybridization which is fast dominating due to globalization. Conceived as a long-term series, the body of work visually explores how the combination of Western and indigenous aesthetics have created a new sense of identity for Africans. These acrylic works feature male characters with vibrantly coloured, well-manicured hair, moustache and beards. The male characters also bear prominent facial scarifications synonymous with the Yoruba ethnic group of Nigeria. The works bring to the fore, the contradiction of the African cultural essence with the aspired perception of sophistication based on demonstrated affiliation with foreign Western culture.
Adesina's works also serves as an entry point for art lovers who are drawn to themes on identity and Black representation from an African perspective.
The paintings are on view at the ArtDependence Concept Store, Steenhouwersvest 25-2000, Antwerpen, Belgium until February 19, 2022.