One of the most powerful musketeers from Picasso's triumphal late period to appear on market, this exceptional painting from the estate of the original James Bond makes its auction debut in Hong Kong.
Towards the end of 1965, Pablo Picasso was admitted to the American Hospital of Paris, in Neuilly-sur-Seine, for surgery on an ulcer. He was 84 years old. During his period of convalescence, he is known to have read many classic and epic works of literature, including those by Shakespeare and Alexander Dumas's classic novel, The Three Musketeers, while immersing himself in study of the masterpieces of Rembrandt.
It's no coincidence that when Picasso was well enough to start painting again, in 1967, swashbuckling musketeers suddenly became a mainstay of his canvases — and remained so for the next five years. Today these works can be found in important private collections and museums worldwide. For his biographer, John Richardson, they represented the artist's 'monumental apotheosis'.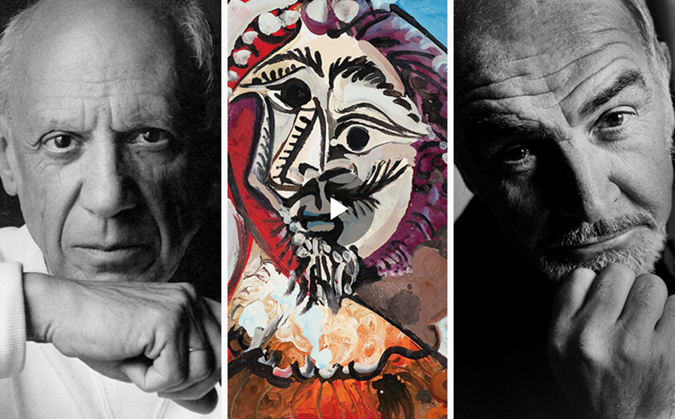 On May 26, Picasso's 1969 musketeer painting, Buste d'homme dans un cadre, will be offered from the estate of Sir Sean Connery in the 20th/21st Century Art Evening Sale at Christie's in Hong Kong. 
This particular musketeer's features evoke traits of notable literary figures as well as those of the artist himself, masterful in its strikingly vibrant palette, liberally and sumptuously painted. The mélange of history and modernism evident in Buste d'homme dans un cadre typifies Picasso's significant aptitude to fuse the duelling forces of past and present – exploring the constant paradox of an artist steeped in the great histories of the past yet deeply committed to constant innovation. Picasso remained on the cutting edge of the shifting the boundaries of art, even at this late stage in his life.
His musketeer's goatee beard suggests Dumas' protagonist, d'Artagnan, sharing too the character's general air of affability. Interestingly, Picasso seems to have taken a modicum of inspiration, too, from portraits of Cardinal Richelieu (the historical figure who, in Dumas' novel, serves as d'Artagnan and the eponymous musketeers' nemesis). Like the cardinal, Picasso's facial hair and cheekbones cut a dramatic profile. 
The Spaniard once said that 'every artist takes himself for Rembrandt', and the Dutch Old Master is another figure whose influence can be discerned in Buste d'homme dans un cadre. In his final years, Picasso regularly had a slide of Rembrandt's masterpiece, The Night Watch (1642), projected for days on end onto a wall in his studio in Mougins. The musketeers of this masterwork of painting duly stepped into Picasso's world and surely informed his own depictions of the same type of figure.  
Dumas' novel is set during the reign of the French King, Louis XIII, only a decade or so before The Night Watch was painted. By the mid-20th century, however, the romantic notion of the classic musketeer had become confined to history, his particular aptitude for musketry long since become redundant in battle. In the modern age, after the event of the first-half of the 20th century, they seemed frankly quaint, and Picasso invests these figures with nostalgia.  
Sir Sean, probably best known for being the first actor to play James Bond, was a keen art collector. His son Stephane Connery says that Sir Sean 'had an extraordinary sense of aesthetics, composition and movement, honed by his career [in film]'. One of many Picassos in his collection, Buste d'homme dans un cadre was purchased privately. In the main, Connery preferred works from earlier in the artist's career. However, he made an exception in this instance — because of what Stephane refers to as the painting's 'expressive power and freedom'. Apparently, the actor 'loved the impasto surface and… painted frame'.
At this point, one is bound to consider the intersection of the work's former owner, the artist, his artistic heroes and his swashbuckling subjects. Sir Sean's most famous on-screen identity was fiercely adventurous, innovative and determined; a romanticised vision of the modern hero. This iconic vision of greatness relates to Picasso's own position within the history of the art of the 20th century — the fearless beacon of artistic exploration. In turn, this archetype of masculinity is echoed through the artistic forebearers to whom he pays homage, and their shared musketeer subjects who represent those same aspirations. Sir Sean's own image remains as iconic in the visual culture of the 20th century as Picasso's musketeers in their time. His generous philanthropy in offering this work to its next owner completes the chivalrous circle.