Saodat Ismailova is the winner of the Eye Art & Film Prize 2022. The artist from Uzbekistan receives the prize for the remarkable talent she demonstrates working at the intersection of film and visual art. The jury describes Ismailova's films and installations as 'refreshing', 'urgent' and 'balanced'.
An international jury has selected Saodat Ismailova as the winner of the Eye Art & Film Prize 2022. The prize of £25,000 enables the artist to create new work.
Chair of the jury Sandra den Hamer, director of Eye Filmmuseum: "We are delighted that Saodat Ismailova is our eighth winner. We view her work with great excitement and admiration; Saodat succeeds in creating an almost spiritual space beyond images and soundtracks. She seduces us into 'hearing' images and 'seeing' sounds. Her body of work is intriguing, mysterious and committed."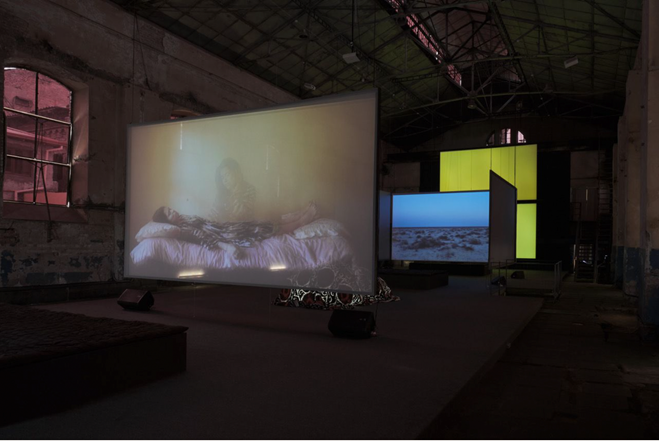 Saodat Ismailova was born in 1981 in Tashkent, in the former Soviet republic of Uzbekistan. She studied film at Tashkent State Art Institute, and in 1999 she won the Grand Prix at the Tashkent Student Film Festival. In 2002 she accepted an offer to continue her studies at Fabbrica, Centre for the Study of Arts, in Treviso, Italy. Two years later her documentary Aral: Fishing in an Invisible Sea won Best Documentary at the Turin Film Festival.
Ismailova then mastered the art of directing and scriptwriting at Robert Redford's Sundance Institute. Her feature debut 40 Days of Silence was nominated for Best Debut Film at the Berlin Film Festival in 2014 and won various international awards. The previous year she had attracted attention with Zukhra, her first video installation, shown in the Central Asian Pavilion at the Venice Biennale
From 2015 to 2017 Ismailova studied at Le Fresnoy – France's National Studio of Contemporary Art in Lille. Since 2017 she has taken part in numerous exhibitions and had solo exhibitions in such prestigious institutions as the Centre for Contemporary Art, Tromsø, Norway (The Haunted, dedicated to the Caspian tiger, which is threatened with extinction) and Musée de quai Branly in Paris (with the interdisciplinary project Qyrg Qyz, 2018, also shown at the Brooklyn Academy of Music in New York).
Ismailova is taking part in this year's edition of Documenta Fifteen and in the main exhibition at the Venice Biennale (The Milk of Dreams). Her work is held in the collections of Amsterdam's Stedelijk Museum and the Centre Pompidou in Paris.
Filmography / installations (selection)
Sacred Trees (2013) HD Video, 10'; Stains of Oxus (2016) HD Video, 22'30''; The Haunted (2016) HD Video, 23'22''; Her Five Lives (2020) HD Video 13'14''; Her Right (2020) Videocollage 15'; Menim ismim kim edi? (2021). 
The Eye Art & Film Prize was established in 2015 to support and promote artists and filmmakers who bring together art and film, thereby distinguishing themselves in terms of conceptual ability, imaginative power and artistic quality. The winner can use the annual prize of 25,000 pounds Stirling to create new work.
The previous winners were: Hito Steyerl (2015), Ben Rivers (2016), Wang Bing (2017), Francis Alÿs (2018), Meriem Bennani (2019), Kahlil Joseph (2020) and last year the Karrabing Film Collective from Australia.
Eye will organize an exhibition with Saodat Ismailova in the winter of 2023.