As announced last month, Rockefeller Center has on display, a new outdoor commission 'SHARE', a sculpture by KAWS at Rockefeller Center's Center Plaza through October 2021. The sculpture is an 18-foot-tall bronze figure featuring two of the artist's iconic motifs, "COMPANION" and "BFF". The installation coincides with the artist's current survey at the Brooklyn Museum, KAWS: WHAT PARTY (on view through September 5th).
KAWS joins a group of world-renowned artists who have exhibited large-scale public art at Center Plaza. The work is situated in dialogue with the history and context of a storied campus. SHARE embodies a myriad of emotions many of us are experiencing in this current moment. The COMPANION's familiarity soothes just as we all feel the tug of BFF who is clutched somewhat wantonly. Seeking the comfort and care of friends and family, we are all desperate to undergo a sense of repair.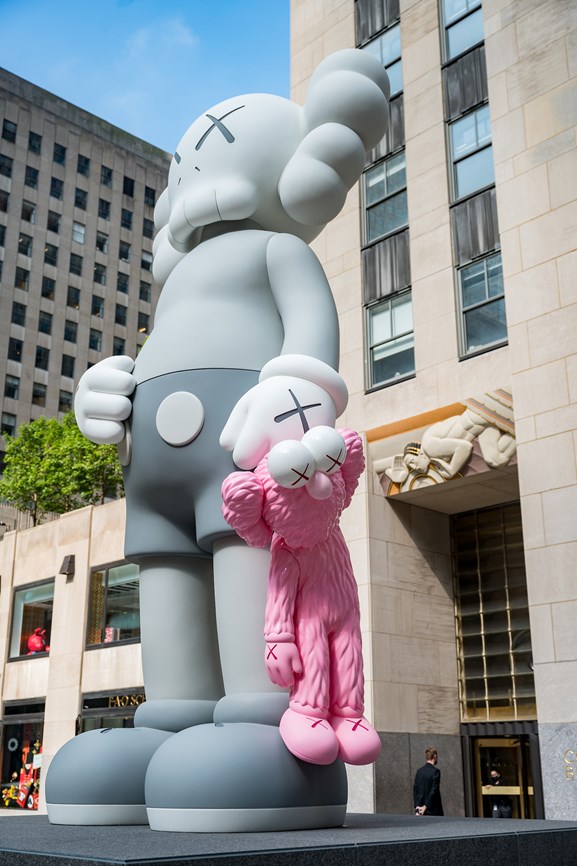 KAWS often appropriates and draws inspiration from pop culture animations, forming a unique artistic vocabulary across mediums. Admired for his larger-than-life sculptures and hardedge paintings that emphasize line and color, KAWS's cast of hybrid cartoon characters are the strongest examples of his exploration of humanity. As seen in his collaborations with global brands, the artist's imagery possesses a sophisticated humor and reveals a thoughtful interplay with consumer products. KAWS's ability to seamlessly handle surfaces and scale makes him a uniquely prominent artist and influence in today's culture. The exhibition KAWS: WHAT PARTY at the Brooklyn Museum chronicles the artist's 25-year long career, which has culminated in the new commission at Rockefeller Center. This presentation of SHARE is made possible with generous support from Tishman Speyer and Skarstedt.                                                                           
"KAWS has created a universal language for anyone who interacts with his instantly recognizable figures. KAWS's work subverts expectations while feeling both familiar and stylized, and having SHARE close our summer season of art at Rockefeller Center perfectly encapsulates our own commitment to contrast New York's different cultures, styles and energy." – EB Kelly, Tishman Speyer Managing Director overseeing Rockefeller Center                                                     
"Since KAWS: WHAT PARTY opened at the Brooklyn Museum this February we've been overwhelmed by the incredible response from our visitors. His vibrant artistic vision and explosive creativity speak powerfully to the emotions of our time, and has resonated with countless museum goers. I can't wait for his new monumental work in Rockefeller Center to bring joy and inspiration to an even wider audience." – Anne Pasternak, Shelby White and Leon Levy Director, Brooklyn Museum.
KAWS engages audiences beyond the museums and galleries in which he regularly exhibits. His prolific body of work straddles the worlds of art and design to include paintings, murals, graphic and product design, street art, and large-scale sculptures. Over the last two decades KAWS has built a successful career with work that consistently shows his formal agility as an artist, as well as his underlying wit, irreverence, and affection for our times. His refined graphic language revitalizes figuration with both big, bold gestures and playful intricacies. KAWS has exhibited extensively in renowned institutions, including recent solo exhibitions at; The National Gallery of Victoria, Melbourne, Australia (2019); Fire Station, Qatar Museums, Doha, Qatar (2019); Museum of Contemporary Art Detroit, Michigan (2019), Contemporary Art Museum of St. Louis, Missouri (2017); Modern Art Museum of Fort Worth, Texas (2016) which traveled to the Yuz Museum, Shanghai, China (2017); Yorkshire Sculpture Park, West Yorkshire, United Kingdom (2016). He currently has solo exhibitions on view at the Brooklyn Museum, New York and Mori Arts Center Gallery, Tokyo.