The RKD – Netherlands Institute for Art History has discovered a hitherto unknown watercolour by Mondrian from 1904. The work, Barn doors of a Brabant farm building, came to light when the Stockholm-based auction house Bukowskis asked the RKD whether it was by Mondrian. Research has shown that the work was indeed painted by the Dutch artist. The watercolour with barn doors was painted by Mondrian in 1904, during a retreat in Brabant. The work was bought around 1910 by the brother of Mondrian's then fiancée, who later took it to Sweden.
Barn in Nistelrode
It was Albert Pieter van den Briel who, in 1904, invited his friend Mondrian to come to Brabant, where van den Briel worked as an agricultural engineer for the KNHM Foundation. Mondrian stayed the entire year in the village of Uden and painted in various places in the area, including Veghel and Nistelrode. The recently discovered Barn doors of a Brabant farm building may have originated in Nistelrode. The work is a modern composition of part of a barn with two wooden doors that fills the entire sheet. At the top the image is cut off by a thatched roof, at the bottom by a yard with some scratching chickens and on the right by another barn. Thanks to correspondence from van den Briel, we know that Mondrian added contrasting white and blue accents to the dominant reddish-brown tones of the composition. This observation is consistent with the newly discovered watercolour, in which blue and white accents are visible in the roof tiles, bricks and barn doors. Mondrian's virtuoso use of black and red chalk, watercolour and gouache resulted in a clear composition made up of large areas. According to Wietse Coppes, Mondrian expert at the RKD, this watercolour can be considered one of the highlights of the thirty or so paintings, drawings and watercolours that Mondrian produced in Brabant.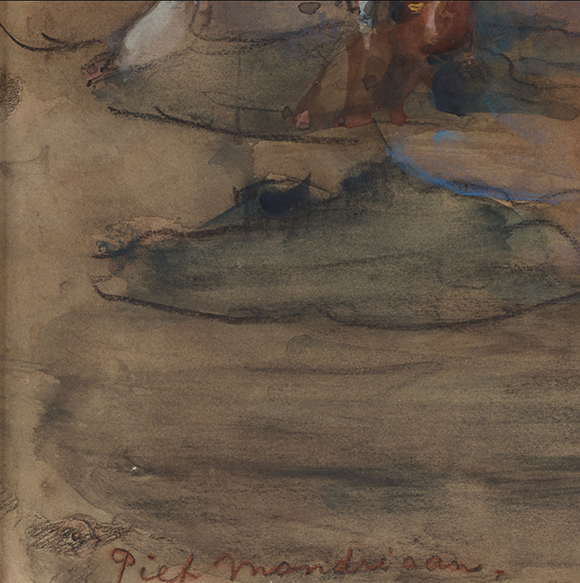 Place Within Mondrian's Oeuvre
Van den Briel wrote that Mondrian 'made numerous studies of barns with square door areas, in ever-changing and varying colours in Brabant. […] It would be [...] of great importance, also in connection with later, non-figurative, work, which forms a final phase of this, if some of these studies could be found again'. Two other works featuring the same barn doors – a pencil drawing and an oil sketch – are part of the Kunstmuseum Den Haag collection. It was the similarities with the oil sketch, in particular, that were of great importance in determining the authenticity of the new discovery. Mondrian often made several studies of the same subject on location, often in different media. He then worked his sketches up into fully fledged paintings in his studio. It remains unclear whether this watercolour was made outdoors or in the studio. It is the most detailed of the three known renderings of the barn. The roof tiles, bricks and scratching chickens are clearly recognisable in the watercolour.
Provenance
The work was probably bought by Marius Johannes Heijbroek, brother of Gretha Heijbroek, between 1905 and the end of 1911. Mondrian's brief engagement to Gretha, a merchant's daughter from Amsterdam, began in the autumn of 1911. The Heijbroek family acquired several works by the artist, including the monumental Sun, Church in Zeeland from 1909-1910, which is now part of the collection of Tate Modern in London. In 1933, Marius Johannes Heijbroek emigrated to Sweden, his wife's homeland, taking the watercolour with him. It remained in the family until 1970, when it was donated to a Swedish family who were friends of the Heijbroek family. Through inheritance, it has remained in that family until today. The work will be auctioned at Bukowskis in Stockholm on 17-18 May 2022.

Updated Oeuvre Catalogue
The RKD will add Barn doors of a Brabant farm building to Mondrian's digital oeuvre catalogue, which was published online at catalogue.pietmondrian.nl in 2017, in anticipation of the Mondrian Edition project. This authoritative oeuvre catalogue contains the most up-to-date information regarding Mondrian's oeuvre. Later this year, in honour of Mondrian's 150th birthday, the RKD will present an updated version of the oeuvre catalogue. It will include this watercolour and five other recently discovered works by Mondrian. Apart from Barn doors of a Brabant farm building, these are Still Life with Honesty and Copper Dish (1901), Washerwoman Near a Stream (c. 1902), the two children's portraits from 1907-1908 that were discovered last week and White Christmas Roses (1923), a painting discovered at an auction in New York in 2020.