Image: KAWS Floats a Massive Inflatable Sculpture in Hong Kong's Victoria Harbour, image courtesy to the artist
Art Basel Hong Kong is one of Asia's most well known international fairs, but organisers are under pressure to cancel amidst fears of the spread of the coronavirus. 88,000 people visited the fair in 2019.
The 2020 Art Basel Hong Kong would have been the 8thedition of the art fair and was due to be held in March, but participating galleries have become anxious about the safety of the event amidst increasing concern over the spread of coronavirus which has already claimed 170 lives to date.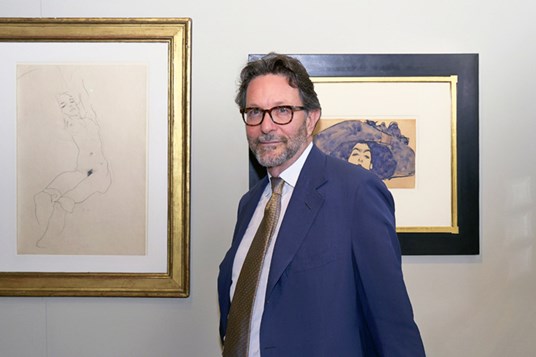 Richard Nagy, founder of Richard Nagy Ltd, image courtesy to Total Madia
There have now been more than 7,700 reported cases of coronavirus, 10 of which have been in Hong Kong. As a result of the virus, schools and public spaces in the city have been closing their doors in an attempt to stop the spread and flights to the area have been halved. The Hong Kong marathon, which was scheduled for February, has also been cancelled. The coronavirus seems to have originated in the Chinese city of Wuhan.
241 galleries were due to exhibit at Art Basel Hong Kong, representing 31 countries. The coronavirus adds to fears about the safety of visiting Hong Kong amidst ongoing protests and demonstrations aimed at the local government.
ArtDependence reached out to Modern Art dealer Richard Nagy, a long-term supporter of Art Basel who was intending to exhibit at Art Basel Hong Kong in March. "I would like to start by saying that I think Art Basel Hong Kong is a great art fair," he said. "I truly wanted to be part of the 2020 fair and hoped it would be a success, but wishful thinking could not allow me to overrule reality. The confluence of events that have hit Hong Kong are now overwhelming."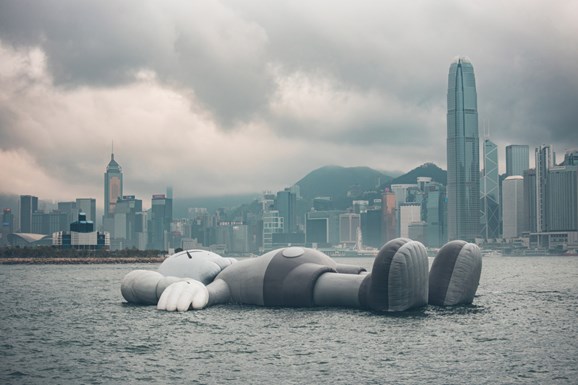 KAWS Floats a Massive Inflatable Sculpture in Hong Kong's Victoria Harbour, image courtesy to the artist
"It's very straightforward, the Hong Kong Government have cancelled all occasions where people are congregating in hundreds, let alone thousands, from schools to museums and transport. As such I can't see who will attend Art Basel, even Hong Kong locals are avoiding places that attract large crowds."
"I can't ask my staff to go to Hong Kong and put their health in potential jeopardy. It's an unnecessary risk. With exponential increases in infected cases predicted it becomes obvious that this will not be viable. As disappointing as it is, we have to recognise when it is time to throw in ones hand. There is no bluff that can win this game."