Richard Misrach's transition to digital photography in the first decade of the 2000s was both a departure from, and continuation of, his longstanding photographic concerns. Since the 1970s, he has worked in medium and large format film sizes, concentrating on the American landscape and man's impact upon it, creating an oeuvre characterized by technical rigor and an unerringly ethical approach to his subject matter. Digital photography offered Misrach new freedoms. He availed himself of the new media's ability to capture minute detail, and to maintain its resolution in large print sizes. Misrach's masterstroke was to render these prints as negatives, with reversed coloration and tonality which transforms his subject from a rocky shoreline to an iceberg-like form. Unlike analog photography, in which a negative is a necessary intermediary between exposure and final print, digital photography requires no negative. The large-scale negative print offered here presents an entirely new vision of the American landscape while offering Misrach's commentary on the ever-changing medium of photography.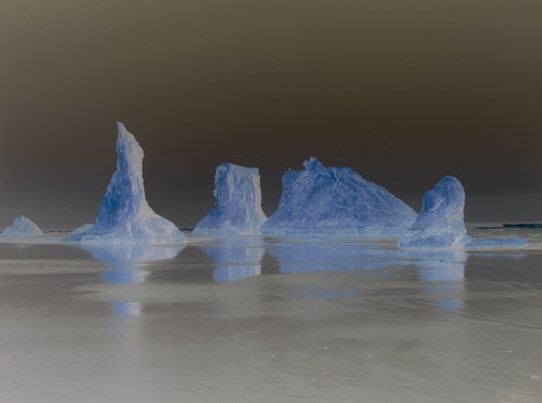 Known for his ethereal depictions of the American Southwest and stunning use of color, Richard Misrach photographs dramatic land and seascapes, and, more recently, produces breathtakingly complex abstractions. Misrach's work engages with traditional ideas of the sublime landscape, as their immense beauty engulfs both the subjects in his photographs as well as the viewer.
On the Beach, one of Misrach's most famous series, features spectacular aerial images of the sea and beach that convey both the vulnerability and preciousness of life. One of the most pervasive themes present in his work is the relationship between humans and their environment, depicting our impact on the world through feats of engineering as in his Golden Gate Bridge series, and with his Desert Cantos with nuclear testing in the American desert.
LOT DETAILS
Richard Misrach
Untitled
2007
Pigment print, printed 2010, flush-mounted.
59 x 78 3/4 in. (149.9 x 200 cm)
Signed, titled, dated and numbered 3/5 in ink on a label affixed to the reverse of the frame.
Estimate
$35,000 - 55,000