The body of prints produced over the course of Rego's career possess the same imaginative power often seen in her paintings. These complex graphic works, presenting a world shaped by patriarchal power, have carried her ideas and stories to wide audiences.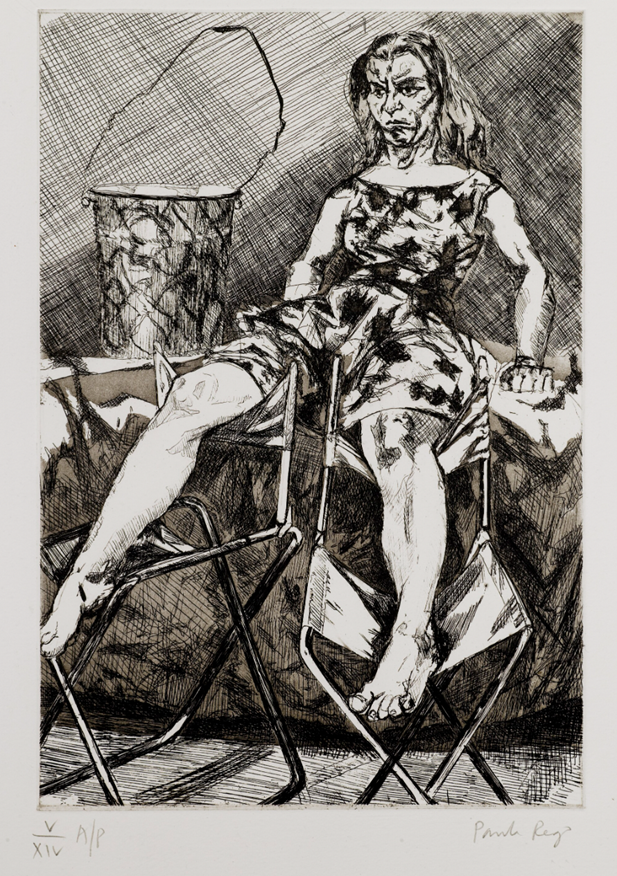 Paula Rego, Untitled 7, 1999. Courtesy Estate of Paula Rego and Cristea Roberts Gallery, London ©️ Estate of Paula Rego.
In 1998 a referendum to legalize abortion in Rego's home country of Portugal failed. A predominantly Catholic country, Portugal had restrictive laws on abortion dating back to its criminalization under Prime Minister António de Oliveira Salazar whose de facto dictatorship ran from 1932-1968. Such restrictions only allowed the procedure in specific circumstances: Danger to the life of the mother, incurable illness of the fetus, and pregnancy resulting from rape.
The powerful series was undertaken by the artist, who spoke openly of her own abortions, following her anger at the unnecessary suffering of people undergoing illegal procedures.
The women Rego depicts in the eight etchings on view are in domestic surroundings, suggesting that theirs are illegal backstreet abortions. The subjects' bodies and faces are contorted in pain while they remain stoic and strong, defiant in their right to choose to terminate their pregnancies despite the disapproval of the church and state. Framing each woman starkly and keeping additional visual information to a minimum, Rego emphasized the physical and mental anguish undertaken alone.