Pace Gallery's presentation for the 2022 edition of artgenève features a solo display of Lucas Samaras's radical work, surveying his oeuvre from 1960 to 2021. In light of the evolving humanitarian crisis in Ukraine, Pace gallery will be donating 100% of proceeds from artgenève to the United Nations High Commissioner for Refugees (UNHCR), which is currently aiding over 660,000 individuals fleeing violence in Ukraine.
Spanning photography, painting, works on paper, sculpture, and artist made books, this presentation showcases the breadth of Samaras's compelling practice. Pace has had the honour of representing Samaras since 1965. For more than six decades Samaras has embraced new mediums and technologies to explore ideas of identity and self-expression.
Despite moving through distinct bodies of work, from early experiments in pastel, to assemblage, photography and performance art, the core of Samaras's visual lexicon has been continually driven by self-investigation, exploring the relationship between body and psyche. His influence is international. An early adopter of new technologies, from polaroid cameras in 1970s to photoshop in the late 1990s, Samaras has repeatedly pushed the boundaries of his practice. Most recently, in January 2022, the artist dropped a series of NFTs related to his XYZ series from 2010-2012 with Pace Verso, the gallery's NFT platform.
Early highlights of the booth include pastel drawings on paper from 1960 in which Samaras translates the world around him in jewel-tone colors and lush textures. Pastels have occupied a significant place in Samaras's practice since his childhood when his family emigrated to the United States from Greece and, in the artist's words, "Art was the only thing I could do without speaking… . They just gave me paper and pastels and I drew." The speed and rich colors afforded him by the material has led Samaras to return to pastels regularly throughout his career.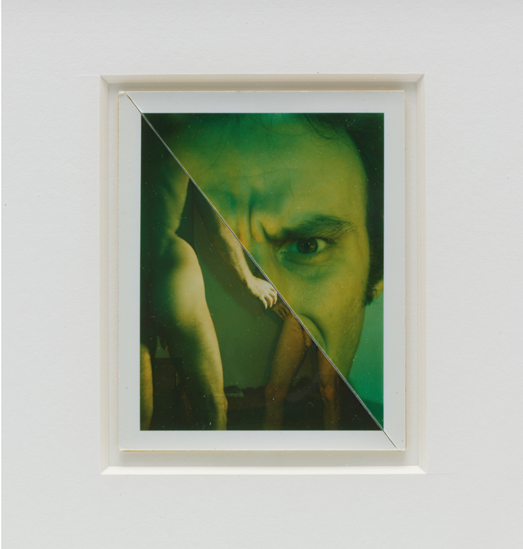 Lucas Samaras, Untitled (Split), 1973, Polaroid photograph assemblage, 4-1/4" x 3-3/8
Also on display are a suite of AutoPolaroid works made between 1969 and 1970. Samaras acquired his first polaroid camera in late 1969 and was immediately inspired by the freedom of experimentation afforded by the almost instantaneous results. In the years that followed, Samaras made hundreds of photographs in his home-studio. The vast majority were of the artist's own naked body, he explained, 'I like remaking myself in photography'. The shocking or unusual poses Samaras chose, coupled with the extreme contrast in light and shadow, resulted in dynamic, radical work that is testament both to the artist's inventiveness as well as the significance of performance and theatricality in his practice. Through these images, Samaras explores taboos, celebrates the human form and challenges expectations in new and enlivening ways.
Further standout works include Box #78, 1972, in which Samaras assembled items such as colored pencils, geometric forms and erasers into a wooden box, decorated with the artist's distinctive brightly colored aesthetic. Additionally, pieces such as Chair Transformation #9, 1969-70, and Untitled, 1965, see Samaras transform everyday objects into artworks, interweaving pop art aesthetics with jagged edges and sharp pins, at once playful and menacing, familiar and disconcerting.
Central to this survey are a selection of Samaras's Mosaic Paintings from the early 1990s. Refuting the ordered grid of the Minimalists, these works – such as Mosaic Painting #4, May 20, 1992 – create and then subvert patterns in a swirling optical illusion. In Mosaic Painting #6 made on March 30, 1991, Samaras interlocks exuberant, geometric forms and multicolored dots to create a psychedelic composition on a shaped canvas support.