Over the weekend, Nigerian emerging artist, Olayinka Stephen Aragbada captured the attention of celebrity art collector – Alicia Keys, who along with collector her husband Swizz Beatz, have shown keen interest in contemporary art from Africa and its diaspora.
The accolades happened on Instagram when Alicia Key commented 'Gorgeous!!!' on one of Aragbada's posts on his IG feed, in which he shared the work, Deep Thoughts (2021). Alicia Keys' reaction did not end there. She went on to follow to him and also shared the work on her Instagram stories with A LOT of exclamation marks.
It can be recalled that Alicia Keys and Swizz Beatz launched an art grant in 2018 via The Dean Collection, from which 20 artists from around the world (5 of them being of African descent), received $5,000 each towards the realization of a project or work.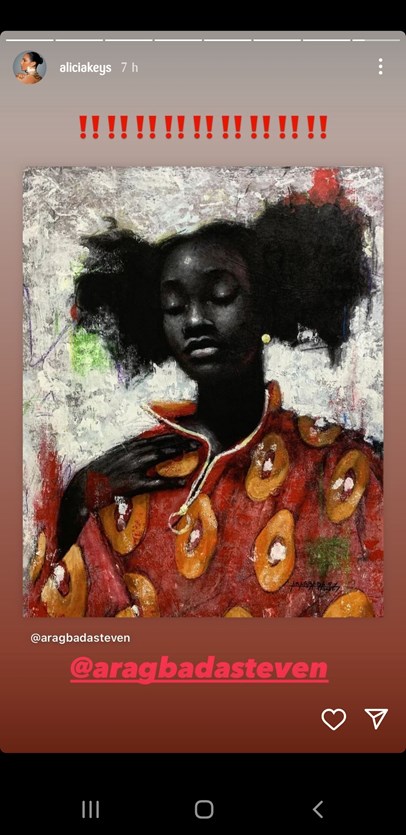 Aragbada was not only ecstatic but was also grateful for the recognition as this can definitely be considered a worthy endorsement for a young, thriving artist like him who began his full-time studio practice in 2019.
A figurative artist, Aragbada's work focuses on the nuances of everyday living in contemporary times. With the proliferation of figurative painting on the rise, Aragbada stands out distinctly in both style and technique; and honestly, does not come with a lot of surprise that he has been singled out by the famed collector.
See more exciting works by Aragbada here