Image: L'Arlésienne: Madame Joseph-Michel Ginoux (Marie Julien, 1848–1911),1888–89
The exhibition of Van Gogh's inner Circle. Friends, family, models provides detailed insight into those who played a major role in Van Gogh's life and work.
With the exhibition of Van Gogh's Inner Circle. Friends, Family, Models Het Noordbrabants Museum counters the persistent notion that Van Gogh (1853-1890) was a lonely, tormented soul who received little credit, respect or recognition for his work in his own age. In actual fact, this is beyond the facts. Vincent van Gogh was by no means an easy person and his abruptness, almost obsessive commitment and critical eye could ward off those around him. Yet, many also greatly appreciated him. All his life he kept in close and often long-lasting contact with his friends, family, models, fellow artists and lovers.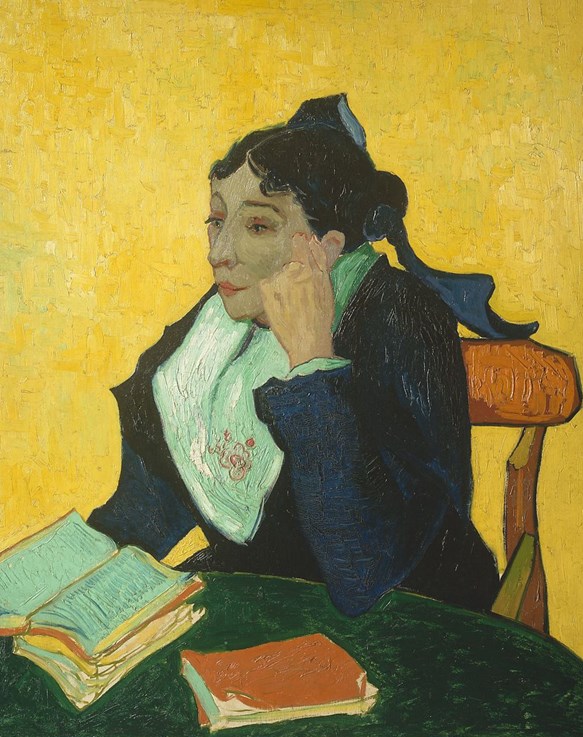 L'Arlésienne: Madame Joseph-Michel Ginoux (Marie Julien, 1848–1911), 1888–89
Van Gogh's Inner Circle offers a host of information about Vincent's friends and family by presenting 99 well-known and lesser-known paintings, sketchbooks, works on paper, photos and letters. The exhibition has been curated by guest curator and Van Gogh expert Sjraar van Heugten, in close collaboration with Helewise Berger (curator of 19th and early 20th-century art). Works have been made available by various renowned Dutch and international museums, among them The Art Institute of Chicago, Galleria Nazionale d'Arte Moderna e Contemporanea, Kröller-Müller Museum and Van Gogh Museum, together with private collectors. It is the very first time that an exhibition will extensively pay attention to those who had an impact on Van Gogh as a person and an artist. The exhibition opens this Saturday, 21 September, and will continue up to and including 12 January 2020.
Prey to all human emotions
Van Gogh is one of the most important artists of all times. In order to fully understand the artist and his art, it is vital to get to know the person. Van Gogh's life and art comes with many stories, images and myths. He was a passionate man who sometimes had complex relationships with his friends, family and fellow artists. His relationships were mostly close and enduring, although his outspoken nature also made people turn away from him. He was prey to all human emotions. In Van Gogh's Inner Circle, the most important people in Vincent's life appear in chronological order, from his years in Brabant and The Hague, the periods in Paris and the south of France until his death in  Auvers-sur-Oise on 29 July 1890. His immediate and extended family will be focussed on, as much as his friendships with artists such as Anthon van Rappard, Anton Mauve, Émile Bernard, Paul Gauguin, Henri de Toulouse-Lautrec and Paul Signac. Visitors will become more familiar with the artist through paintings and drawings he made of his friends, family and models, the (self) portraits of his inner circle, as well as through highly personal documents, such as letters, photos, sketchbooks, poetry scrapbooks and letters of condolences. All of these provide insight into the person behind the artist.
Roots in Brabant - Van Gogh's family
Van Gogh was the eldest son of Anna Carbentus and Theodorus van Gogh. He was born on 30 March 1853 and grew up with five siblings. He had two younger brothers (Theo and Cor) and three younger sisters (Anna, Lies and Wil). The difficult relationship with his father during the latter's final years has given rise to the idea that Van Gogh's ties with his family were awkward and that the problems he encountered in his life stemmed from his strict parents and his stifling religious upbringing. However, this idea rather needs to be modified. Due to his behaviour and ideas, Vincent often fuelled tensions in his relationships. Nevertheless, his parents would support him until his death. They provided him with accommodation, clothing and money and encouraged him in his ambition to become an artist.
Even though the relationship with his family may not always have been easy, Van Gogh grew up in a caring environment and his love for his parents was deep-felt. The Van Gogh family and the relatives of both his father and mother made him to a large extent the person he was. His parents instilled Vincent with a love for literature and nature and his mother probably taught him how to draw. The family attached much value to a virtuous, dedicated life, supporting each other as much as possible.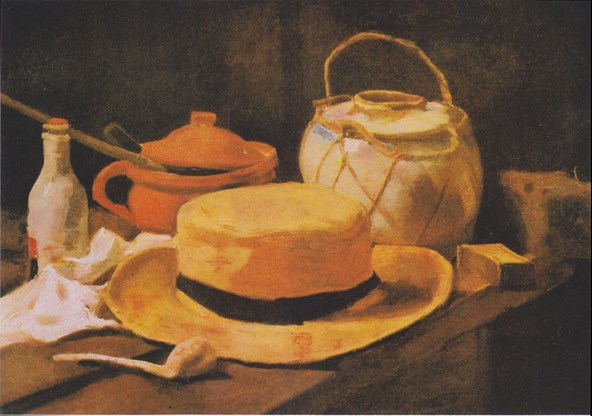 Still Life with Straw Hat, 1881
Thanks to his uncle 'Cent', Van Gogh got his first job as junior clerk at the The Hague branch of the  international art dealers Goupil & Cie. When Van Gogh had become an artist, his cousin by marriage on his mother's side, Anton Mauve, already a famous artist at that time, gave him lessons in drawing and painting. This resulted in his first paintings, among which Still Life with Straw Hat from 1881 is shown in the exhibition.
Brothers and sisters
Of his three sisters, Wil (Willemien) was the one that Vincent best got on with. After he had left the Netherlands, Vincent only met with Theo in person, but he kept in contact with his family through corresponding with them, also in later years. Van Gogh kept exchanging letters with Wil as well. Later on, he even tried to match her with his artist friend Émile Bernard. Much is already known about his special relations with his brother Theo, partly owing to their extensive correspondence.
Theo was different from Vincent: quieter, milder, more sociable. He was not only Vincent's brother, but also his closest friend. Theo was the one who had urged Vincent to take up painting, who introduced him to various fellow artists and who would support him financially for ten years. Naturally, they did not always see eye to eye; Theo was often caught in the middle and they quarrelled. Yet, Theo kept supporting and defending Vincent until his death. The exhibition presents the portraits of the two brothers that  Vincent made when he lived with Theo in Paris. This is the only portrait that Vincent made of Theo.  
Vincent and love
Family life was important for Vincent and he was fond of children. The exhibition shows three sketchbooks that Van Gogh made for the 4-year old daughter of Hermanus Tersteeg, his employer in The Hague. Subjects such as family life and children are regularly found in his work and his letters. However, Van Gogh's love life was far from easy. His love for his cousin Kee Vos was unrequited and his relationship with his neighbour Margot Begemann did not last. During his time in The Hague he cohabited with the former prostitute Sien Hoornik and her two children. Not only had Sien an impact on his life, but also on his work produced in The Hague. She and her children were often modelling for Van Gogh's works. Partly owing to social pressure, Van Gogh ultimately ended his relationship with Sien. He fell in love one more time with Agostina Segatori, owner of the Le Tambourin cafe in Paris where Vincent exhibited his work. Yet, this relationship also foundered even before  Van Gogh left for the south of France.
Fellow artists
Partly on Theo's advice, Vincent fully dedicated himself to his art from 1880 onwards. During the ten years of his development as an artist, he entered into long and short-term artistic and friendly relationships.  Except for Mauve, Van Gogh got acquainted with various artists in The Hague, among whom George Hendrik Breitner and Herman Johannes van der Weele. With the latter he worked en plein air in the dunes. Yet his best artist friend during his years in the Netherlands was Anthon van Rappard; they often met, painted together and corresponded about art. Their friendship cooled off when Van Rappard heavily criticized the lithograph made after The Potato Eaters. The exhibition shows half a portrait of Van Rappard – apparently cut in half by Van Gogh after they had broken up.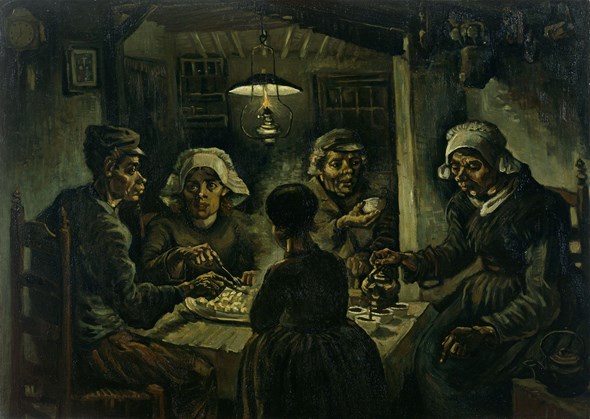 The Potato Eaters, 1885
French friendships
New friendships developed in Paris. Van Gogh exchanged ideas and worked together with artists such as Émile Bernard, John Peter Russell, Camille Pissarro, Louis Anquetin, Henri de Toulouse-Lautrec and Paul Signac. Van Gogh kept in contact with Émile Bernard after he had moved to Arles. Paul Signac visited Van Gogh on his travels to the south after Van Gogh had been admitted to the hospital. The exhibition presents two watercolours by Signac of The Yellow House, from 1933 and 1935, a reference by Signac to this visit. After Van Gogh 's sudden death in 1890, Theo received many consoling letters of condolences that each expressed appreciation of Van Gogh as a friend and fellow artist.  Some of these will be shown in the exhibition.  
Models and friends
Owing to his lack of money, which prevented Van Gogh from hiring models, he had to take recourse to 'volunteers'. For instance, Adrianus Zuyderland, who lived in the old-men's asylum in The Hague, modelled for Van Gogh. Afterwards, in the south of France, Van Gogh returned to Zuyderland's portraits and portrayed him again in his work At Eternity's Gate, 1890. In Nuenen Van Gogh often painted members of the De Groot-van Rooij family. It was in their farmhouse that he situated the scene of the potato eaters.
Another much-portrayed family were the Roulins in Arles in the south of France. He even made no fewer than 25 works, each of them featuring a member of this family. The exhibition includes the work Madame Roulin, better known as La Berceuse, and Portrait of Marcelle Roulin, depicting the youngest daughter. Van Gogh maintained close ties with Joseph Roulin. When Van Gogh had cut off his left ear and ended up in the hospital of Arles, Roulin visited him and looked after Vincent's house. A letter from Roulin to Van Gogh, included in the exhibition, shows the friendly relationship between the two men. They kept exchanging letters, even after Roulin had been transferred to Marseille.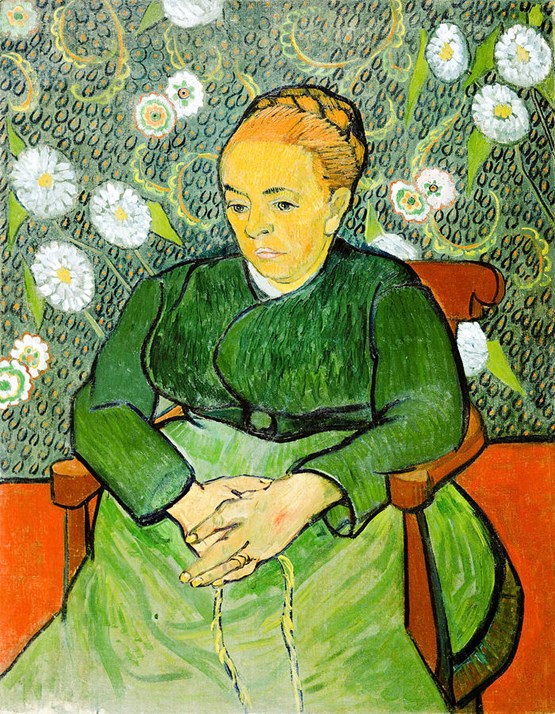 Madame Roulin, La Berceuse, 1890
The cover image of the exhibition is a portrait of Marie Ginoux, L'Arlésienne. Together with her husband she owned the cafe next to The Yellow House.  For a while, Vincent hired a room with them. Before his departure to Auvers-sur-Oise, he said farewell to the couple in a letter that shows that they had enjoyed loving, friendly relations.
Courtesy for Noordbrabants Museum