'The Breakdown Economy' is an online exhibition exploring the concept of an alternative economy that breaks with the fossil-fuel age. It explores the transition from the fossil-fuel economy to a bio-based economy through the eyes of two design studios and an artist's studio: Studio Klarenbeek & Dros, Koehorst in 't Veld and Atelier Van Lieshout.
 Design Research into a World Without Plastic by Studio Klarenbeek & Dros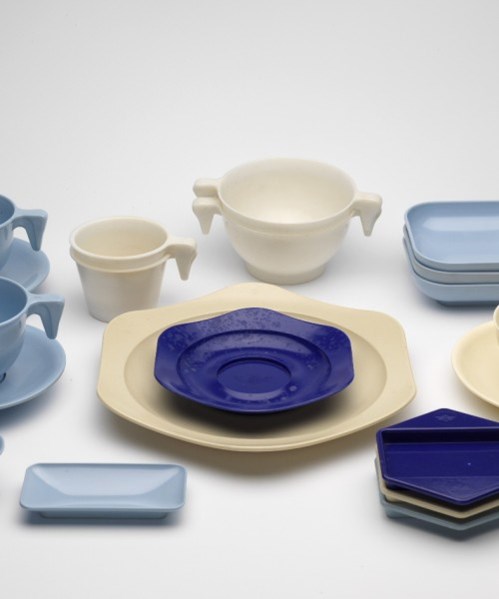 Andries Copier, 19 piece tableware,1946, Museum Boijmans Van Beuningen, Rotterdam. Photo: Tom Haartsen
Studio Klarenbeek & Dros have developed an alternative to plastic with their 'algae clay'. As designers, instead of using energy and materials derived from fossil fuels, they are building an economy in which all objects eventually become food for the earth and nature, without toxic emissions or toxic waste. Everything is earth, everything is life. Where others stop, Klarenbeek and Dros continue. Their goal is to realise production chains for biomaterials on an industrial scale. In this exhibition, they are presenting their research and work in the form of three 'algae clay' replicas of works from the collection of Museum Boijmans Van Beuningen.
Atelier Van Lieshout: Confrontation
Artist Joep van Lieshout has a fascination with formal and industrialised systems. He has described his work Disco Inferno (2020) as a 'labyrinth of time, creation, order, disorder and destruction' through which we must find our way. Large machines, sculptures and videos form the contours of a deconstructive world that confronts us with the need for change.
Studio Koehorst in't Veld: Historische Context
Koehorst in't Veld provides a context to the ideas of 'The Breakdown Economy' through a series of posters. History tells us that there have been many points when change could have taken place and when industry could have implemented alternative biomaterials. This graphic research explains why more is needed for change than just a good idea.
Instead of cancelling or postponing the exhibition due to the measures in place to stop the spread of COVID-19, a film set was constructed in AVL Mundo's 'Cathedral' on 14 and 15 December 2020, where this online exhibition was filmed. The exhibition is now online and can be viewed here.
The exhibition has been conceptualised and realised together with Studio Koehorst in 't Veld and filmmaker Roel Van Tour.