The National Gallery of Art announced that Stephen G. Stein has given the museum a superb collection of 161 photographs that includes some of the most admired artists in the history of photography. He has also pledged two works by Romare Bearden and Andrew LaMar Hopkins. These works—66 of which were previously promised to the National Gallery—significantly enhance the museum's photography collection and are distinguished by the quality, importance, and rarity of the prints.
"Stephen Stein's generosity has been instrumental in expanding and enriching our renowned department of photographs. We are incredibly grateful to him and his dedication to the nation's art collection. These pictures will be seen, studied, and enjoyed by many," said Kaywin Feldman, director of the National Gallery of Art.
Gift Highlights
One highlight from the notable 19th-century photographs in Stein's gift is Gustave Le Gray's Troncs d'arbres, Fontainebleau (Tree Trunks, Fontainebleau) (1855), which demonstrates his mastery of the wet collodion negative process that enabled him to capture the play of light and shadow on trees in the forest of Fontainebleau. Andrew Joseph Russell's Rebel Rifle Pits, Bull Run (1863), an image that speaks to the profound impact that the Civil War had on the eastern American landscape, is among the most important additions to the National Gallery's holdings of 19th-century American photographs.
Four photographs by Eugène Atget made from 1898 to 1924, including Saint-Cloud. Fin août, 6 1/2 h (Saint-Cloud. End of August, 6:30 a.m.) (1924), are among the stellar works by 20th-century European photographers included in the gift. Other distinguished additions include Bill Brandt's After the Celebration (1934), which depicts the artist's brother-in-law as an inebriated man leaning against a lamppost in the London fog, and Brassaï's Une "fille" dans le quartier d'Italie (Streetwalker near the Place d'Italie, Paris) (1932), which portrays a sex worker seen from behind on the streets of Paris.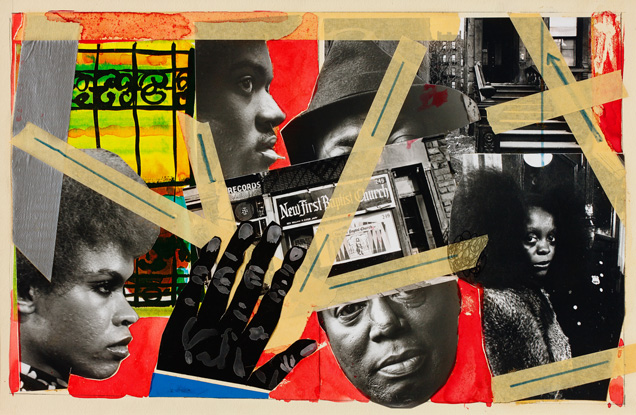 Romare Bearden
110th Street Harlem Blues, 1972
collage on paper
43.18 x 60.96 cm (17 x 24 in.)
Promised Gift of Stephen G. Stein Employee Benefit Trust
Some highlights of works by 20th- and 21st-century American photographers included in this gift are William Eggleston's Sumner, Mississippi, Cassidy Bayou in the Background (1972), which poignantly alludes to the racial segregation in the South, and Robert Frank's vintage print Store Window—Washington D.C. (January 1957), made on the eve of Dwight D. Eisenhower's inauguration and the last picture Frank took for his celebrated book The Americans. Among the five remarkable photographs by Edward Weston are Dunes at Oceano (1936), which depicts the sinuous lines of the ever-shifting sand dunes at Oceano Dunes Natural Preserve; Abandoned Car, Crescent Beach (1938), which features the remains of a car on a California beach; and Surf, North Coast (1937), a nearly abstract picture from what Weston termed an "epic series of photographs of the West."
The donation also includes several outstanding pictures made by mid-20th-century practitioners often associated with the New York School, a loosely defined group of photographers based in New York who embraced a more experimental and subjective approach to recording the city. These include significant pictures by Diane Arbus, Louis Faurer, Sid Grossman, Leon Levinstein, Helen Levitt, and Lisette Model. Other highlights are three photographs by Sally Mann—Battlefields, Antietam (Trenches) (2001), Jessie #25 (2004), and Virginia #6 (2004), all of which were featured in the National Gallery's exhibition Sally Mann: A Thousand Crossings (March 4–May 28, 2018)—and Chuck Close's Study for "Keith /4 Times" (1975), comprised of four gelatin silver prints with annotations in graphite mounted on foam core with masking tape.
Stein has also given the National Gallery a portfolio of photographs by Lewis Baltz called 89/91 (Sites of Technology) (1989–1991, printed 2006), in which the artist examines how technology has transformed our work environments, and the only complete set of photographs from Robert Adams's 2015 series Tenancy, which eloquently reminds us that we are only temporary occupants of the land that nourishes and sustains us.
Promised Gift Highlights
Among the gifts that Stein has pledged to the National Gallery is Romare Bearden's collage 110th Street Harlem Blues (1972). A vibrant mixture of gouache on paper, photographs, halftone reproductions, and masking tape, it reveals the vitality of Harlem's African American community. Also promised to the National Gallery is a work by artist and antiquarian Andrew LaMar Hopkins, who paints imagined scenes conjuring the life of free Creoles of color in antebellum New Orleans, the city where he lives and works. Self-portrait of the Artist as Désirée (2019), a small, colorful image, depicts the artist dressed and made up as his female alter ego.