On June 25, 2022, Musea Brugge will present a large-scale exhibition of works by the internationally renowned Nigerian-Belgian artist Otobong Nkanga in the St John's Hospital.
Otobong Nkanga (°Kano, Nigeria 1974, now living and working in Antwerp) is recognised worldwide as one of today's most promising contemporary artists. She is famed for her installations and performances, in which she focuses on concepts such as identity; raw materials as a symbol for territory, power and conflict; exploitation of the landscape, people and labour; globalisation and transformation. 
The exhibition, entitled Underneath the Shade We Lay Grounded, will take place on the ground floor and in the hospital's impressive wooden attic, and will cover an area of more than 2,500m². 
In this ground-breaking exhibition, Nkanga seeks to create an intense dialogue with visitors, with the historic St John's Hospital, and with Bruges. At this meaningful location, Nkanga wants to 'heal' visitors of their injuries, to 'cure' them through their connection with her art and through a dialogue with the works of, amongst others, Hans Memling and Jan Beerblock from the Musea Brugge collection. Central to this exhibition is the concept of grounding, a theme which runs throughout the entire exhibition display. In this way, she reconnects people with their material, spiritual and cultural environment.
Taste of a Stone
For the ground floor rooms in the St John's Hospital, Otobong Nkanga has developed a new version of Taste of a Stone. In the white, stone-strewn landscape of this total installation – for which she uses no less than 50 tons of white pebbles and stones – she has created a refuge for reflection, dialogue and recovery. At the same time, she also invites visitors to make new connections on and through these stones. ​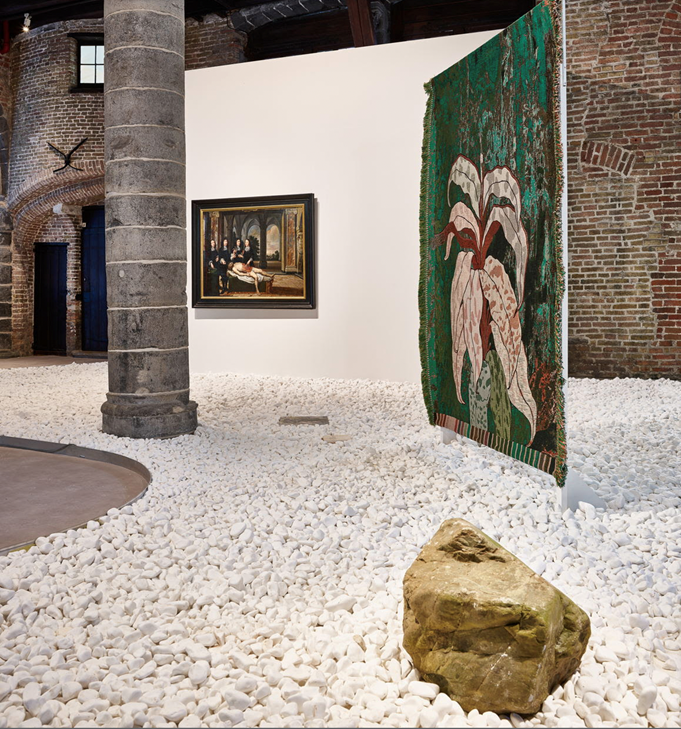 In this way, Taste of a Stone also serves as a free podium for word, music, song and performance, allowing the dynamic so generated to become part of the work of art. Further themes include loss, death and rebirth, which are explored in monumental tapestries and textile structures that cover the walls of the museum.
Anamnesis
For the magnificent attic of the St John's Hospital – famous for its original wooden roof trusses, which are amongst the best preserved in Europe – Nkanga has created another new version of her well-known sculptural work Anamnesis, comprised from the herbs, spices and other raw materials that used to be traded in Bruges. In this way, she connects visitors not only with the memory of Bruges' past, but also with the original trade routes between Europe and Africa.
Otobong Nkanga concludes her exhibition outside the walls of the museum, in the herb garden of the old pharmacy, where she has intertwined a new poetical structure with the original herbs grown in the garden since medieval times.