Echoing the commemorations of the bicentenary of the death of the Emperor, the musée de l'Armée is presenting, for the first time in its history, a contemporary art tour at the Invalides. The presentation of pre-existing works and specially commissioned orders entrusted to renowned or emerging artists, from France and abroad, evokes the figure of Napoleon as well as the impact of his action in today's world. Presented in conjunction with the exhibition 'Napoleon Is No More', the curation of this contemporary tour was entrusted to Éric de Chassey, Director of the Institut National d'Histoire de l'Art, and Julien Voinot, Collections Manager in the Department of 19th-Century and Symbolic Art of the musée de l'Armée.
This ambitious project involved inviting around thirty contemporary artists, giving them carte blanche to invest the permanent exhibition spaces of the musée de l'Armée and to question the legacy of this symbolic figure of history who leaves none indifferent and declared: "Imagination rules the world."
Designed in two stages, this tour unveils, from May 7, 2021 to February 13, 2022, works by Pascal Convert, Ange Leccia, Fabrice Hyber, Marina Abramović, Julian Schnabel, Georges Tony Stoll, and Hélène Delprat, among others, in the permanent exhibition rooms as well as under the Dôme des Invalides, where the Emperor rests, and in places usually closed to the public, such as the Grand Salon.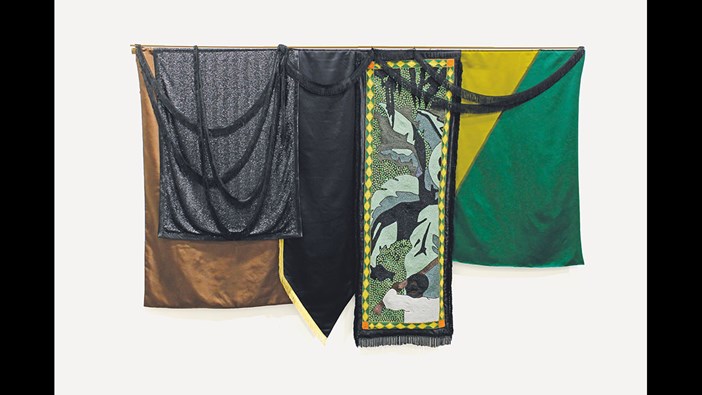 Kapwani Kiwanga, Nations, Snake Gully, 1802, 2018, coll. Part. © Adapg, Paris, 2020 / Photo Aurelien Mole Courtesy Galerie Poggi, Paris
Then, from December 2021, the Belgian artist Hans Op de Beeck will invest one of the musée de l'Armée's temporary exhibition rooms with an installation inspired by the death of Napoleon. The second exhibition room will propose a reflection on cinema and the Napoleonic history through a series of pre-existing film excerpts staged by the French artist collective "La Méduse" and paying tribute to great filmmakers such as Godard and Kluge. The extensive lists of artists featured at this exhibition are: Marina Abramović, Adel Abdessemed, Art & Language, Stéphane Calais, Pascal Convert, Hélène Delprat, Damien Deroubaix, Pablo Gosselin, Laurent Grasso, Juliette Green, Fabrice Hyber, Hervé Ingrand, Kapwani Kiwanga, Alexander Kluge with Georg Baselitz, La Méduse, Ange Leccia, Célia Muller, Yan Morvan, Hans Op de Beeck, Pavel Pepperstein, Edgar Sarin, Julian Schnabel, Shu Rui, Assan Smati, Georges Tony Stoll, Laure Subreville, Agnès Thurnauer, and Yan Pei-Ming.