This year it is 150 years since the birth of one of the greatest artists of the 20th century, Piet Mondrian (1872-1944). Kunstmuseum Den Haag, whose Mondrian collection, numbering over 300 items, is the largest in the world, cannot let this pass unnoticed. In 2017 the museum showed all the Mondrians in its collection for the first time in a major retrospective. To mark this year's anniversary, Benno Tempel and curator Caro Verbeek have created an exhibition exploring Mondrian's inspiring relationships with friends and fellow artists of his time, and his role as a source of inspiration to many artists who came after him.
Kunstmuseum Den Haag's Mondrian collection spans his entire development as an artist, allowing us to trace in detail his path to abstraction. Mondrian often changed his style dramatically, exchanging his early dark landscapes for the exuberant compositions of De Stijl and the neo-plastic style he helped to develop. Victory Boogie Woogie – Mondrian's final painting, and a highlight of his oeuvre – is presented in this exhibition as a grande finale, and also as the starting point for post-war and abstract art.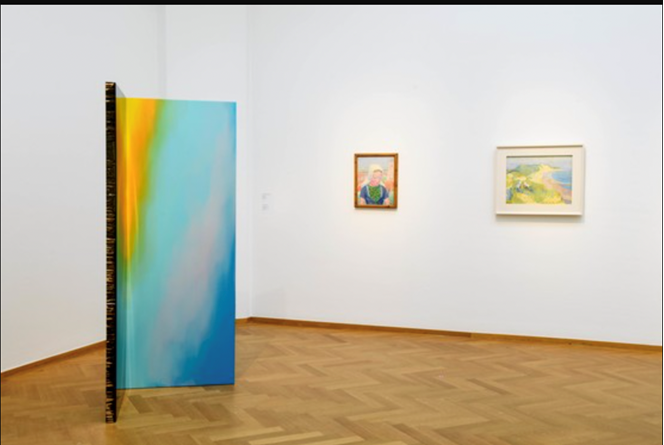 Since the 1970s Kunstmuseum Den Haag's collection of Mondrians has largely informed its acquisitions policy and method, as well as how the museum regards its own collection and contemporary art in general. Over the years the museum has purchased work by a range of artists who feel some connection to Mondrian, including Bridget Riley, Fred Sandback, Rob van Koningsbruggen, Bob Bonies, Isa Genzken and Remy Jungerman. The makers of this exhibition raise the question of what stewardship of such an important and inspiring collection means for a museum. Mondrian Moves will introduce visitors to this perspective, while inviting them to identify connections themselves.

Music and movement
The exhibition will also take a closer look at certain unique aspects of and stories about Mondrian's art and life. He was for example outspoken in his views on music (including electronic music) and movement. Musicians Steven Brunsmann and Marco Spaventi have composed a techno piece specially for the museum, based on Mondrian's ideas. Visitors will be able to hear it at the exhibition. The exhibition will also feature work by artists, such as Iris Kensmil and Patricia Kaersenhout, who display some artistic kinship with Mondrian, though they do not have any direct connection with him. His contact with artists Jacoba van Heemskerck, Theo van Doesburg, Alexander Calder and Josephine Baker is also considered.
Mondrian's ideas were not, as we have said, limited to the visual, but also encompassed music. At the invitation of Kunstmuseum Den Haag, Birgit Sijbrands and Anh Ngo of IFF have created something unique, appealing to another of our senses. Inspired by the rhythm and dynamic of Victory Boogie Woogie, they have produced a scent which visitors can sample in the rooms housing our permanent exhibit Mondrian & De Stijl. The exhibition will also feature the smells of Mondrian's studios in Amsterdam, Paris and New York.

Mondrian and Kunstmuseum Den Haag
Kunstmuseum Den Haag houses such a large collection of Mondrians thanks to a number of people. The driving force behind the collection was Louis Wijsenbeek, director of the museum from 1951 to 1974. Under his inspired leadership, the museum bought a number of leading works. Artist J.H. Gosschalk and Mondrian's childhood friend Albert van den Briel also donated a number of important pieces. The highlight was the donation in 1971 of almost 200 items by patron and collector Salomon B. Slijper, who was also Mondrian's friend. The acquisition of this unique collection put The Hague on the international map as the home of Piet Mondrian's work. In 1998 the Dutch state gave Mondrian's famous final painting, Victory Boogie Woogie, to Kunstmuseum Den Haag on loan in perpetuity. The museum's Mondrian collection thus represents every phase of his impressive artistic development, from the early landscapes, through abstraction to his final masterpiece, painted in a radical new rhythm inspired by the city of New York.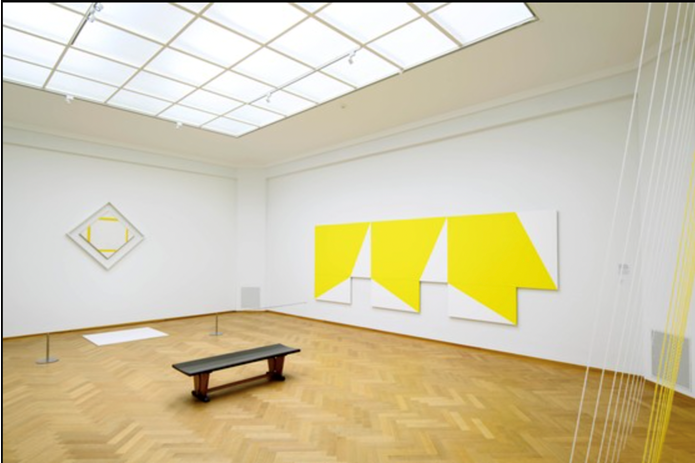 Publications
Piet Mondrian – the man who changed everything, the book published in 2017 to accompany the major presentation of Kunstmusem Den Haag's Mondrian collection, is to be reissued in connection with Mondrian Moves. The book, which traces Mondrian's life and work on the basis of the museum's collection, was written by Hans Janssen, Benno Tempel and Lieke Wijnia. Available in Dutch, English and German.
If you would like to know more about the man behind the artist, try Hans Janssen's 2016 biography Piet Mondriaan - Een nieuwe kunst voor een ongekend leven, in which he reconstructs actual events that bring Mondrian the man and the artist to life. Now also available in English (Piet Mondrian: A Life)!