"My paintings are based on a playful and associative way of looking at everyday events. Rooted in personal experience and imagination, objects, body parts, people, and animals are made to act in ways that do not occur in reality. Trivial situations easily get out of hand and lead to poetic, bizarre or humorous images." – Micha Patiniott
The work of Dutch painter Micha Patiniott (Amsterdam, 1972) are a well-kept secret. Over the past decade, after landing his first museum solo show in 2010, Patiniott has steadily refined his highly personal take on contemporary figuration, averse to trends. His recent paintings are scarcer and more still than before. The subject is often pushed to the edge of the canvas or subtly sketched with a few brush strokes, leaving all the more to the imagination of the viewer.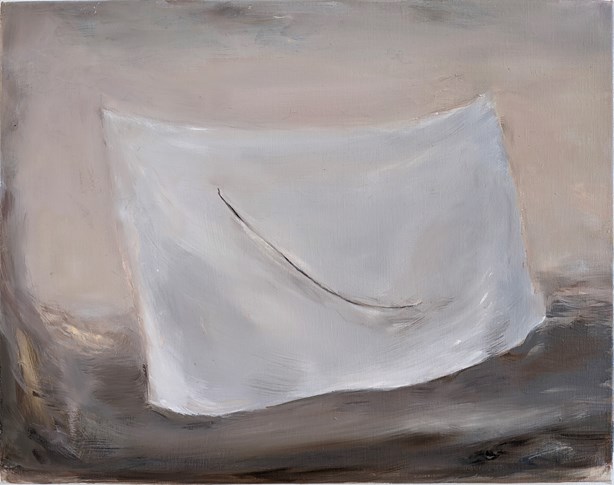 Micha Patiniott, 'Fontana's Stage'
With a sense of humor, yet without getting lost in irony, Patiniott paints scenes of common, daily occurrences and objects. Through his paintings he subtly reimagines these small and common scenes and elevates them from their everyday existence. Patiniott does not work after nature, he once told me that many of the scenes he paints just pop up into his head. We could consider Patiniott a nowadays surrealist or, if we want to touch upon his Romantic side, a nowadays version of the surrealist-precluding symbolists. Patiniott's work shares with the Romantics a conviction that art is, in the end, individual expression. Interestingly, it is this highly individual, timeless approach that makes Patiniott's work so relatable.
There are many recurring themes in Patiniott's work. Some refer to the creative arts: we see canvasses, paint brushes, and pencils, but also references to writing and music. Other ideas are more elusive, such as a swan with a neck like a siphon or a clearing in a gloomy forest. Often there is just one thing 'happening', something absurd which we can relate to nonetheless.
In other works, we find direct references to other artists: 'Fontana's stage' obviously honours Lucio Fontana's cut-paintings. Less obvious, 'Night Pissing' refers to a lesser-known Brueghel. The main difference is that in Patiniott's work it isn't a man who urinates in the moonlit water, but a leaf of grass.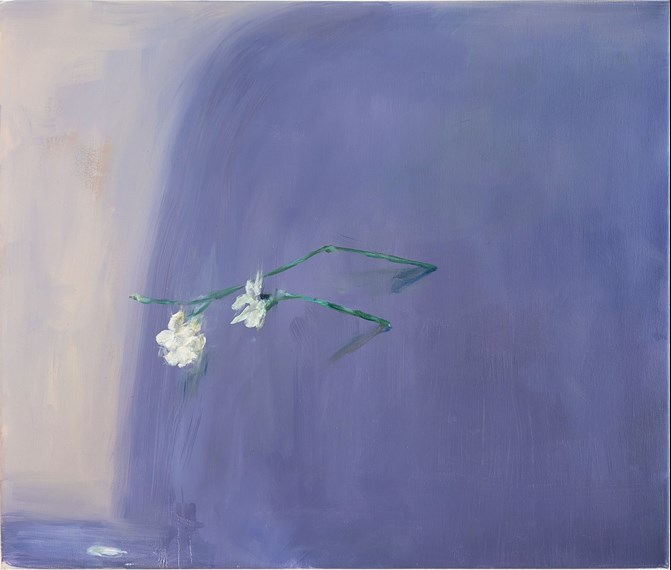 Micha Patiniott, 'Falling'
Patiniott's work deals with presence and absence, about intention and coincidence. An artist's most fundamental act is leaving a mark or a trace on a surface. Well aware of this fundament, Patiniott oftens paints the tools used for marking or tracing (knife, pencil, pen). Sometimes he paints the marks (the cut in the aforementioned work 'Fontana's stage). A blurry ink spot from a leaking pen: an unintended marking. Come to think of it: what is urinating in water if not making a mark that immediately dissipates? Patiniott's work is modest yet impactful. He understands that what you don't show matters as much as what you do show.
More than ever, Patiniott's work is about the act of painting itself. The artist applies hazy/blurry effects in contrast with sharp details. The overall effect is more psychological than photographical: it is the blurriness of memories, or of the overall picture of scenes in our minds that fades when we zoom in on the details. Familiar yet mysterious, the works of Micha Patiniott reverberate in the mind of the viewer.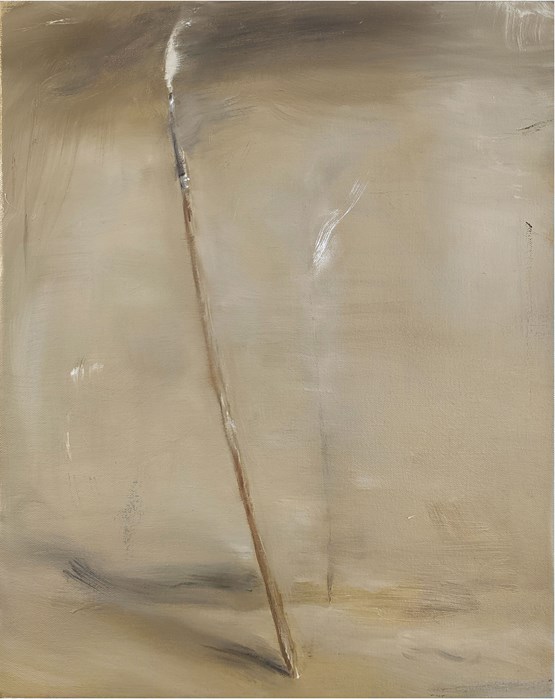 Micha Patiniott, 'Beacon'
Micha Patiniott (Amsterdam 1972, lives and works in Amsterdam) studied at the HKU in Utrecht and the Rijksakademie in Amsterdam. Solo exhibitions include: Babooshka-ya-ya! at CINNNAMON, Rotterdam (2017); Smoke Signals at Galerie Sturm, Nuremberg (2016); ZzzzzZzzZzz at Anna Zorina Gallery, New York (2014); Curiously Human at Stedelijk Museum Schiedam (2010, cat.) His work is represented in numerous collections, including: Stedelijk Museum Schiedam, AMC collection (Amsterdam), Eneco collection (Rotterdam), Erasmus MC collection (Rotterdam), and Amma Foundation, Mexico.