Magnum Photos has announced a new chapter in its history with plans to expand its gallery activities. Today, CEO Caitlin Hughes announced Magnum's new location in Paris which will feature a ground floor gallery, its expansion through an online curated-programme of exhibitions and new fine prints selections on its website, the reopening of its London gallery for the newly-launched London Gallery Weekend with a Herbert List exhibition, future new visual identity components and e-activations.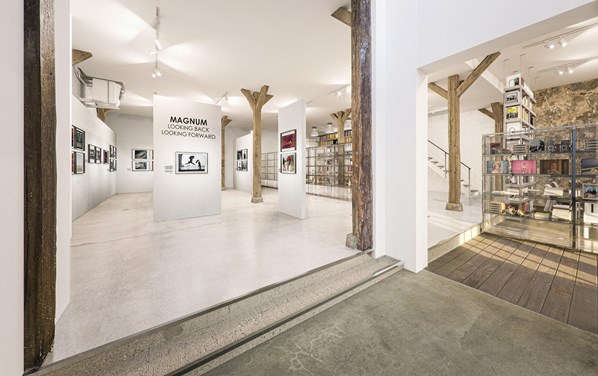 Image: Magnum Gallery, Paris. © Design Johnson Naylor / CGI – Anotherartist 
Magnum's new Paris gallery and working office space will open in autumn 2021 at 68 Rue Léon Frot, 75011, following a significant renovation by London-based Interior Architecture practice Johnson Naylor. The new location will feature exhibition spaces, a private viewing room and library on the ground floor. Modular architecture will allow for innovative and accessible presentations of photographic works ranging from vintage, early, lifetime, modern prints, documents, objects and installations. Located behind a grand Parisian doorway leading to an enclosed paved street, the new Magnum gallery will offer more welcoming and upscale presentations. Additional features will include private offices on the first floor and meeting rooms.
The new Paris gallery represents a new phase for Magnum, consolidating its offline and online collectors' prints strategy and introducing a regular, robust and ambitious programme of exhibitions to its audiences. These online presentations will be curated in harmony with the wider cultural programme. Magnum's new gallery space is located close to the buzzing art district of Paris and sits nearby several other prominent galleries and art spaces. The new space will replace Magnum's current offices which opened at 19 Rue Hégésippe Moreau, 75018 Paris, in 2000. Further details will be announced in due time.
Magnum's new digital offer will be dual. Selections of solo-photographer's presentations will continue to grow on its website and feature an enhanced customer's journey and easy routes to making enquiries and acquisitions. Themed, limited-timed exhibitions will also be presented on a regular basis, drawing on Magnum's rich legacy. The inaugural online exhibition, which will exclusively be presented on the Magnum website, titled There's no place like home will explore themes of domesticity, interiority and the comfort of personal spaces in difficult time, leading to ideas of hope and a more favourable future bringing together more than eight Magnum photographers.
In addition to Paris, Magnum announces the reopening of its London space at 63 Gee Street post-lockdown. An exhibition of works by Herbert List will take centre stage in the gallery from June. This exhibition will mark Magnum's participation in the London Gallery Weekend. Gee Street will also allow by-appointment access to its large vintage collection and be reinvented to welcome collectors during Photo London.