From optical illusions and impossible architecture to realistic natural landscapes: the work of Maurits Cornelis Escher (1898-1972) has it all. In 2023 it will be 125 years since his birth. With the world's largest museum collection of Escher's work, Kunstmuseum Den Haag and Escher in The Palace will be the focus of this special anniversary year.
Birds that become fish, water that flows uphill, two hands drawing each other: with consummate skill, M.C. Escher would transform a blank sheet of paper into his own infinite worlds where he would play with his viewers' perception. His masterful metamorphoses and tessellations continue to amaze and inspire people all over the world. With four exhibitions at Kunstmuseum Den Haag and Escher in The Palace, plus a host of activities in the city organised in collaboration with cultural partners, schools, local communities and companies, in 2023 The Hague will truly be the City of Escher. During the anniversary year a number of buildings in the centre of The Hague will be 'dressed' in Escher style.
Exhibitions

Escher: Eternity and Infinity
Until 12 February 2023 at Escher in The Palace

Escher: Eternity and Infinity traces Escher's development as an artist, from his early woodcuts of human subjects, the natural world and landscapes, to his revolutionary tessellations, metamorphoses, impossible buildings and optical illusions. The themes of eternity and infinity constantly recur in Escher's work, and this exhibition highlights their key role in his entire oeuvre.

Escher – Other World
18 February – 10 September 2023 at Kunstmuseum Den Haag
Step into the world of Escher – quite literally, at Kunstmuseum Den Haag's Escher – Other World. This exhibition will allow visitors to experience the work of Escher as never before. His famous prints, featuring optical illusions, impossible architecture, reflections and the natural world will be combined with spectacular installations by Belgian artistic duo Gijs Van Vaerenbergh. The interaction between Escher's prints and the spatial installations of Gijs Van Vaerenbergh will offer visitors a unique experience and a deeper exploration of Escher's work.

Escher's prints are the result of his unprecedented talent, and also of his almost obsessive devotion to the art of printmaking. His work, like that of Gijs Van Vaerenbergh, explores the boundaries of space, landscape, perspective and illusion. While Escher explored on paper, Gijs Van Vaerenbergh do so in spatial installations. For this exhibition, the core element of which will be a cross-section of the work of M.C. Escher, Gijs Van Vaerenbergh have devised space-filling interventions that present a contemporary view of Escher's work. The interventions feature sculptural associations that explore the notions of light and heavy, temporary and eternal, impossible architecture and infinity, and other key elements of the work of Escher.

This double exhibition will be divided into two sections representing day and night, a contrast that fascinated Escher. The first part of the show, DAY, arranged by theme, will be displayed in our large, daylit galleries, where the work of Escher and the spatial installations of Gijs Van Vaerenbergh will challenge and enhance each other. The second part, NIGHT, will showcase a number of authentic themes in our side galleries. This unique interaction will shed new light on the beloved and versatile artist Maurits Cornelis Escher who, 125 years after his birth, continues to inspire people the world over.

Gijs Van Vaerenbergh
The striking work of artistic duo Gijs Van Vaerenbergh straddles the boundary between art and architecture. Arnout Van Vaerenbergh and Pieterjan Gijs (both b. 1983, Louvain) met while studying architecture in Louvain, where they decided to combine their individual quests for a new perception of space. The idiosyncratic art of Gijs Van Vaerenbergh is in constant motion, changing from every perspective. What might appear from a distance to be a familiar structure, like a church, a windmill or a maze, turns out to consist of all kinds of small elements, with no permanent form, as the artists trick their viewers' eyes and subvert their experience of their surroundings.
Samuel Jessurun de Mesquita is known as the man who discovered Maurits Cornelis Escher. The talented artist and printmaker also taught graphic techniques at the School of Architecture and Decorative Arts. When Escher enrolled there as an architecture student, De Mesquita happened to see some of his graphic work. He was so impressed that he persuaded Escher to switch courses. Escher went on to become a master of printmaking, and the two developed a lifelong artistic and personal connection. Their artistic preferences partially coincided, but De Mesquita had his own very distinctive style, reducing his images of people and animals to the essence, and rendering his subjects in just a few powerful lines. In other images his style is less restrained. These imagined scenes are often humorous, though some are ominous. After De Mesquita's death in Auschwitz in 1944, Escher continued to honour the memory of his teacher and friend. In this exhibition Samuel Jessurun de Mesquita's poignant prints will be shown alongside those of his most famous student.
Just Like Escher
3 November 2023 - 24 March, 2024 at Escher in The Palace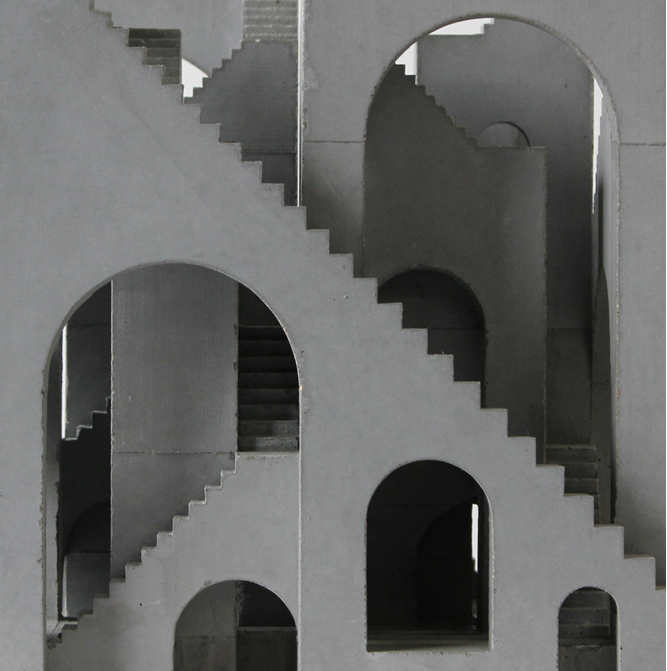 Eternity, infinity, illusion, metamorphosis, reflection and repetition. From unusual reflections to impossible objects, and from living landscapes to terrific tessellations: Escher's designs are still ever-present in today's culture and contemporary art. Just Like Escher, a major exhibition which will open at Escher in The Palace in the autumn, will present a smorgasbord of work by contemporary artists and designers, illustrating the fact that the subjects so beloved of Escher are still held dear today.

Background information

Escher
Maurits Cornelis Escher was born in Leeuwarden on 17 June 1898, but spent most of his childhood around Arnhem. Despite failing his final school exams, in 1918 he started studying architecture at the Technical College in Delft. He soon left Delft, however, to continue his training at the School of Architecture and Decorative Arts in Haarlem. There, encouraged by his graphic techniques teacher Samuel Jessurun de Mesquita, he switched from architecture to graphic art in 1919. In his early work Escher chose a broad range of traditional subjects, trying out his talent in woodcuts of people, landscapes, cityscapes and Bible scenes. After completing his training he travelled through southern Europe. He fell in love with Italy and its landscape, and with a Swiss-Russian woman, Jetta Umiker. After they married in 1924 the newlyweds settled in Rome, from where Escher often travelled around the country, focusing on the natural environment, landscapes, and the arches and pillars in churches, and the alleyways and staircases in old towns. Trips to Spain, including visits to the Alhambra in Granada and the Mezquita in Córdoba, also influenced Escher's development as an artist. He increasingly experimented with architecture, opting in his prints for an extreme perspective on structures, and regularly pushing the boundaries of reality. From 1926 onwards he regularly exhibited his work in Italy and the Netherlands, including at Pulchri Studio in The Hague, and also in Warsaw, Prague and Madrid. In 1929 Escher started making lithographs. His trips around Italy, Spain and Corsica continued to inspire his art. He left Italy in 1935, but the landscape of Switzerland and – after a subsequent move – Belgium barely inspired him, and Escher turned more and more to his own imagination. His earlier fascination with landscapes evolved into a fascination with mindscapes: imaginative 'landscapes' created in Escher's own head. He could spend hours thinking about new worlds full of impossibilities, albeit always with Italy in the back of his mind. After a long sea voyage to Spain in 1936 he turned his attention to tessellations, and from that moment on these contiguous patterns increasingly formed the basis of his prints.

Escher returned to the Netherlands in 1941 and settled in Baarn, where he would spend the majority of his life and make many of his best-known prints, including Waterfall, Belvedere and Relativity. He became world-famous for his optical illusions full of impossibilities, after the publication of two articles in the American magazines Time and Life in the 1950s. His successful exhibition at the Stedelijk Museum Amsterdam in 1954 during the International congress of Mathematicians also brought him many new fans. Mathematicians and scientists admired his work, and they also gave him inspiration. As a result of his popularity, and his declining health, Escher made less and less new work, though he did make new prints of older work at the request of his clients. Although this took up a lot of his time, he regarded this as a printmaker's calling: to delight as many people as possible with their work.

In 1968 the Haags Gemeentemuseum (now Kunstmuseum Den Haag) hosted Escher's first major retrospective, in honour of his 70th birthday. Escher designed his final woodcut, Snakes, in 1969. After that he printed some older designs, but never made any new ones. In 1970, as his health declined further, he moved to the Rosa Spier Huis in Laren, a community of retired artists and academics, where he was surrounded by like-minded people. M.C. Escher died at the Diakonessehuis hospital in Hilversum on 27 March 1972.

Escher and Kunstmuseum Den Haag
Kunstmuseum Den Haag is home to the largest museum collection of Escher's work. This came about thanks to the connection the museum built with the artist after it hosted a major retrospective of his work in 1968: The Worlds of M.C. Escher. Escher himself was around to witness this first broad survey of his work, and he was delighted with the result. In response to The Worlds of M.C. Escher, J.L. Locher – then curator in the prints department, and later director of the museum – helped establish a foundation with the aim of creating an Escher collection for the Netherlands, which would be housed at Kunstmuseum Den Haag. After the artist's death the museum eventually acquired a considerable proportion of his oeuvre.

Kunstmuseum Den Haag
Kunstmuseum Den Haag is one of the Netherlands' leading museums of modern and contemporary art. With a collection encompassing visual art, decorative arts and fashion, and a focus on De Stijl, the Hague School, Delftware and German expressionism, Kunstmuseum Den Haag is a trendsetter in the national and international museum world. Alongside the work of Piet Mondrian, the work of M.C. Escher is a core element of the museum's collection policy. The museum houses one of the largest Escher collections in public ownership, including almost all of his graphic work, a large collection of drawings and an extensive archive of letters, photographs and other personal documents that belonged to Escher.

Escher in The Palace
Escher in The Palace has been based at Lange Voorhout Palace in The Hague since 2002. The museum houses a permanent exhibit of Escher's most famous work – some 120 items ­– from Kunstmuseum Den Haag's collection. The fabulous prints are displayed in a setting replete with royal grandeur: the former winter palace of Queen Emma, the Queen Mother. Before Lange Voorhout Palace was given over to the work of Escher, it had hosted several presentations of the collection between 1994 and 1996.

Collaboration
Kunstmuseum Den Haag and Escher in The Palace are two separate non-profit organisations which have close ties through the collection. The two organisations work together in all kinds of ways, from the administration and preservation of the collection and the dissemination of knowledge about Escher to the making of exhibitions.

Creditline: M.C. Escher, Sky and Water I, 1938, woodcut. Collection Kunstmuseum Den Haag. © The M.C. Escher Company – Baarn – Holland. All rights reserved. www.mcescher.com