On August 27, 2022, Kruse GWS Auctions will have a historical collection to auction. Many of the pieces in the collection marking hugely important moments in Elvis' career are even timeframes memorialized in the much-talked-about, number one film in the world right now, "Elvis."
For over 50 years the most important collection of jewelry owned by Col. Parker, all of which either came from Elvis, were made by Elvis for the Colonel, or were gifted to the Colonel by individuals that helped make Elvis the icon that he is today, was thought to have been lost forever. Both collectors and fans have spent decades searching for the astonishing collection of Colonel Tom Parker. The collection has never been offered for auction before Kruse GWS Auctions acquired it. Some pieces were even commissioned by Elvis as gifts to the Colonel, or for Elvis himself. There has never been a more important collection of jewelry that chronicles both Elvis Presley's career and his relationship with Colonel Tom Parker.
Significant to the collection, are hand-signed letters of descriptions by Priscilla Presley adding key, historical information to each piece. While the collection does not include anything personally owned by Priscilla, she recalls stories behind each piece. In some cases, Priscilla even recalls going to the jewelry store to pick up the jewelry pieces upon completion. Within the collection there is even a piece that was made to specifically remind Col. Parker that Elvis once fired him and was meant to "Keep him humble."
Priscilla agreed to assist due to her continued passion and care for Elvis' legacy. She cares deeply for the future of Elvis Presley fans and wishes for them to have the facts. Maintaining integrity is of great importance to her.
The Exclusive Collection of Colonel Parker will be offered on Saturday, August 27th, 2022 beginning at 10:00 a.m. (PST)
Col. Tom Parker is often referred to as the "man who made Elvis Presley." Described in numerous articles as a cross between P.T. Barnum and W.C. Fields, Parker was a shrewd businessman who carefully orchestrated Presley's mega-stardom. Parker began managing Presley in 1956 and became his confidante throughout Elvis' entire career. Presley was Parker's sole client and their relationship, at times, was very complex. Much of the story was depicted in the recent blockbuster Baz Luhrman film "Elvis."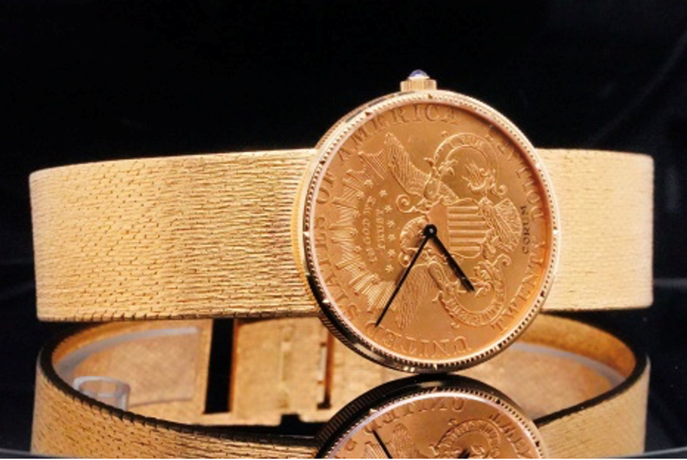 One of the most important pieces in the collection is the "Aberbach Watch." It is a piece gifted to the Col. from The Aberbachs, who were Elvis's music publishers and played a huge part in why Elvis left SUN Records and went to RCA. This is the piece that marks the start of it all!
Other highlights of this most historical event chronicling the Parker-Presley relationship include the "Aloha From Hawaii Snowmen," a pair of 14K two-tone gold, diamond and ruby snowman cufflinks that were purchased in Hawaii to commemorate the Aloha From Hawaii success; a 14K yellow gold Dunhill lighter engraved with "The Colonel" on the underside and of which became one of Parker's most favorite pieces; and the Omega Constellation Automatic 18K yellow gold watch which was gifted to Col. Parker from "The Little Colonel" in 1971. This piece has a story that only the buyer will find out about in a personal note from the lead auctioneer. This particular watch marks a very significant time in Presley's career when he was touring the country and began his residency at the Hilton Theatre in Las Vegas. The watch later became known among collectors as "The Elvis Gifted Solid 18K Gold Omega Watch."
More highlights include a 14K gold money clip gifted to the Colonel from his friends Sergio Calderon and Vic French. This money clip is comprised of a Jewish Torah scroll with a Star of David and Menorah, which is engraved on the back with the sentiment "Colonel Best Wishes – Sergio & Vic." Vic French was in "Charro" with Elvis and Sergio was an artist that both Elvis and Colonel Parker respected very much. This particular piece marks a very significant relationship; a watch made by Corum and made of 18K yellow gold with an 1892 U.S. $20 gold coin serving as a dial. The watch was first worn by Elvis before he gifted it to Parker. Priscilla Presley points out that Elvis loved this style of watch and also loved collecting watches. It was a very rare style for the time and was found wrapped in a personalized envelope from Colonel Thomas A. Parker's Estate; and a pair of 14K yellow high relief gold textured custom-made, square cufflinks which initially belonged to Elvis recognizing him as the "King of Rock & Roll." Elvis gifted them to Parker and they are engraved "Rock" on one of the reverse and "Roll" on the other. These were Elvis' first "Rock and Roll" cufflinks that started a trend that has resulted in millions of dollars of replicas still being sold today.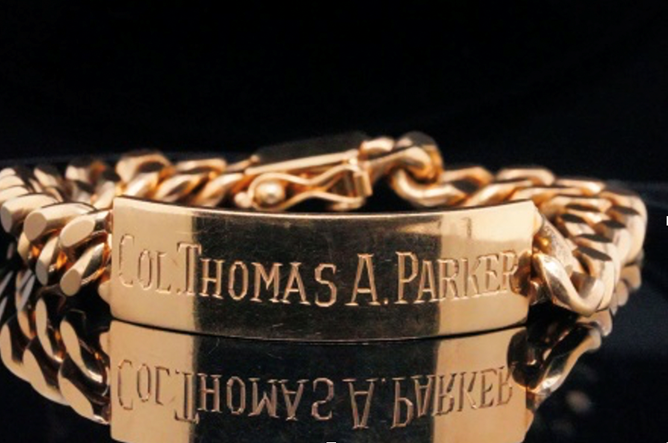 Astonishingly, The Lost Collection of Colonel Tom Parker & Elvis Presley auction contains over 40 pieces of historical and valuable jewelry that encompass Elvis' monumental career. Some of the items which will leave true Elvis Presley collectors speechless also include a very important 14K yellow gold ID bracelet gifted to Colonel Parker from Elvis' Hall of Fame music publishers Julian and Jean Aberbach. The bracelet is engraved "Col. Thomas A. Parker" on the front and "From Julian and Jean on his birthday 6-26-58" on the back. They gave him this piece on his 49th birthday which highlighted how they were responsible for assisting Parker in becoming Elvis' manager. They also assisted in the transition from Sun Records to RCA Records. This was gifted to Parker in 1958 right after Elvis was sent to Germany to serve in the U.S. Army and marks a very significant point in Elvis' career; a 14K yellow gold bell pendant with ruby and diamond accents given by Elvis and Priscilla to Parker's wife Marie in celebration of their anniversary. Priscilla Presley documents that she had this personally engraved on the back, "Happy Anniversary Aunt Marie Love Elvis & Priscilla." A 14K yellow gold, diamond and gemstone Hilton ring gifted by Barron Hilton himself, which is significant because it marks the importance of Elvis performing at the Hilton Las Vegas, then known as the International Hotel in 1969, and through its rebranding to the Las Vegas Hilton in 1971. A LeCoultre 14K yellow gold watch gifted to Parker by RCA Records in 1967 in recognition of his 25 years managing and promoting some of the record company's biggest names, which is considered the counterpart of Elvis' Christmas gift from RCA in 1971 and is inscribed in a similar style; and many other pieces that are a tribute to such a rich history of such an iconic relationship in entertainment.
As if the lost collection of Parker jewelry is not enough, the auction will also include a collection of Elvis Presley memorabilia including personal jewelry, Elvis and Priscilla's wedding tray and other Elvis Presley stage worn jewelry and articles. On the heels of the new biopic "Elvis" which chronicles many of the moments that are directly related to many pieces of jewelry in this auction and in celebration of "Elvis" month.
"I am absolutely honored to have been selected to offer this most important and prestigious collection. This collection has been sought after by collectors and auction houses worldwide for decades and it was believed to be lost. When we were chosen to represent it, we immediately contacted Priscilla Presley who graciously reminisced about the moments each piece of jewelry represents. I cannot state the importance of celebrating Elvis' legacy enough and giving back to the fans is most important to me. Elvis has the most loving and adoring fans, and this is for all of them" – Brigitte Kruse, Founder & CEO, Kruse GWS Auctions.
The Lost Jewelry Collection of Elvis Presley & Col. Tom Parker Auction
Saturday, August 27, 2022
Beginning at 10:00 a.m. PT
The auction will also include a session of historically significant Elvis Presley memorabilia from his personal life and career.