The Kraszna-Krausz Foundation has announced the winners of the 2021 Kraszna-Krausz Photography and Moving Image Book Awards. The winning titles have been chosen as exemplary demonstrations of originality and excellence in the fields of moving image and photography book publishing, from the past year. The titles explore a range of themes, with particular cultural relevance for our current times including most notably cultural identity; collective experiences; social injustices; migration and memory, and global settings from India to Estonia and Africa. Each prize category is awarded £5,000.
Photography Book Award 2021
Sunil Gupta and Maria Kapajeva have been jointly awarded the Photography Book Award for their books, 'From Here to Eternity' and 'Dream is Wonderful, Yet Unclear' respectively. Gupta's book was edited by Mark Sealy and published by Autograph in association with The Photographers' Gallery, London, and the Ryerson Image Centre, Toronto). While Kapajeva's book was published by Milda Books.
Sunil Gupta is an Indian-born Canadian photographer, based in London. He has been instrumental in raising awareness around the political realities concerning the fight for international gay rights, and his work draws on themes of sexual identity, migration, race and family.
Through a detailed and richly personal documentation, Gupta's unique vision and political practice is explored alongside his activism and instrumental efforts for LGBTQ+ rights across his career. The book is beautifully set against intimate family and personal moments from Gupta's past. Gupta is at the forefront of public attention, with the first major retrospective of his work, curated by Dr Mark Sealy MBE, the editor of this book, currently on show at The Photographers' Gallery until 31 May 2021.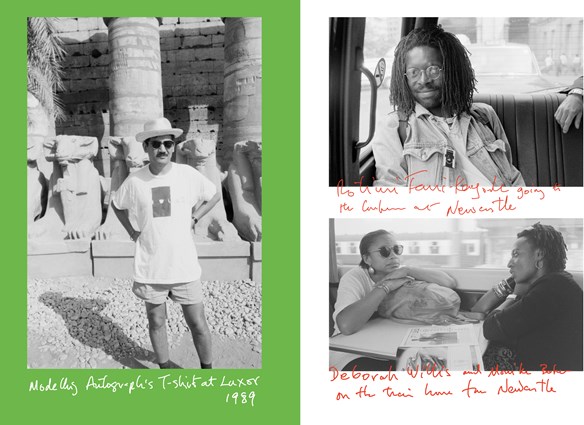 Sunil Gupta
Maria Kapajeva is an artist focused on women's position in contemporary society, and her works question how identities are formed via subconscious effects of advertising, movies and popular media.
Drawing on personal experiences of her childhood community in Estonia in the lead up to transition to independence from Russian State control, Kapajeva's beautifully designed publication explores female collectivity, community and independence. At the heart of the book is the textile factory which played a central role in the town. The factory's influence extends to the physical manifestation of the book, which is intricately bound in a patterned fabric created by Maria Kapajeva's mother, a head designer at the mill.
The judges of this year's Photography Book Award were Patrizia Di Bello, Professor of History and Theory of Photography at Birkbeck, University of London; Anna Fox, acclaimed British photographer and Professor of Photography at the University for the Creative Arts; and Jennie Ricketts, independent photography editor, curator, consultant and mentor.
Speaking about the joint winners, Professor Anna Fox, Judge, said: "The titles are two pertinent stories, beautifully told through a combination of carefully selected images, texts and inventive design, and resonant with the social and political conditions of contemporary times."
Maria Kapajeva
Moving Image Book Award 2021
Marie-Hélène Gutberlet and Brigitta Kuster have been awarded the Moving Image Book Award for their books, 'On the Run: Perspectives on the Cinema of Med Hondo and 1970—2018' and 'Interviews with Med Hondo (Archive Books and Arsenal – Institut für Film und Videokunst)'.
Gutberlet and Kuster's texts offer a rich insight and tribute into the life works of the late multi-faceted filmmaker and pioneer of African cinema, Med Hondo, capturing the scope and spirit of his practices. Hondo's works centre around the question of what cinema means from an African perspective and examine a long history of colonialism, racism and cultural ignorance that remains pertinent today.
The judges of this year's Moving Image Book Award were Erika Balsom, Reader in Film Studies at King's College London; Steven Bode, Director of Film and Video Umbrella, the UK's leading makers of artists' moving image; and Gideon Koppel, Professor of Film at Manchester School of Art.
"A long overdue monograph on a significant and influential filmmaker, who is also one of the pioneers of African cinema. These appropriately beautiful books combine to create a portrait which offers insights into Hondo's profound intellect and humanity. I hope that this publication is the necessary catalyst to make Med Hondo's films available to a wider audience." – Professor Gideon Koppel, Judge, Moving Image Book Award
Sir Brian Pomeroy CBE, Chair of the Kraszna-Krausz Foundation said: "There were so many fantastic submissions to the Awards this year, and we continue to see the industry grow in creativity, ingenuity and design. This year's winners are true reflections of the international landscape within which the Awards operate and demonstrate the importance of photography and moving image books in giving a voice to the unheard, and shining a light on contemporary issues and society."
Brett Rogers OBE, Director of The Photographers' Gallery said: "We are especially delighted to see the 2021 Photography Book Award jointly awarded to two artists we are proud to have worked with. Sunil Gupta: From Here to Eternity', edited by Dr Mark Sealy, was produced to accompany Gupta's major 2020 retrospective at The Photographers' Gallery (re-opening 17 - 31 May 2021) and Maria Kapajeva was featured in our acclaimed 2012 Olympics presentation, 'The World in London'.
We also want to extend our congratulations to Marie-Hélène Gutberlet and Brigitta Kuster, winners of this year's Moving Image Book Award, whose study of film-maker, Med Hondo, feels especially relevant in today's political and social landscape. We hope you will join us for a special digital event we are hosting with the winners of these prestigious awards in June."
Digital live streamed events centred around the winning titles will take place on June 1 and 3, 2021, hosted by and in partnership with The Photographers' Gallery.