Throughout December 2022 at KODE 4: The exhibition 'The Queer Gaze' explores and highlights the diversity of queer perspectives, narratives and identities found in the museum collections.
This comprehensive exhibition features almost 160 works ranging from Classical antiquity to the present day. It will fill a whole floor at KODE 4, Lysverket.
'Queer' means something that is not 'straight' – something that deviates from traditional structures and norms. In essence, it refers to breaking with what we regard as 'normal'. In colloquial language, 'queer' can be used to describe all forms of gender expressions, identities and sexualities that do not follow the norm. 
What queer traces can we find in art?
Art history has established dominant, 'correct' narratives about how art should be viewed and understood. The queer gaze challenges them. Looking for narratives that have been concealed or supressed in traditional museum exhibitions can open for new interpretations and different contexts in which motifs can be understood.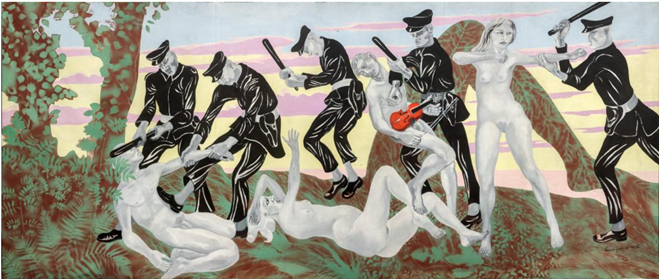 Laurie Grundt, Hippie Politi, 1972.
The almost 160 works from Classical antiquity to the present day address topics ranging from camp aesthetics, cruising culture and Greek myths to 19th century spinster culture. The narratives are about expectations of femininity and masculinity, about gender identities and about same-sex love and desire.
Part of our history
In different ways, the selected works show how queer experiences, over which a veil has often been drawn, are an important part of our history. 
These works contain narratives or references that challenge the established boundaries for what is regarded as normal or natural. Gender and sexual diversity pop up in the most unexpected places in art history. Highlighting these stories can help us to achieve a new understanding of ourselves and our time.
The Queer Gaze aims to create meetings between past and present, between concrete narratives and creative utopias, and to challenge the boundaries within which art can be interpreted.
Year of Queer Culture 
In 2022, it is 50 years since sex between men was decriminalised in Norway. This is being marked by a Year of Queer Culture throughout Norway. 
The exhibition The Queer Gaze takes KODE's collection as its point of departure, supplemented by loans. The exhibition will be supplemented by a separate contemporary section that is scheduled to open in autumn 2022. 
Curators: Mathias Skaset and Bjørn Hatterud