During this year's Art Basel in Hong Kong, the BMW Art Journey is continued with the announcement of the next shortlist. In recognition of the ongoing exceptional circumstances caused by the pandemic, the international expert jury conducted its selection process online. Artists and their galleries were invited to submit digital applications, including a short video by the artists explaining their work and process. Since 2020, the circle of eligible artists has broadened and includes not only emerging and mid-career artists from the Discoveries sector, but also artists represented by galleries founded no more than ten years ago. The shortlisted artists are Julien Creuzet, Kelvin Kyung Kun Park and Alice Wang. These artists have been invited to develop the proposal for their ideal journey, with the winner to be announced in late June 2021.
Julien Creuzet
Born in 1986; lives and works in Montreuil; represented by HIGH ART, Paris. In his work he creates protean artworks incorporating poetry, music, sculpture, assemblage, film and animation. Evoking trans-oceanic postcolonial transactions in relation to multiple temporalities the artist places his own inherited past, present and future at the heart of his production. Eluding generalized narratives and cultural reductions, Creuzet's work often spotlights anachronisms and social realities to construct objects of irreducibility. Recent solo exhibitions of the artist include Camden Arts Center, London (upcoming); Palais de Tokyo, Paris and Fondation d'entreprise Pernod Ricard, Paris. His work was on display at group exhibitions at Manifesta 13, Marseilles; Museum für Moderne Kunst, Frankfurt; Musée d'Art moderne de Paris and Centre Pompidou, Paris. Creuzet is currently nominated for the Prix Marcel Duchamp 2021.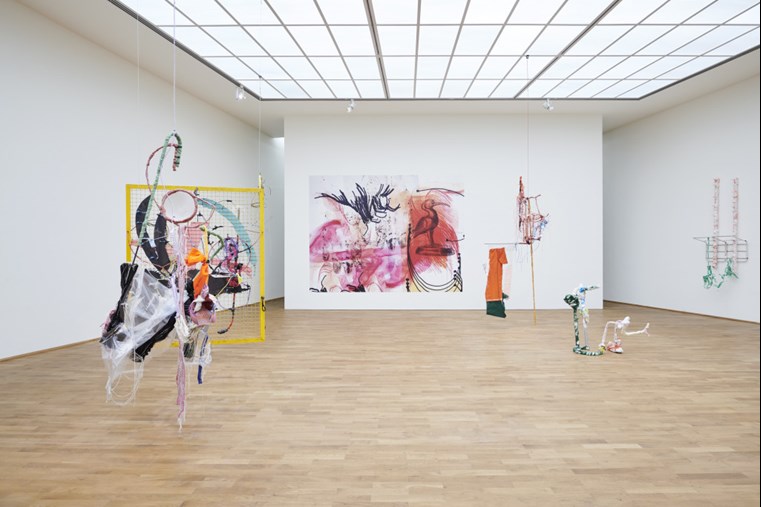 Julien Creuzet, 'Frank Walter – A Retrospective', 2020. Museum für Moderne Kunst, Frankfurt am Main, Germany. Installation view
Kelvin Kyung Kun Park
Born in 1978; lives and works in Seoul; represented by Vanguard Gallery, Shanghai. He is an award-winning filmmaker and visual artist who works primarily in film and video, photography and installations. His work frequently takes inspiration from the cultural anxieties, myths and narratives that form South Korea's identity. His first full-length film, "Cheonggyecheon Medley" from 2010, has been screened at various international venues, including the Berlin International Film Festival and the Los Angeles Film Festival. His second film "A Dream of Iron" also premiered at the Berlin International Film Festival in 2014. It won the NETPAC Award and subsequently played at the Museum of Modern Art, New York. In 2018, he won the BIFF Mecenat Award and was nominated for "DOK Leipzig 2019". His recent solo exhibitions include Shanghai Museum of Glass; Sin Ricoh Gallery, Seoul as well as Gallery Hyundai, Seoul. Furthermore, his work was on view at group exhibitions at Nam June Paik Art Center, Seoul; Busan Biennale 2018, Korea; Buk Seoul Museum of Art, Seoul and the National Museum of Modern and Contemporary Art, Seoul.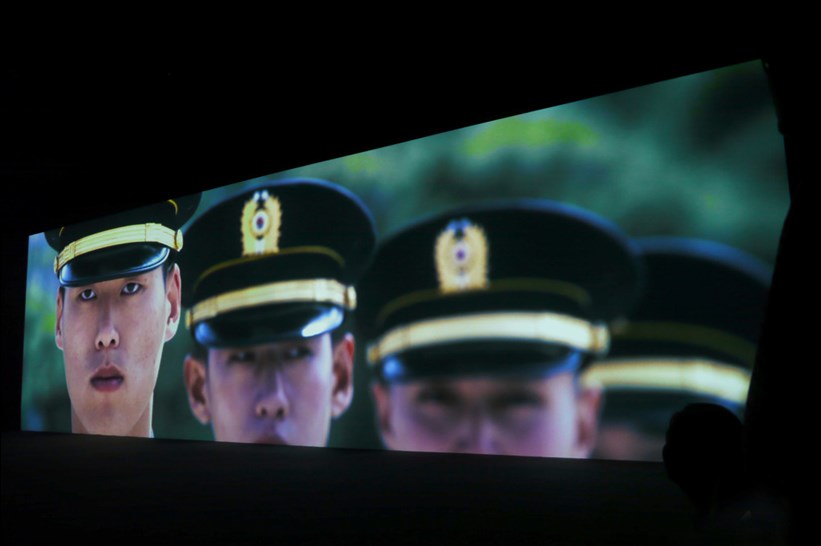 Kelvin Kyung Kun Park "Army: 600 thousand Portraits", Single Ch, Video, 4K, 2016
Alice Wang
born in 1983; lives and works in Los Angeles and Shanghai; represented by Capsule Shanghai. The artist works at the intersection of film and sculpture, two independent and simultaneous practices, where one medium decenters the other. Over the past several years, Alice Wang has been working with a mantra stating that the planet Earth is plummeting towards the Sun while just missing it. Bringing together physics, geology, astronomy, and ecology with phenomenology, Eastern metaphysics and the practice of meditation and yoga, Wang examines ontological questions related to the nature of being through a materialist conceptual approach in the exploration of sculpture. Alice Wang has presented solo exhibitions at Capsule Shanghai as well as 18th Street Arts Center, Los Angeles and participated in group exhibitions, screenings, and performances at the K11 Art Foundation, Hong Kong; the Moscow Museum of Modern Art; Taikang Space, Beijing and the Hammer Museum, Los Angeles. She is an assistant professor of arts at New York University Shanghai, and co-organizes The Magic Hour, an outdoor exhibition platform in the Mojave Desert in California.
Alice Wang, Untitled 无题, 2016. 100,000 hand-painted glass tiles unfixed to the floor. Courtesy: The artist, Capsule Shanghai and Human Resources, Los Angeles