After three years of research and restoration, Jan II Borman's iconic Saint George Altarpiece (1493) resides resplendently once again in the Art & History Museum in Brussels. The interdisciplinary research, in collaboration with the Royal Institute for Cultural Heritage (KIK-IRPA, Brussels), led to unexpected discoveries and provided answers to age-old mysteries. Thus, after almost two centuries, the magnificently carved sculpture groups were put back in their correct original positions within the meticulously restored monumental masterpiece. This project has been made possible thanks to the King Baudouin Foundation (Fonds René and Karin Jonckheere).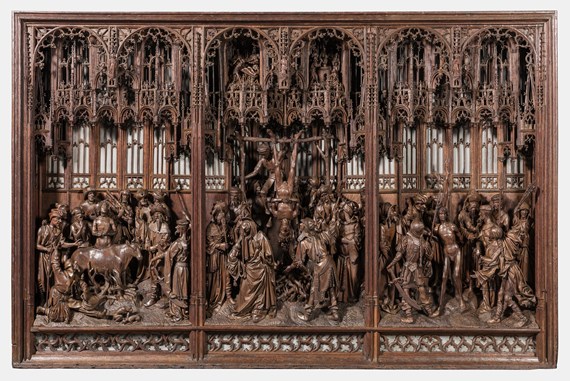 The Saint George retable is one of the most beautifully carved wooden altarpieces in Western European history. It is spectacular in size and scope: no less than 5 metres wide and 1.60 metres high, with more than 80 meticulously detailed figures. It is the masterpiece of Jan II Borman, the greatest master of the Brussels artist dynasty of the same name, described by some as 'the best sculptor of his time'. He signed and dated the altarpiece in 1493.
The late Gothic scenes are timeless and in a class of their own. They draw the viewer in with their cinematographic compositions, lifelike characters brimming with expression and carvings of unparalleled virtuosity. The dynamic characters are depicted frozen in action, as if in a film still. In seven scenes, Borman illustrates the gruesome martyrdom of Saint George; hung above flames by the feet, broken on the wheel and beheaded, among other tortures. This because he refused to abandon his beliefs.
Beginning today, Saturday 24 April, the Saint George retable can be admired as part of the Gothic-Renaissance-Baroque walking tour of the Art & History Museum. For three weeks, visitors will also be able to discover an original statuette of the late Middle Ages and a message from a 19th-century restorer that were carefully hidden in the work of art.