Image: KVieringtoren, Tenhemelopneming van Maria, Cornelis Schut, 1647, Copyright Ans Brys
As with most public buildings, the Cathedral of Antwerp is currently closed to the public. Since ArtDependence is based in Antwerp, we would like to offer our readers a look inside of the cathedral. The Our Lady's Cathedral of Antwerp reconciles 'being' with 'becoming'.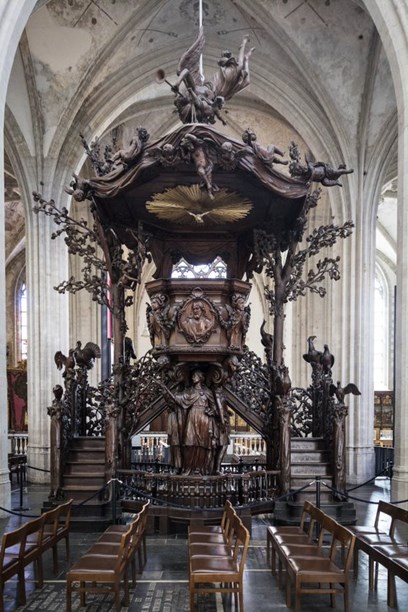 Preekstoel, Copyright Ans Brys
For five centuries, its north tower, which points toward God like a finger, has dominated the silhouette of the city without changing. But during that same period, the Cathedral was repaired and refurnished repeatedly.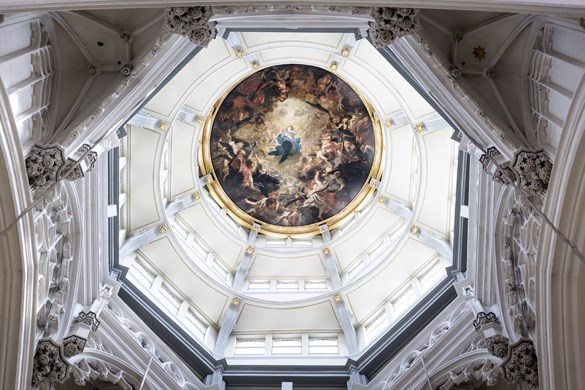 Vieringtoren, Tenhemelopneming van Maria, Cornelis Schut, 1647, Copyright Ans Brys
It assembles the various styles of the times - gothic, renaissance, baroque, rococo, and so on - without ever taking on any single definitive form.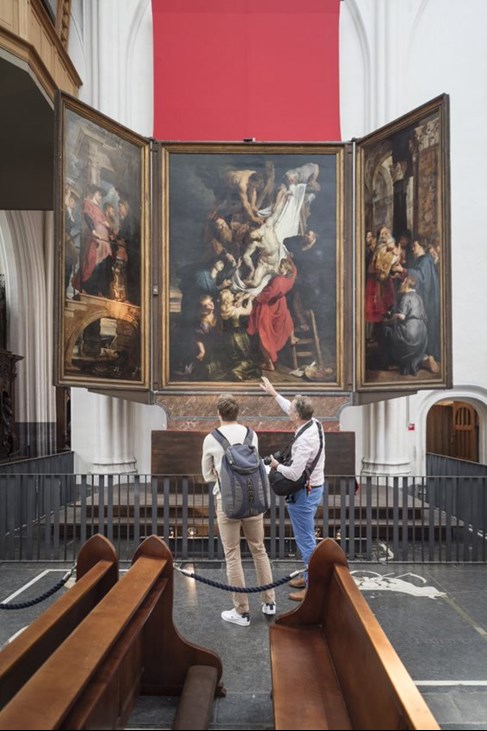 Kruisafneming, P.P. Rubens, 1611-1614, Copyright Ans Brys

The Cathedral harbors, for example, a marble statue of the madonnafrom the fourteenth century. Some of the wall paintings date from the fifteenth century. The stately devotional statue 'Our Lady of Antwerp' in the Mary chapel is Sixteenth century. The four baroque masterpieces by Rubens first saw the light of day in the beginning of the seventeenth century. A tabernacle in the form of the Ark of the Covenant, just like the large clock on the tower above, is eighteenth century.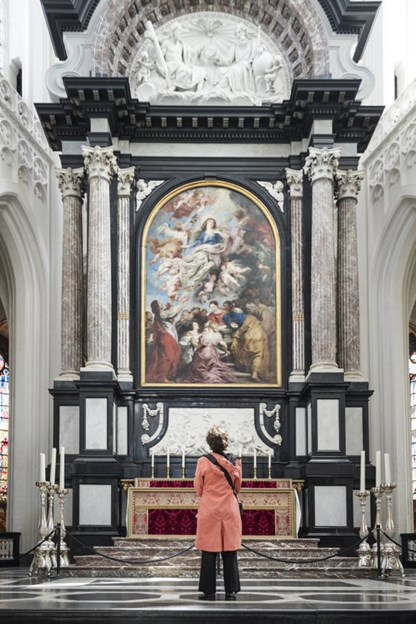 Tenhemelopneming van Maria, P.P Rubens, Copyright Ans Brys
The neogothic decoration stems from the nineteenth century. The sculptures that decorate the main portal were added at the beginning of the twentieth century. And as recently as 1993, a Metzlerorgan was installed above the south entrance to the ambulatory.