Image: Soji Adesina, Candy, Acrylic on Canvas, 2015
Soji Adesina (b. 1981), is a multi-disciplinary and multimedia artist whose practice spans drawing, painting, film, photography, installation and graphic design, though his preferred medium is acrylic paint on canvas. He is a graduate of the Yaba College of Technology, Lagos.
Adesina proposes that the context in which an object is seen is all-important, and that what we see depends on what we look for, our perspective and expectations stemming, as they do, from the influence and instruction of past experiences. In his view, these factors exist in a larger matrix of thought and connect his practice to a larger field of meaning. Over the years, the forms in his paintings have evolved from discernible portraitures to a more obscure, and distorted rendering. Central to his practice is a fascination with memory, language, identity, globalization and sovereignty. Among the resulting works are attempts at understanding the effect of globalisation and the international politics of conflict on radicalization, the state and migration, executed with a layered use of irony, puns, metaphor and paradox.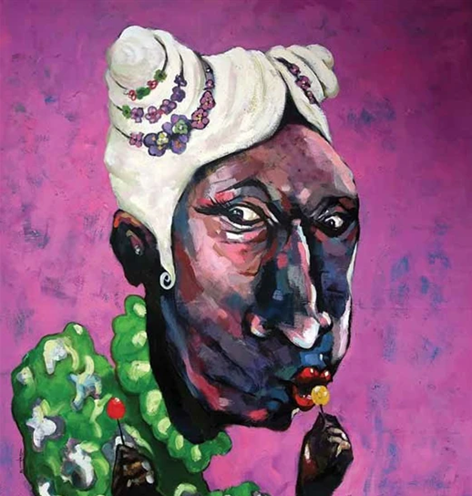 Soji Adesina, Candy, Acrylic on Canvas, 2015
Soji Adesina is one of the artists being featured at ART X Lagos fair.
ArtDependence (AD): You are a multimedia and multi-disciplinary artist, working across painting, drawing, installation art, film, photography and graphic design. Which of these mediums are you most drawn to and why?
Soju Adesina (SA): I will say that I am drawn to painting, because it comes naturally to me as a medium of expression. Over time, a lot of things have come to inform that decision. Things like the physical properties of paint in itself and also the way paint can be used to achieve form through application of different colours.
AD: How would you generally describe the kind of art you create?
SA: Without going into any specific 'isms', I would describe my work as a combination of different artistic styles of expression. I would also say that there is a deliberate distortion and exaggeration to the portraiture and figurative forms I create.
AD: What influences your decision to create work in a certain medium?
SA: Ultimately, the need to achieve a unique aesthetic value that bests projects the context of the subject matter will inform the medium I work with.
AD: What are some of the themes you are drawn to explore and how is this reflected in your works?
SA: I would say recently, I have explored the effects of cultural-hybridization through the dynamics of migration. A body of work titled, "Coffee and Cigarettes", visually investigates how the combination of western and local indigenous aesthetics have come to create a new sense of identity within, for Africans.
AD: What elements or style do you infuse in your work that you think makes it stand out from works by other artists?
SA: This will be difficult to pinpoint. Although, over time, I have come to be dynamic in the way I create my works. In how it makes my work unique from other artists' works, well, I guess an art critic will do a better job answering that.
AD: Generally, your figurative paintings carry a form of dark mood, owing to the exaggerated and distorted features on the figures in your works as well as the clever use of colours.  How did you come to explore figurative paintings in this manner?
SA: As a kid, I was obsessed with the drawings of Frank Frazetta, the American fantasy artist and also Carlos Ezquerra, the artist behind the 2000 AD comics. The comics ignited my appetite for dark gritty aesthetics in drawing and painting. Later on, at Yaba College of Technology, where I majored in painting, I was drawn to abstract paintings and drawings of my lecturer, Mike Omoighe, which also carried dark and morbid aesthetics. Egon Schiele's drawings and Wangechi Mutu's collages had the most impact on my figurative drawings. I learnt greatly from these artists, the distortion of from, and the use of space in drawing.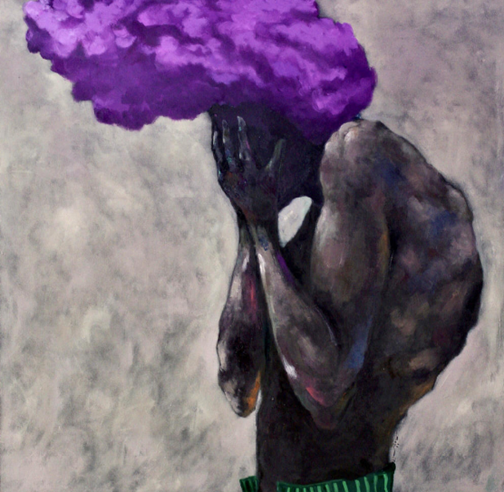 Soji Adesina, Purple Fro, 2019, Acrlic on Canvas
AD: With your diverse interest as a multidisciplinary artist one would imagine you have explored a number of experimental approaches to creating work. Can you tell us about your most successful experimental work?
SA: Oil painting on Aluminium panels was the most successful experimental approach to painting that I had worked on. It came with its challenges. Challenges like getting spent aluminium plates from printing houses and what kind of adhesives I needed to use as binders for the aluminium panels on plywood. Also, working out what painting medium would best work on the metallic surface was a challenge. The approach to paint application was very different from the traditional surfaces I was to used to (canvas and paper). With time, I was able to make it work. I worked on two aluminium panels at the interactive project by Whitespace Creative Agency at the 2017 edition of ART X Lagos. It was an interesting experience.
AD: Why art? At what point did you decide that you wanted to pursue art?
SA: I showed great skill in drawing, as a child. My mother encouraged me throughout my childhood and I guess it helped with my decision to be an artist. I think it was inevitable. I cannot pinpoint when I made the decision. I guess, I just knew I was always going to be an artist.
AD: How has your idea of creating work evolved over the years of your practice? How do you see it evolving in the future?
SA: Over the years, I have come to realize the importance of research in the development of a body of work. Experimentation also has helped me broaden my scope to the possibility of material use in the creation of art. Moving forward, I believe collaboration will largely be part of my artistic practice.
AD: How do you decide when your work is finished?
SA: When it feels right.
AD: What are some of the reactions you hope the works in this exhibition will evoke in those who encounter them?
SA: I hope those who come across these paintings will ponder on the context of the work and also enjoy the paintings.
AD: Who are some of the artists that inspire you?
SA: I mentioned a few earlier. But I will say that of late, I am greatly enjoying the works of Wangechi Mutu. Especially, her recent bronze sculptures of African women titled "The New Ones Will Free Us", commissioned by the Metropolitan Museum of Art.
AD: What do you do when you are not creating work of art?
SA: I spend time with my family.