Oluwaseun Odeyemi, one of Nigeria's fast-rising emerging figurative artists, talks to ArtDependence about his creative process, style, technique and inspiration behind his works.
Who is Oluwaseun Odeyemi?
Oluwaseun Odeyemi was born in Sept / 7 /1989, in Ogun State Nigeria. I have a National diploma in polytechnic Ibadan In fine art and later proceeded to Obafemi Awolowo University, where I attained the Bachelor of Art (B.A) in 2020. As an emerging contemporary artist, currently based in city of Lagos, I have participated in different exhibitions including (So Far Exhibition 2019, ifectivity exhibition, 70th international cultural exchange of arts by artcom expo, Nosa creative exhibition, mydrim affordable art fair, La grand bazart by a.f, Limcaf, Charity art Exhibition, 'The Nu-Frican ' Artsy, Experience the 2nd, Ogirikan miniature art fair, 60x60x60 Exhibition, Senerity Exhibition (Texas) and art competition where I won the student price in Union Bank Art challenge 2017. My works  have found homes in both local and international collections.
What are some of the themes you explore in your work? 
Human connection, discourse, societal issues, love,affection, and relationship are the most common themes I explore.
How did you first get interested in this medium of painting?
Been an Experimental Artist, I use different medium to convey my intention toward explore and experiment of varieties of creation. I used all materials available but later I derive enthusiasm in using Acrylic, charcoal and conte to create an appealing and dramatic textural work with the mix media approach. Where I created a series of works that brings endless emotional resonance to the viewer.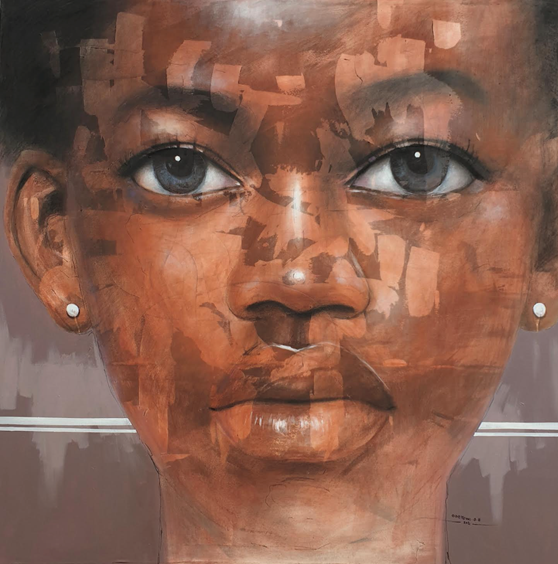 Oluwaseun Odeyemi, Window to the Soul, 2021, Acrylic, Conte and charcoal on canvas, 48 x 48 in.
How long does it take you complete a painting on an average? 
Minimum of 2 weeks and some days
What are some of your favourite experiences as an artist? 
Teaching what I know, traveling, participating in artists' workshop, exhibiting, artists hangout, sharing ideas of art masters.
How would you describe your distinct style?
My style is a composition of mixed-media and conceptual painting using both wet and dry medium also the element of design texture to create a spontaneous and dramatic visual interest. My works explore figurative ideas that focus on exploration and uniqueness in black skin.
Why figurative art?
Being a figurative artist allows the ability to portray an imaginative reality of who we really are on a daily basis. The figurative form helps artist to reveal the peculiar and uncanny as they render life. Figurative paintings also elicit quick reactions from the viewer.
What are some of the reactions you think or hope your works will evoke with viewers? 
mind-blowing and other positive response
Who and what are some of your biggest influences?
- Books
- Master Advice and mentorship
- Movie and Music
- Listen to Art talk and workshop
- Travel
- Exhibition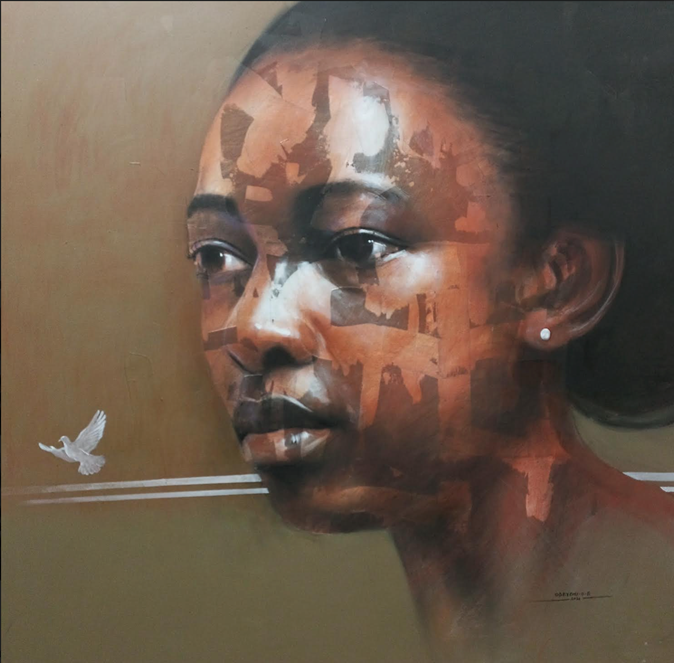 Oluwaseun Odeyemi, Life goes on, 2021, Acrylic, Conte and charcoal on canvas, 48 by 48 inch.
Why art? Why and how did you come into this field? 
Art is something have found interested in since childhood. I believe it is the only language people can understand very well through your creative rendition.  I remember vividly, that drawing from comic books was my special area of interest. Since then, I sought ways to develop my creative ambition. Eventually, I furthered my career in art at a Polytechnic in Ibadan where I obtained a National Diploma 2015. I enrolled for my internship/ Industrial Training program at Universal Studios of art 2016. In pushing forward with my dream, I obtained a Bachelor of Art at  Obafemi Awolowo University 2020. Since then, I have been a full-time studio practicing artist based in Lagos, Nigeria.
Describe your ideal environment or ambience to work in?
A big private studio with a well-balanced space with a good lit and ventilated.
How do you decide on what materials to work with? 
Creating with varieties of materials, my ambition it to work with materials that will have durabity, longevity and can also be able to stay a test of time in any weather condition.
If you had to choose just one art material to work with, what would it be and why? 
Acrylic color.
- it's versatile materials to work with
- it dries quick
- it's less toxic and safer around children and pets
- it's durable, flexible and vibrant.
Where do you hope for your practice to be in 5 years?
Some of my future goal an artist in next few years are....
- My works should be documented both Local and   international.
- Exhibiting my works at Auction
- Having a standard studio to work from.
- having my solo show
- To create a value for my career.