A researcher says he has uncovered the precise location where the artist painted "Tree Roots," thought to be the last piece Vincent van Gogh worked on the day he suffered a fatal gunshot wound. A recently uncovered historical photograph confirms the exact location of Van Gogh's last painting, the French Institut Van Gogh revealed. Van Gogh painted Tree Roots a few hours before he committed suicide.
Last year, the location in Auvers-sur-Oise was discovered by Wouter van der Veen, the scientific director of the Institut Van Gogh. He found a postcard dating from 1900-1910 featuring a scene including tree trunks and roots growing on a hillside. The recently uncovered image was noticed on the Pontoise Museum blog earlier this year. The photograph shows certain elements not found on the postcard.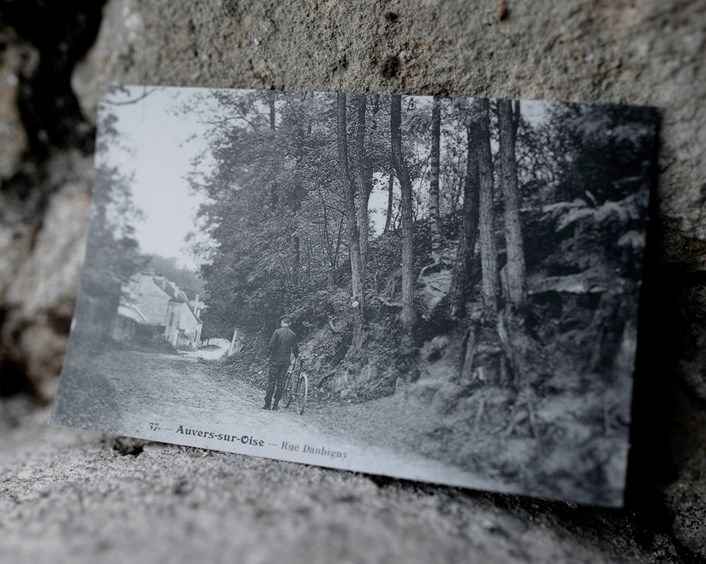 A postcard from 1905 led Mr. van der Veen to his discovery. via The New York Times
"Tree Roots" was painted on the Rue Daubigny, a main road through Auvers-sur-Oise, which is about 20 miles north of Paris, Mr. van der Veen found. The tangled, gnarled tree roots and stumps can still be seen in the slope of a hill there today, just 500 feet from the Auberge Ravoux, where van Gogh spent the last 70 days of his life.
Researchers at the Van Gogh Museum in Amsterdam have endorsed the finding. On Tuesday, the director of the museum, Emilie Gordenker, attended an unveiling of the spot. Louis van Tilborgh, a senior researcher at the Van Gogh Museum, said in an interview that the finding was "an interpretation, but it looks like indeed it is true."
Mr. van der Veen said that he was pointed toward the discovery while looking at images of Auvers from about 1905, which he had borrowed from Janine Demuriez, a 94-year-old Frenchwoman who has collected hundreds of historical postcards. One shows a cyclist on the Rue Daubigny, stopping next to a steep embankment, where tree roots are clearly visible.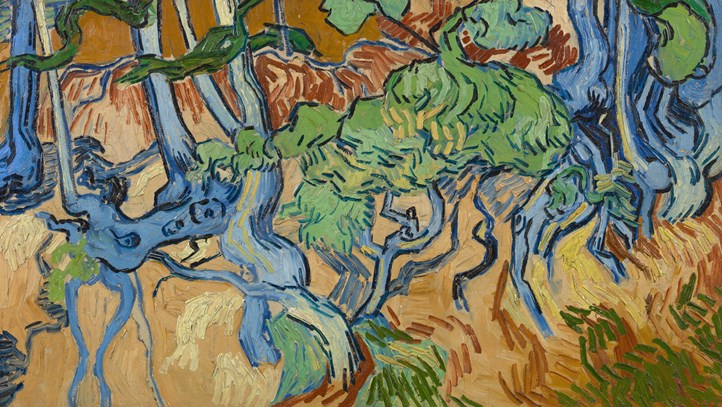 Van Gogh's Painting 'Tree Roots'