Image: The rebirth of Red Lotus, from the series Red Lotus, 2019 © Kamonlak Sukchai, courtesy of the artist.
 
In light of the current climate, some drastic changes had to be made to Foam's programme and way of working. One of Foam's flagship projects, Foam Talent 2020, was unable to travel internationally to planned locations such as London and Paris. In order to give the 2020 Talents a platform with the same respect as other years, Foam Talent | Digital was born.
Foam presents the exhibition Foam Talent 2020 with works from a new generation of visual artists. The exhibition Foam Talent | Digital is a new multi-media platform that showcases artist projects supported by audio, video and effects.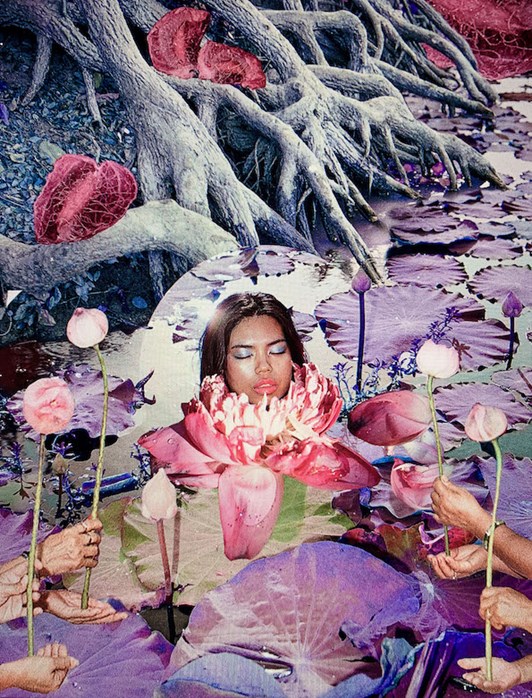 The rebirth of Red Lotus, from the series Red Lotus, 2019 © Kamonlak Sukchai, courtesy of the artist.




EXCEPTIONAL PHOTOGRAPHY TALENT
This year 19 artists were selected as Foam Talents 2020:
Aàdesokan (Nigeria), Sofia Borges (Brazil), Adji Dieye (Senegal/Italy), Rahima Gambo (Nigeria), Karla Hiraldo Voleau (France/Dominican Republic), Benoît Jeannet (Switzerland), Luther Konadu (Canada/Ghana), Matthew Leifheit (United States), Douglas Mandry (Switzerland), Philip Montgomery (United States), Camillo Pasquarelli (Italy), Simone Sapienza (Italy), Micha Serraf (Zimbabwe/South Africa), Hashem Shakeri (Iran), Gao Shang (China), Kamonlak Sukchai (Thailand), Guanyu Xu (China/United States), Yorgos Yatromanolakis (Greece), Alba Zari (Italy/Thailand).
Each year, Foam invites photographers to submit their portfolios via the Talent Call, an international search for exceptionally talented photographers under the age of 35. Selected photographers gain international exposure and recognition within the photography industry through a number of career-building opportunities offered by Foam, including publication in Foam Magazine, participation in a travelling group exhibition and the opportunity for their work to be added to the prestigious Art Collection Deutsche Börse of the Deutsche Börse Photography Foundation in Frankfurt.
DIGITAL AS AN EXPERIENCE
The digital medium is a unique space, especially for these young artists. The digital exhibition is an addition to the existing Talent programme consisting of the annual Talent Issue of Foam Magazine and the touring Foam Talent exhibition. The digital exhibition showcases extended portfolio work, including video artwork, accompanying soundscapes or music, audio voice-overs and video interviews. The exhibition is free to access with no barriers of entry.

The Foam Talent programme and the annual Talent issue of Foam Magazine are supported by The Deutsche Börse Photography Foundation, the VandenEnde Foundation and the Niemeijer Fund.
 
Foam Talent is made possible by Kleurgamma Fine-Art Photolab, Starframe, Oschatz Visuelle Medien and the Swiss Arts Council Pro Helvetia.
 
Foam Magazine is sponsored by Igepa Netherlands BV, supplier of excellent paper.