Image: Yael Davids: A Daily Practice
"For the exhibition I approached the Van Abbemuseum as a body to be explored. A long hanging textile, works on loan and works from the collection are conceived as a spine, limbs and stomach," says Yael Davids.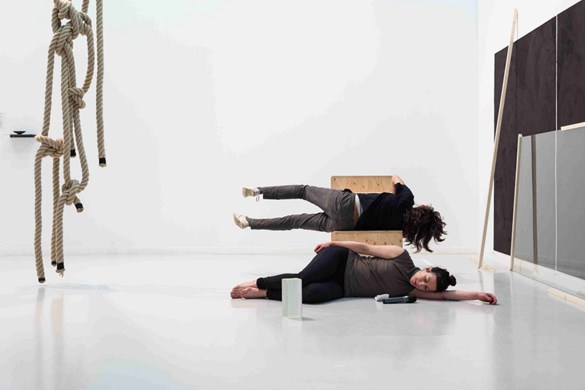 Yael Davids: A Daily Practice
Yael Davids: A Daily Practice takes place at the Van Abbemuseum in Eindhoven from 21 March to 14 June 2020.  A selection of Davids' own work – varying from sculpture to performance and installation – can be viewed throughout ten galleries in combination with works by such artists as Hilma af Klint, Lee Lozano, Adrian Piper and Nasreen Mohamedi. A number of these works will be exhibited in the Netherlands for the first time. Visitors are invited to take part in an extensive programme of Feldenkrais classes in movement, demonstrations and performances. 

Somatic learning
The exhibition marks a unique moment in Davids' career: in April 2020, she will be the first candidate to complete the three-year research trajectory leading to the title Creator Doctus (CrD). The programme, set up by the Gerrit Rietveld Academy in Amsterdam culminates in a collection of artistic works or projects, such as the exhibition A Daily Practice, rather than a written thesis. Davids' research, commissioned by the Van Abbemuseum, focuses on somatic learning and is inspired by the work of Moshé Feldenkrais (1904-1984). He developed a method based on the principle that changing the way we move leads to a change in how we think, observe and feel. This principle has inspired Davids' approach to the museum, its collection and the exhibition. Davids wants to challenge habitual patterns of looking at art within the walls of the museum. For the Van Abbemuseum, the exhibition represents a step in the development of new ways for visitors to experience art: through movement and the body, rather than only with the eye or the intellect.

Affinity
As preparation for the exhibition, Davids conducted extensive research into the Van Abbemuseum collection. She was troubled by the absence of female artists in the collection with whom she felt an affinity. Davids subsequently compiled her own collection for the exhibition with works by artists whose process, views, position and life have played an important part in her own development as an artist. Loaned works by Noa Eshkol, Hilma af Klint, Lee Lozano, Nasreen Mohamedi, Adrian Piper and Andy Warhol/Jill Johnston can be seen, as well as works from the collection by stanley brouwn, Anna Boghiguian, General Idea, El Lissitzky, Bruce Nauman and László Moholy-Nagy. All these artists used their work to challenge physical borders, social conventions and traditional processes of learning.
New work
Davids has produced several new works for the exhibition that will heighten bodily awareness in the exhibition space. Visitors will have to manoeuvre themselves between large plates of glass. A 50-metre-long hanging textile installation will both connect and divide five galleries. In conjunction with guest curator Frédérique Bergholtz, Davids has developed a new performance (called demonstrations) which will be performed several times during the exhibition. These demonstrations will be performed by participants in Davids' weekly Feldenkrais classes in Eindhoven and Amsterdam and involve works from the Van Abbemuseum collection.

Documenta 14
Davids' work Reading that Loves - A Physical Act will also be on display, a work that was previously exhibited at Documenta 14 in Athens. This installation is a tribute to the historical figures Else Lasker-Schüler, Rahel Varnhagen, Cornelia Gurlitt and Julia Aquila Severa. The lives of these four fascinating women (all born before 1890) were characterised by attempts to enter the public domain while not conforming to the prevailing norms applicable to their gender, social background and appearance.
21 March - 14 June 2020