This May, Van Cleef & Arpels has partnered with the Fifth Avenue Association to imagine New York City's iconic Fifth Avenue in bloom with immersive floral installations in a singular experience.
Twelve blocks along the Avenue are transformed into a floral sketchbook created by French artist, Alexandre Benjamin Navet with fourteen colorful sculptures complemented by live flowers. These captivating designs are inspired by the artist's joyful sketches, a vibrant blend of pastel drawing and architecture. Arches, benches, pergolas and other sculptural elements in the artist's signature bright colors and energetic lines punctuate Fifth Avenue from 47th to 59th street, providing visitors the opportunity to take a moment of respite and enjoy the scenery.
At the crossroads of art, illustration, design and architecture, Alexandre Benjamin Navet's work brings fresh and vibrant color surging into space, engaging directly with the viewer. In 2017, he was awarded the Grand Prix Design Parade Toulon, sponsored by Van Cleef & Arpels. In 2018, he was the first artist to be given carte blanche by the Musée des Arts Décoratifs in Paris at its new Galerie d'Actualités. In 2020, he embarked on a long-term collaboration with the Maison by bringing his colorful universe to life on the façade of the New York Flagship boutique located on Fifth Avenue.  Two years later, his designs have expanding onto the city's sidewalks, bringing Van Cleef & Arpels' positive vision of life to all who pass by.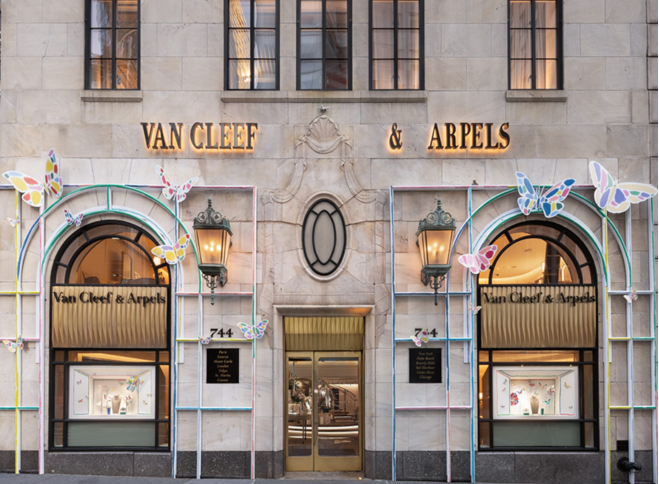 Van Cleef & Arpels and New York
From the moment French High Jewelry and Watchmaking Maison Van Cleef & Arpels first crossed the Atlantic, it established a special relationship with New York. Members of American high society with a taste for exceptional pieces had fallen in love with the Maison in Place Vendôme during the 1930s. In 1939, the Arpels family sailed to New York on board the Queen Mary to attend the World's Fair, where they presented "the Parisian style" in its French Pavilion. The general public was enchanted by the virtuosity of the jewels – which were specially designed for the occasion – and their inventiveness. 
Encouraged by that success, the Maison – which had settled in Rockefeller Center in 1939 – opened its boutique at 744 Fifth Avenue in 1942. Located in a magnificent late-1920s building, this historic address is today one of Van Cleef & Arpels' most emblematic boutiques, symbolizing its enduring relationship with the United States.